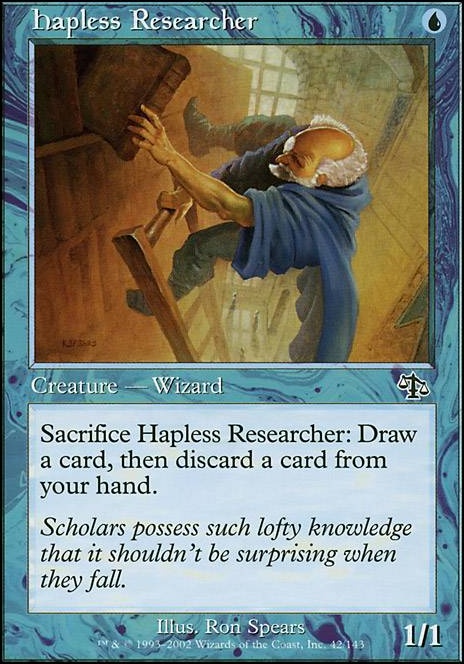 Legality
| | |
| --- | --- |
| Format | Legality |
| Legacy | Legal |
| Vintage | Legal |
| Commander / EDH | Legal |
| Duel Commander | Legal |
| Tiny Leaders | Legal |
| Pauper | Legal |
Hapless Researcher
Creature — Human Wizard
Sacrifice Hapless Researcher: Draw a card, then discard a card.
Hapless Researcher Discussion
4 months ago
I appreciate the comment and that you have read what bits of the primer I have up so far.
I am not overly worried about Path to Exile in particular they were just an example given of spot removal that you can run into. I just named those 2 because they are pretty popular. If I am in a situation like that I would do exactly as you mentioned with iona. She is my go to in basically every situation. Inkwell is there fore when it is not enough. I will go and try to clarify that in the primer.
Yup I am very well aware of using Griselbrand's ability by adding it on the stack. Not my personal method of harping on him, but I plan on addressing the variations and things like that further on in the primer. Just have not done it yet XD
I had Mindbreak Trap in the sideboard for what seems like forever. I also did not used to use Hapless Researcher so I have had to reshuffle some cards while I test him out
thanks for commenting