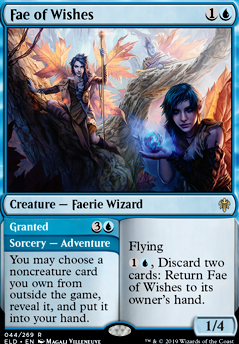 Fae of Wishes
Creature — Faerie Wizard
Flying
, Discard two cards: Return Fae of Wishes to its owner's hand.
(You may cast Fae of Wishes from exile if you sent it on an adventure.)
---
Granted
Sorcery — Adventure
You may choose a noncreature card you own from outside the game, reveal it, and put it into your hand.
(You may cast Granted for from anywhere that you have the permission to cast this, then exile it on an adventure instead of putting it into your graveyard. When you have not chosen to cast Granted, this card is treated only as Fae of Wishes in whatever zone it is in.)
(Example scenarios for Granted: You may cast this off of Melek, Izzet Paragon . You may not target this with Snapcaster Mage . Thalia, Guardian of Thraben increases the cost of this. Electrodominance requires X=4. You may cast this from a cascade spell if the spell has a cost greater than Fae of Wishes's cost. If you cast a Granted that another player owns, only you may cast the Fae of Wishes that gets sent on an adventure, not the owner.)
Browse Alters
Trade
Legality
| | |
| --- | --- |
| Format | Legality |
| 1v1 Commander | Legal |
| Arena | Legal |
| Block Constructed | Legal |
| Brawl | Legal |
| Canadian Highlander | Legal |
| Commander / EDH | Legal |
| Duel Commander | Legal |
| Gladiator | Legal |
| Highlander | Legal |
| Historic | Legal |
| Legacy | Legal |
| Leviathan | Legal |
| Limited | Legal |
| Modern | Legal |
| Oathbreaker | Legal |
| Pioneer | Legal |
| Pre-release | Legal |
| Standard | Legal |
| Tiny Leaders | Legal |
| Unformat | Legal |
| Vintage | Legal |
| Casual | Legal |
| Custom | Legal |
| Quest Magic | Legal |
Latest Decks as Commander
Fae of Wishes Discussion