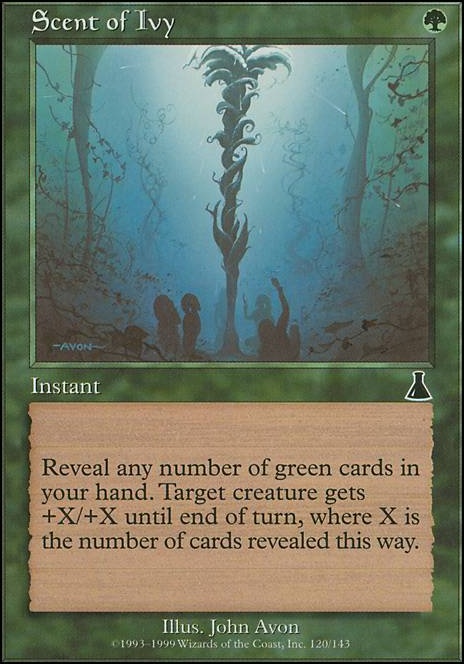 Legality
| | |
| --- | --- |
| Format | Legality |
| Tiny Leaders | Legal |
| Noble | Legal |
| Leviathan | Legal |
| Magic Duels | Legal |
| Canadian Highlander | Legal |
| Vintage | Legal |
| Casual | Legal |
| Pauper EDH | Legal |
| Vanguard | Legal |
| Legacy | Legal |
| Archenemy | Legal |
| Planechase | Legal |
| 1v1 Commander | Legal |
| Duel Commander | Legal |
| Unformat | Legal |
| Pauper | Legal |
| Commander / EDH | Legal |
Scent of Ivy
Instant
Reveal any number of green cards in your hand. Target creature gets +X/+X until end of turn, where X is the number of cards revealed this way.
Scent of Ivy Discussion
6 months ago
the blue advantage was implied, im just saying that they are somewhat comparable, as good shell commanders for elfball. also marwyn has some good synergy cards that people may be looking over by looking at the elf part too much. some of the cards im about to list are sub optimal if you run too many, but show that she can generate decent value for pretty cheap: Aspect of Hydra, Aspect of Wolf, Berserk, Ivy Seer, Become Immense, Scent of Ivy, Strength in Numbers, Timberwatch Elf, War Dance, Wirewood Pride. now you shouldnt run too many of these because they are only one shot effects, but some of them add enough power to make up for that by making occasional big bursts of mana, and she is another umbral mantle/ parun abuser. i expect that her wins will be along the lines of huge pump spell> dorks> revelation> more dorks> craterhoof. i can easily see this being viable as tier 3. im gonna be brewing her soon anyway in hopes shes atleast respected as tier 3, she will be a good break from mairsil.
1 year ago
I run a mono green infect deck that can consistently get turn 2-4 win, so i can help you with the green side of your deck. One thing to know is that in an infect deck you want maximun consistency so you should have all the cards in your deck to be in it 4 times.
Good buffs; Invigorate, Giant Growth, Groundswell, Scent of Ivy, Seal of Strength, Rancor
infectors: Ichorclaw Myr, Blight Mamba Glistener Elf