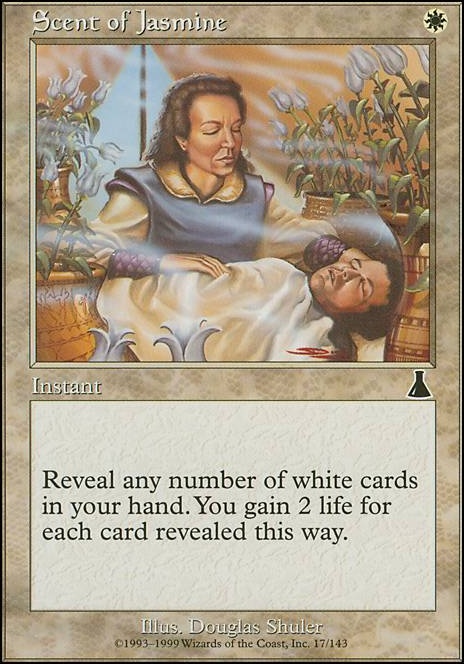 Scent of Jasmine
Instant
Reveal any number of white cards in your hand. You gain 2 life for each card revealed this way.
Browse Alters
View at Gatherer
Legality
| | |
| --- | --- |
| Format | Legality |
| Tiny Leaders | Legal |
| Noble | Legal |
| Leviathan | Legal |
| Magic Duels | Legal |
| Canadian Highlander | Legal |
| Vintage | Legal |
| 2019-10-04 | Legal |
| Casual | Legal |
| Pauper EDH | Legal |
| Vanguard | Legal |
| Legacy | Legal |
| Archenemy | Legal |
| Planechase | Legal |
| 1v1 Commander | Legal |
| Duel Commander | Legal |
| Oathbreaker | Legal |
| Unformat | Legal |
| Pauper | Legal |
| Commander / EDH | Legal |
Scent of Jasmine Discussion
2 years ago
First off thank you for the upvotes!
Really like what you did here. My playgroup is starting to get into PEDH and this is a fantastic starting point for me. I haven't played any PEDH yet so I am not sure how heavy spot removal is available in these kinds of decks. Would something like Icatian Moneychanger, Martyr of Sands, Augur il-Vec, Lone Missionary, Qarsi Sadist, Shu Farmer, Vault Skirge, Scholar of Athreos, Silent Attendant, Benediction of Moons, Death Watch, Golden Urn, Scent of Jasmine and a number of White "Gain X Life" spells fit?
I'm guessing card draw eventually becomes the main problem for this deck and you go into top-deck mode.
Any advice would be great, really looking forward to giving this a try.
3 years ago
Shadow Creatures... I had a mono-white Shadow deck back in the day that wrecked. Check this out,
T2: Archery Training, Flickering Ward
T3: Empyrial Armor
T4: Serra's Blessing
They can't block or target your creature (pretty much) and you can pick off their attackers with Archery Training. I also ran a lot of bull like Story Circle, and Scent of Jasmine, but Magic was a different game back then...
I don't play EDH, but I've always thought that I want to make a deck that uses Mogis, God of Slaughter as it's Commander.
I love meta breaking brews that aren't supposed to work but do. I have a devil deck that has proven to be the experience you talked about called Sinful Devils that got everybody talking at FNM last week. The people I beat and the people that beat me were excited that I was playing the cards that I had together. There were many dynamic moments that put the decisions in your opponents hands, and it sounds like a deck you may enjoy.
In fact, that was reason I came here was to tell you about that deck since you had mentioned Impact Tremors on my Modern Goblins. I read your introduction and basically everything you said hit home. Very cool.
Also, Squirrels.