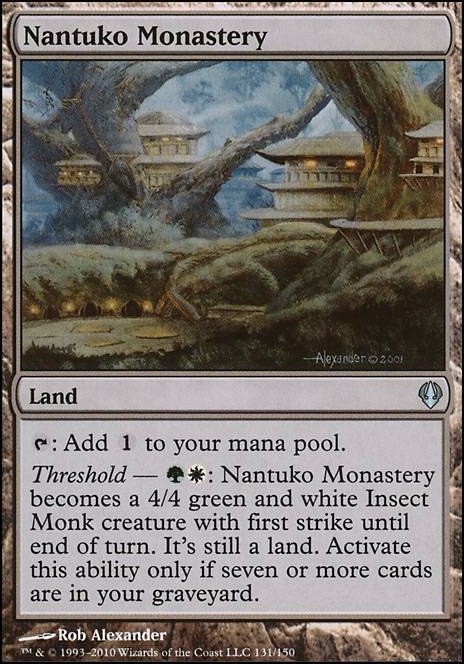 Nantuko Monastery
Land
Tap: Add (1) to your mana pool.
Threshold - (Green)(White): Nantuko Monastery becomes a 4/4 green and white Insect Monk creature with first strike until end of turn. It's still a land. Play this ability only if seven or more cards are in your graveyard.
Browse Alters
View at Gatherer
Legality
| | |
| --- | --- |
| Format | Legality |
| Tiny Leaders | Legal |
| Noble | Legal |
| Magic Duels | Legal |
| Canadian Highlander | Legal |
| Vintage | Legal |
| Highlander | Legal |
| 2019-10-04 | Legal |
| Leviathan | Legal |
| Legacy | Legal |
| 1v1 Commander | Legal |
| Duel Commander | Legal |
| Oathbreaker | Legal |
| Unformat | Legal |
| Casual | Legal |
| Commander / EDH | Legal |
Nantuko Monastery Discussion
2 years ago
Well this is interesting!
Consider running more value lands for your Ulvenwald Hydra, like Geier Reach Sanitarium, Strip Mine, Arcane Lighthouse, Kor Haven, Treetop Village, Forbidding Watchtower, Raging Ravine, Stirring Wildwood, Needle Spires, Haunted Fengraf, Kessig Wolf Run, Kher Keep, Vitu-Ghazi, the City-Tree, Kjeldoran Outpost, Mishra's Factory, some snow basics and Mouth of Ronom, Nantuko Monastery, Slayers' Stronghold, Sunhome, Fortress of the Legion, and Throne of the High City...yes I did look at all the options. The manlands and token makers are probably the best.
3 years ago
Nantuko Monastery? threshhold + knight in play, you got a 6/6 first striker...
4 years ago
Why not incorporate the new BFZ duals Canopy Vista and Cinder Glade. They give you two more targets for Krosan Verge. I'd also recommend the matching fetches Windswept Heath and Wooded Foothills and if you can afford it or play with a proxy friendly group Arid Mesa Grasslands and Mountain Valley are also decent fetches. Copperline Gorge, Fire-Lit Thicket, Jungle Shrine,Raging Ravine,Razorverge Thicket, Riftstone Portal, Rith's Grove, Stirring Wildwood, Nantuko Monastery are some good additional thoughts.Also if you are in a proxy friendly group the original duals in your colors are good choices: Plateau, Savannah, and Taiga.