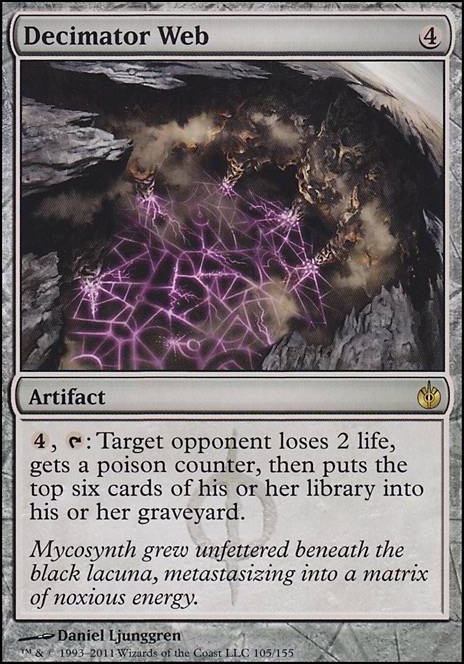 Legality
| | |
| --- | --- |
| Format | Legality |
| Vintage | Legal |
| Duel Commander | Legal |
| Commander / EDH | Legal |
| Legacy | Legal |
| Modern | Legal |
| Tiny Leaders | Legal |
Decimator Web
Artifact
4, T: Target opponent loses 2 life, gets a poison counter, then puts the top six cards of his or her library into his or her graveyard.
Decimator Web Discussion
1 month ago
"I want to drag the game out forever. I want to be able to win whenever I want, but choose not to. I want to say "No" to everything."
If this is what you want, then perhaps you'll like my deck deck:And I'll Pay a Red | Only 5 Red Spells! PRIMER. Take a look at the "Current Best Game" section, cause that's basically what I do with it.
Essentially once you combo out, you search every artifact that could be useful in manipulating the boardstate -- from Lux Cannon to Contagion Engine to Decimator Web -- along with Darksteel Reactor, and literally just sit there and stop them from doing anything, draw-go-ing each of your turns slowly ticking up the Reactor. For added fun, sacrifice the Reactor on turn 19 so the game has no end.
5 months ago
Saw the update, i'll make a few more comments. As you request I won't hold back and put out everything that comes to mind. Do know though that I think it's a decent start, especially if you are making this with what cards you already have. I'll point out all the POTENTIAL shortcomings, these might not always be relevant or something easy to fix. I am not tying to be harsh, again good job.
Deck strikes me as having the possibility of being inconsistent as most of the cards are either 1 ofs or 2 ofs. The more of any given card you have, the more likely you are to draw that card. Having one ugin means you won't see it that often. It's also important to have multiple copies of manadorks as you want to have them in play as soon as possible.
Decimator Web: cool card, but way too slow unless you want to build around it.
Druid of the Cowl/Wirewood Elf: 1 mana cost accelerants are good. After that unless they can produce multiple mana i'm not a huge fan. I would replace these with other mana accelerants when you can.
20 land strikes me as a bit low. Generally speaking in a 20 land deck you would have significantly more mana accelerants than you have currently or have your highest spell cost 4ish mana. I'd add some more lands
Lost Legacy is more of a sideboard card. Even then you have better options to deal with 1 particular card.
From Under the Floorboards without ways to madness it, this is questionable
Without instans or flash cards Seedborn Muse loses value
Mire Boa you already have enough cheap blockers this can be cut.
Kavu Predator without your opponents gaining life this is ok but not great.
I think you need some card draw to round this deck out
7 months ago
Addressing specific things now... I'm focusing on things to think about cutting to make room for lands.
Listing some observations, if I overlooked something this will make it obvious.

*Missed this guy when I made my first post, drat. That's why I did this summation, in case I missed something else.
You have some things that look like they are intended to work together, with limited support to find the pieces (I only saw one tutor). You need to think about if you're serious about keeping all of these. I think they are okay on their own, just not incredible.
Crown of Empires

+

Scepter of Empires

+

Throne of Empires

: This is a fun set and I'd keep it if it's something you like, but you don't have enough tutors to make it likely you'll ever assemble it. If you're fine with that, great. The individual pieces are not incredible apart but not the worst.

Exquisite Blood

+

Sanguine Bond

: This is a really common combo in mono-black, but again you'll have to luck into it. If you're serious about using it to win you need more tutors. If you just like the cards I don't blame you for running them though.
Infect stuff besides Skittles; Plague Myr, Priests of Norn, Decimator Web: These aren't likely to kill anyone with poison by themselves. Plague and Priests have little chance of connecting against a strong opponent (you don't have much evasion support since you're not aggro); Decimator will take forever and tons of mana to do it, Priests will probably hardly do anything interesting. There are much stronger alternatives. Skittles is pretty great on his own and can work excellent on offense or defense, so I'd keep him for now.
Now for some less good stuff, specific cards:
Things to look up!
Exsanguinate is a popular Orzhov finisher that scales up to the game state. Even if you can't finish everyone off with it, its extremely efficient at funnelling everyone else's resources into you.
Anything with extort works, I like Blind Obedience in particular. All of your later plays suck players dry slowly.
Phyrexian Reclamation is cheap, uses your obscene life tank as a fuel, and makes it hard to get rid of your creatures.
That's all I can think of. I hope it is of some use. I don't expect you to cut all of it I just want you thinking. My Orzhov deck is Ayli, Eternal Cleric EDH but it needs some updating on tappedout, if you wanted to see where I got the experience.
Load more