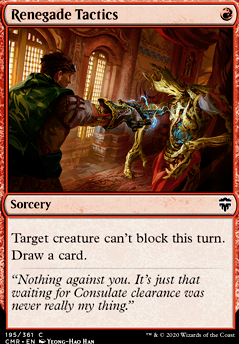 Renegade Tactics
Sorcery
Target creature can't block this turn.
Draw a card.
Browse Alters
Legality
| | |
| --- | --- |
| Format | Legality |
| 1v1 Commander | Legal |
| Arena | Legal |
| Block Constructed | Legal |
| Canadian Highlander | Legal |
| Commander / EDH | Legal |
| Duel Commander | Legal |
| Gladiator | Legal |
| Highlander | Legal |
| Historic | Legal |
| Legacy | Legal |
| Leviathan | Legal |
| Limited | Legal |
| Modern | Legal |
| Oathbreaker | Legal |
| Pauper | Legal |
| Pauper EDH | Legal |
| Pioneer | Legal |
| Tiny Leaders | Legal |
| Unformat | Legal |
| Vintage | Legal |
| Casual | Legal |
| Custom | Legal |
| Quest Magic | Legal |
Latest Decks as Commander
Renegade Tactics Discussion
2 weeks ago
Spawning Breath
OUT
Sudden Breakthrough
IN
Spawning Breath doesn't do much in this build other than to store mana for a later time. If I were focused on tokens it would be better, but in my build Sudden Breakthrough is a strictly better upgrade in that it pumps Feather while also storing mana for another time.
Reckless Charge OUT Deflecting Palm IN
I'm generally underwhelmed with cards that only work at sorcery speed in this deck, and with the addition of Sudden Breakthrough I've already added one back in. Deflecting Palm has always been a great Boros card, and gives me the option to send direct or infect damage right back into my opponents' faces. Comeuppance creates some epic moments and commander, so why not have a few more of them!
Renegade Tactics OUT Birgi, God of Storytelling  Flip IN
Tactics is sorcery speed, making it a pretty bad draw spell compared to my other cantrips, and otherwise useless. Birgi is a great ramp engine. My opponents tried in vain to remove her four times the other night because of the practically limitless mana refund she provides, though all those attempts were in vain!
Smothering Tithe OUT Storm-Kiln Artist IN
Tithe is an amazing card but as Control_Train has observed, it is really suited better to slower, grindier control decks. I've taken it out, and it will find a great new home in my upcoming Ranar the Ever-Watchful deck. Storm-Kiln Artist , on the other hand, can spew out treasure tokens in this deck like you've hit the jackpot on a slot machine, and is a great new addition from Strixhaven.
2 months ago
I want to raise my card number to 65. What should I add? I took out a lot of Renegade Tactics
2 months ago
Crash Through isn't bad per se, but I think it's kind of the wrong idea on how you want to go about things. Trampling over blockers helps get at your opponent, but when your deck is geared towards counting him from 20 life to 0 as fast as humanly possible, then really you'd be better off sidestepping those blockers and dumping all of the damage in your opponent's lap. I think that Slip Through Space is more the right idea, and another common that does virtually the same thing is Shadow Rift ! You could also run evasion-granting cards over the ones like Renegade Tactics or Send to Sleep , since you can't be sure how many blockers your opponent will have, but you really only need one attacker to get through for your plan to work. Distortion Strike is another solid option - it gets a second casting for free and even provides another point of power, meaning it can add 8 unblockable damage to a Kiln Fiend or Cyclops for only a single mana.
Another card I'd highly recommend is Assault Strobe - no surprise value, but it is the cheapest way to double your damage in such a deck. With an Assault Strobe, a Shadow Rift and any other one-mana spell, a Kiln Fiend can kill your opponent as early as turn three!
3 months ago
Hello, itsbuzzi!
How about for drawing power an extra 4x Defiant Strike or 4x Warlord's Fury ? I already have 4x Renegade Tactics , which is incredibly useful. Transmogrify would be best to get my creatures onto the battlefield, yes, but I would have to run like 4x of them just to get the right creature, and not only that, it costs 4 mana. And my combos only cost at most 5 mana, not counting the creature cost, as generally if I draw a creature I'll play it as soon as possible and then use the combo, especially if the creature ETB with summoning sickness, then attacks next turn with damage dealt to it which triggers the combo, or if I'm lucky, it is dealt non-combat damage.
One spell I have for ramp is Sword of the Animist . I know it's not much, but regardless.
5 months ago
Thanks for all the suggestions Apollo, no offense taken at all, I'm glad to get feedback.
Truthfully this deck had all but one of your suggested cards in it at one point or another during the crafting phase, and they're all very effective. The thing I was going for though with this deck was a more early-game focused blitz style of deck as opposed to a more balanced and long-haul strategy. Mostly focusing on getting Colossus Hammer onto the cheaper goblins ASAP to try to finish by turn 3/4.
I felt that the Puresteel Paladin wasn't really pulling it's weight until around turn 4 or 5 when the metalcraft really comes online, with the more simple and straightforward approach only needing 1-2 artifacts in play to inflict lethal in the early stages. Thus I felt like he was slowing things down, despite being very powerful. Same story for Sram, Senior Edificer.
The aim here is to go full agro early and less to play into a more safe Boros playstyle. Honestly this deck would be mono-red if it didn't rely so much on Steelshaper's Gift for tutoring the Colossus Hammer early. I get that the deck maybe isn't optimized, and your version would be more consistent, but I've always been a Johnny at heart.
Infiltration Lens may be worth consideration though, since you're definitely right about card-draw being a massive plus in leu of the bigger mana-base that I have currently. So that may help to even speed the deck up more than the Bonesplitters do. The aim with them was to hopefully create a health enough assault team while I wait for the right cards to initiate the desired Hammer combo, but drawing cards would likely expedite this, so I wouldn't have to worry about just dealing some damage in the meantime while I wait for something better.
The problem I had with Kor Duelist was that he frequently lacked trample and could easily be blocked by fodder early, while the Cathar's Shield didn't play well into the full-offensive aesthetic (but maybe I should focus less on what doesn't feel right and more on what works). Something else I had in the vein of 0-drop equipments was Bone Saw, but also felt it lacked punch or any utility without the metalcraft of card draw from Puresteel Paladin and Sram, Senior Edificer.
I'll definitely play around with re-tuning the mana-base and adding in the Infiltration Lenses though, since that would help with speeding things up, as I mentioned.
Another thought I had was something like Faithless Looting, Crash Through or Renegade Tactics in order to get a little bit of card-draw going, while also neutralising blockers. I'll look more into those perhaps.
Adding in 4X Ancient Den and 4X Great Furnace would also make it more likely to trigger Puresteel Paladin's metalcraft as an easy way to equip Colossus Hammer, and opens the deck up to something like Galvanic Blast or Dispatch for some early utility spells that would also have their metalcraft triggered. That was what I was considering for the more-well-rounded and more white-oriented version of the deck, though as I said before; what I'm really trying to do is maximize efficiency and speed rather than play the long-game.
I appreciate the help, really, and I'll look into how I can make the deck better with your suggestions. Thank you.
Load more