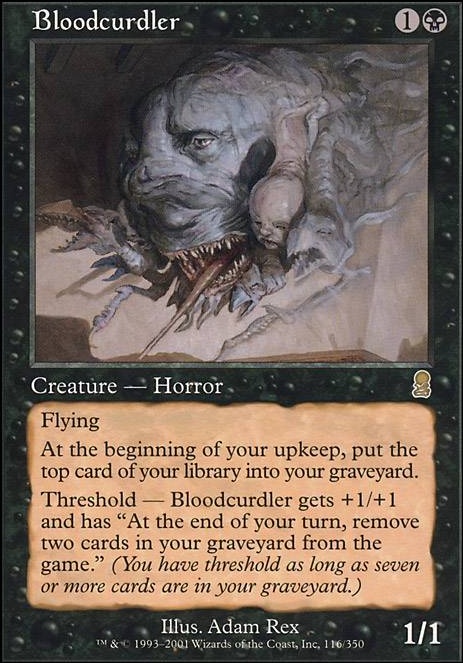 Bloodcurdler
Creature — Horror
Flying
At the beginning of your upkeep, put the top card of your library into your graveyard.
Threshold - As long as seven or more cards are in your graveyard, Bloodcurdler gets +1/+1 and has "At the end of your turn, remove two cards in your graveyard from the game."
Browse Alters
Legality
| | |
| --- | --- |
| Format | Legality |
| 1v1 Commander | Legal |
| Canadian Highlander | Legal |
| Commander / EDH | Legal |
| Duel Commander | Legal |
| Highlander | Legal |
| Legacy | Legal |
| Leviathan | Legal |
| Limited | Legal |
| Oathbreaker | Legal |
| Tiny Leaders | Legal |
| Unformat | Legal |
| Vintage | Legal |
| Casual | Legal |
| Custom | Legal |
| Quest Magic | Legal |
Latest Decks as Commander
Bloodcurdler Discussion
7 months ago
There's some pretty cool card choices in this deck like Web of Inertia. However, I don't see a lot of ways for you to get cards into your graveyard in the first place, other than having your permanents die. Also, while your instants and sorceries do go into the graveyard, most either exile themselves as part of their resolution or wipe the field, getting rid of Tormod in the process. This might be a problem since Tormod only triggers off of your stuff leaving the graveyard.
Maybe try Perpetual Timepiece, Wand of Vertebrae, or Bloodcurdler. These cards both self mill, and can remove cards from your graveyard.
3 years ago
(I would add a proper community card but that feature seems to be malfunctioning right now.)
Farly straightforward, this card would mostly be Zedruu the Greathearted (although a different character, not simply her gone evil or something) with a casting cost of and an activation cost of . In EDH, this could lead to some fun usage of cards like the following:
(I realize you can basically already do this with any Grixis commander + e.g. Bazaar Trader, but that's a bit less straightforward.)
I'm unsure what would be suitable for its upkeep ability. Just copying Zedruu's straight off isn't too inappropriate, as drawing is certainly associated with black and life gain isn't too far out either, but that's kinda boring. Replacing the life gain with something negative towards opponents like milling, discard or plain life loss proportional to the amount of gifted permanent could be one option that's more in line with the color change (thought the negative effects would probably targeted in order to preserve some political potential). Putting a +1/+1 counter per gift on Zedruu the Grixishearted to take advantage of commander damage could also work (especially when combined with auras like Herald of Torment), in which case you could also change power/toughness from the original's 2/4 to 4/2 to signal greater aggression.
For the sake of flavor its subtype would be Horse Djinn, with the artwork depicting a djinn with a mare's head, wearing a mouth-covering veil.
Feedback would be welcome, especially on ways to make Grixis!Zedruu more distinct from the original while still fulfilling the basic function of giving out torturous black cards, in addition to the blue and red ones they both share.
(A version containing green could also be made for the sake of giving that color a chance to show off its painful cards, in which case the creature in question should probably have monkey paws.)