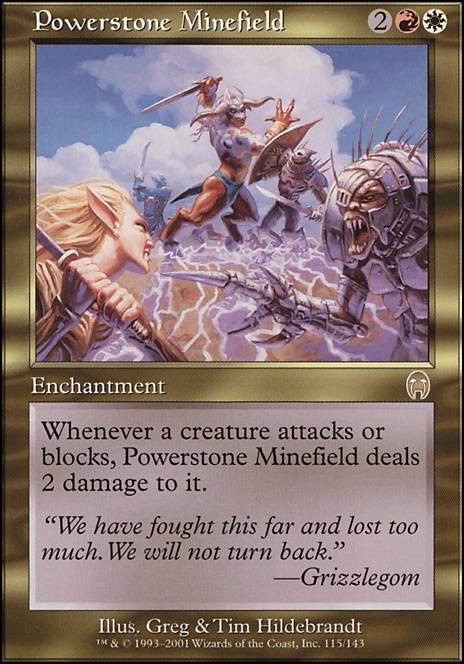 Legality
| | |
| --- | --- |
| Format | Legality |
| Tiny Leaders | Legal |
| Noble | Legal |
| Leviathan | Legal |
| Magic Duels | Legal |
| Canadian Highlander | Legal |
| Vintage | Legal |
| Custom | Legal |
| Vanguard | Legal |
| Legacy | Legal |
| Archenemy | Legal |
| Planechase | Legal |
| 1v1 Commander | Legal |
| Duel Commander | Legal |
| Oathbreaker | Legal |
| Unformat | Legal |
| Casual | Legal |
| Commander / EDH | Legal |
Powerstone Minefield
Enchantment
Whenever a creature attacks or blocks, Powerstone Minefield deals 2 damage to it.
Powerstone Minefield Discussion
7 months ago
Team buffs: Agrus Kos, Wojek Veteran , Hero of Bladehold , Angel of Jubilation , Spear of Heliod , Balefire Liege , Hero of Oxid Ridge , Nobilis of War , Ogre Battledriver , Glory of Warfare , Marshal's Anthem .
Singular buffs: Kusari-Gama , Sword of the Animist , Argentum Armor , Sword of Feast and Famine .
Haste & Double Strike: Aurelia, the Warleader , Captain Lannery Storm , Odric, Lunarch Marshal , Hero of Oxid Ridge , Ogre Battledriver , Assemble the Legion , Berserkers' Onslaught , Boros Charm True Conviction .
Double Damage & Extra Attack Phases: Gratuitous Violence , Aurelia, the Warleader , Combat Celebrant , Aggravated Assault .
---
Iroas, God of Victory 's 1st and 2nd abilities, aka Menace ability and suto Dolmen Gate will guide you to victory.
---
+1 Upvote
Like what you see, +1.
don't like what you see ? Check out my other deck Selvala, Explored and Returned with tokens
---
I missed this stuff too: Agrus Kos, Wojek Veteran , Hero of Oxid Ridge , and Hero of Bladehold they all buff my creatures when they attack so giving them extra attack phases to attack again, buffs them again. So its "battle cry x2" from the Hero's, and its +4/+0 form Agrus Kos, Wojek Veteran on the second attack. Angelic Skirmisher also triggers twice. Not only for my extra combat phases, but my opponents as well. you're all going "duhhh" right, but i knew this too. Didn't realize i have been missing these triggers all the time.
As you can see it works when I remove the changes you said you had to do scotchtapedsleeves
1 year ago
Huatli's Snubhorn
You could focus it a bit more to Enrage, there are still many enrage dinos you could use: Ranging Raptors, Bellowing Aegisaur, Needletooth Raptor, Raptor Hatchling, Siegehorn Ceratops, Silverclad Ferocidons, Trapjaw Tyrant and use enraging cards like AEther Flash, Pyrohemia, Powerstone Minefield, Lightmine Field, Reckless Rage, Savage Stomp, Subterranean Spirit, Wave of Reckoning. The best part of the enrager cards is they also work on their own stopping token mechanics and many other decks. Just the AEther Flash on its own stops so many decks.
Other cards that may prove usefull are Path of Discovery, Thunderherd Migration and you will also need a ton of card advantage to keep the stomping going Elemental Bond, Harmonize, Hunter's Prowess, Mouth / Feed, Seasons Past, Shamanic Revelation, Soul's Majesty...
1 year ago
You may need to include black if you are wanting people to attack you. That will give you access to things like Marchesa's Decree, Blood Reckoning, Hissing Miasma, No Mercy, Dread, and Teysa, Envoy of Ghosts.
I would also recommend running mostly rattle snakes for your creatures like Ophiomancer or Archetype of Finality. You are not only looking to make them attack you but also gain some kind of advantage from the attack. If you are not gaining advantage you are just making a deck designed to lose the game.
You will want protection. Platinum Angel, Platinum Emperion, Fortune Thief, Worship, and Elderscale Wurm are all good for this.
Lightmine Field, Caltrops, Powerstone Minefield are also good options. Repercussion would be great.
Lifeline and Endless Whispers because many of my suggestions can kill and eventually people will run out of creatures so people will stop attacking...
Due to the variety of colors in my post perhaps O-Kagachi, Vengeful Kami would be the right commander? I will note that I built this deck and couldn't really get it to work but perhaps I just didn't give it enough time to sort out.
1 year ago
Thanks for all your suggestions :) I prefer having enrage enablers as permanents, because for an instant or sorcery the slot is just not worth it. Even some of the flashback spells isn't worth it since sadly there are only about 9-12 enrage dinos that are worth running in EDH, so the board is not to often filled enough for 1 turn spells to be worth it.
I have already included Staff of Nin and i do think after some playtesting with this version ones i get the cards from RIX i will definitely try out Caltrops and maybe Powerstone Minefield and Fire Ants.
Thanks Again :)
2 years ago
I half agree with zorsmobile, you should add those tutors to the deck, but not at the cost of removing Lili. It seems to me the deck needs more tutors, not less, as it looks pretty inconsistent what with the close to 0 search and no additional draw effects. That said, I agree with those above me who've told you to double down on similar effects as this too will make the deck more consistent.
That said, I've got a bunch of random thoughts for you. First and foremost, Mana Echoes is a one card combo with your general that generates infinite slivers and generic mana. Granted Torpor Orb shuts it down, but you could easily swap it for Echoes. If you're too attached to removing triggers, I'd try and add Hushwing Gryff. Granted, Humility shuts off Echoes too, but that's WAY too important to remove.
Speaking of, did you know man-land layers stack so they retain their power, toughness, and abilities? Seems like they'd help fix your mana AND be a good creature whenever you need one. It's also hilarious with Reverence and Powerstone Minefield. On a similar note, I'd favor things that make it impossible for people to attack you or pay to attack you, like Elephant Grass, Propaganda, Ghostly Prison, Collective Restraint, Norn's Annex, and Sphere of Safety, over fog effects like Spike Weaver as they're constant and not generated by a creature.
And for our next point of interest: land hate. I'd recommend.adding Devastation and Decree of Annihilation to wipe them and cards like Ankh of Mishra, Manabarbs, Citadel of Pain, and, if youre feeling especially sadistic, Storm Cauldron.
Finally, some unrelated suggestions of Wheel of Sun and Moon for longevity and Sundial of the Infinite to really abuse Stax.
All in all, it looks like a fun deck and I hope these helped.
Load more
No data for this card yet.