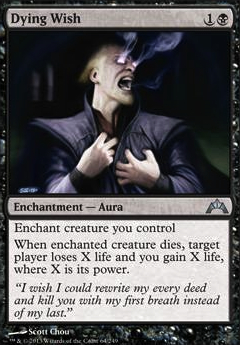 Dying Wish
Enchantment — Aura
Enchant creature you controlWhen enchanted creature dies, target player loses X life and you gain X life, where X is its power.
Dying Wish Discussion
1 month ago
I suppose it comes down to your play group then. Mine tries to synergize with exalted a bit while bogging the field down. Mantle and canopy cover are definitely great additions and provide a ton of protection. Though i do feel that Murder investigation is too slow, Id honestly rather use Dying Wish. If you can fit birds and trace in, you can pull some weird stuff easily
5 months ago
Then are there any cards that do the same as Dying Wish with the trigger effect of something like "when target creature leaves play?" Im seriously thinking of replacing Nightmare with It That Betrays and using a Fling . However I really wanted to stay mono-black.
5 months ago
Almost, but not quite.
Whip of Erebos will exile Nightmare at the beginning of the next end step, or if it leaves the battlefield. Dying Wish reads "When enchanted creature dies, ..." Dies is shorthand for "is put into the graveyard from the battlefield." Since Nightmare will be exiled, Dying Wish will not trigger.
5 months ago
Dying Wish 's ability only triggers if the enchanted creature dies. Remember that "dies" means "is put into the graveyard from the battlefield." If Whip of Erebos 's delayed triggered ability exiles the creature, then that creature never dies because it never went to the graveyard. Dying Wish 's ability won't trigger.
5 months ago
I plan on putting most of my creatures into the grave. Then I will pull Nightmare out using Whip of Erebos . What I want to do is attach Dying Wish to him and then swing in. After that, when he leaves the battlefield then Dying Wish should deal his damage again to the defending player. Is this correct? Im not really sure it can because of the way some of the text on these cards are worded. If this wont work then are there other cards like Dying Wish that will do something similar?
5 months ago
I kinda came up with an interesting strategy thats based off of some decks I seen. Im running Zombies and Demons. Except for the exception of 2 Grave Titan for his ability to create zombies. Also 2 Nightmare , which will be part of my plan. And 4 Tenacious Dead for reusable chump blockers. Im going to intentionally sac my creatures into the grave using Entomb and Buried Alive . Then I will use Exhume and Zombify to pull them back out without paying their cost. I am running 4 Rune-Scarred Demon and will target my Whip of Erebos and Dying Wish . Then Ill use the whip to target Nightmare , which will be in the grave. Once hes on the battlefield Ill place Dying Wish on him and swing. Since hes flying I should get through. Then when he leaves the battlefield due to the whip he will again deal damage and I gain life. I have the zombies in there in case it all back fires and I need to respond quickly.
| | |
| --- | --- |
| Color(s) | Black |
| Cost | 1B |
| Converted cost | 2 |
| Avg. draft pick | 11.68 |
| Avg. cube pick | 3.18 |
Legality
| | |
| --- | --- |
| Format | Legality |
| Legacy | Legal |
| Vintage | Legal |
| Commander / EDH | Legal |
| Modern | Legal |
| Duel Commander | Legal |