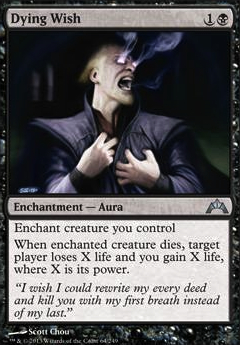 Dying Wish
Enchantment — Aura
Enchant creature you controlWhen enchanted creature dies, target player loses X life and you gain X life, where X is its power.
Dying Wish Discussion
21 hours ago
I have a deck similar to this (not posted yet) I run Perilous Myrs instead of Infectious Hosts. It gives you an option to do 2 damage to c/p and only costs 2.
Also, Mortis Dogs might be a nice addition especially with Dying Wish.
Please check out some of my decks here. For more ideas.
2 weeks ago
Also Dying Wish could be useful against chump-blocking token decks for your EOT pump creatures.
2 months ago
I suppose it comes down to your play group then. Mine tries to synergize with exalted a bit while bogging the field down. Mantle and canopy cover are definitely great additions and provide a ton of protection. Though i do feel that Murder investigation is too slow, Id honestly rather use Dying Wish. If you can fit birds and trace in, you can pull some weird stuff easily
6 months ago
Then are there any cards that do the same as Dying Wish with the trigger effect of something like "when target creature leaves play?" Im seriously thinking of replacing Nightmare with It That Betrays and using a Fling . However I really wanted to stay mono-black.
6 months ago
Almost, but not quite.
Whip of Erebos will exile Nightmare at the beginning of the next end step, or if it leaves the battlefield. Dying Wish reads "When enchanted creature dies, ..." Dies is shorthand for "is put into the graveyard from the battlefield." Since Nightmare will be exiled, Dying Wish will not trigger.
| | |
| --- | --- |
| Color(s) | Black |
| Cost | 1B |
| Converted cost | 2 |
| Avg. draft pick | 11.67 |
| Avg. cube pick | 3.18 |
Legality
| | |
| --- | --- |
| Format | Legality |
| Legacy | Legal |
| Vintage | Legal |
| Commander / EDH | Legal |
| Modern | Legal |
| Duel Commander | Legal |