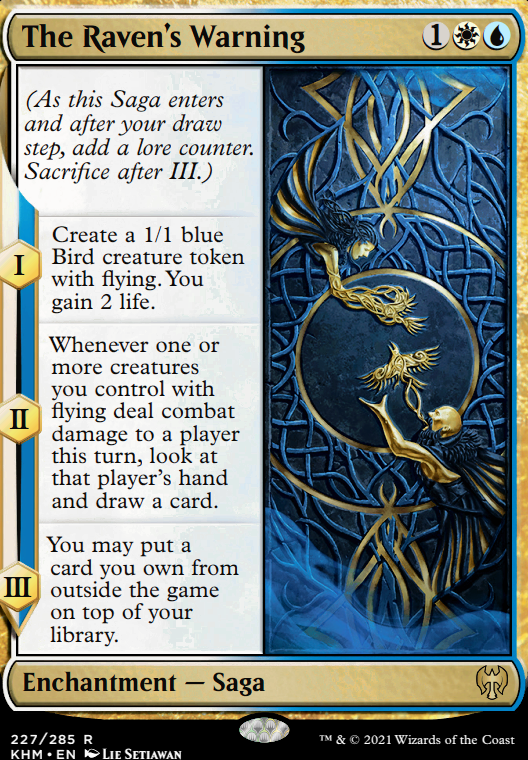 The Raven's Warning
Enchantment — Saga
(As this Saga enters the battlefield and after your draw step, put a lore counter on this and activate and/or enable the ability of the saga tied to the required number of lore counters. Sacrifice this after you put a third lore counter on this.)
: Create a 1/1 blue Bird creature token with flying. You gain 2 life.
: Whenever one or more creatures you control with flying deals combat damage to a player this turn, look at that player's hand and draw a card.
: You may put a card you own from outside the game on top of your library.
Browse Alters
Tokens
Legality
| | |
| --- | --- |
| Format | Legality |
| 1v1 Commander | Legal |
| Arena | Legal |
| Block Constructed | Legal |
| Brawl | Legal |
| Canadian Highlander | Legal |
| Commander / EDH | Legal |
| Duel Commander | Legal |
| Gladiator | Legal |
| Highlander | Legal |
| Historic | Legal |
| Legacy | Legal |
| Leviathan | Legal |
| Modern | Legal |
| Oathbreaker | Legal |
| Pioneer | Legal |
| Pre-release | Legal |
| Standard | Legal |
| Tiny Leaders | Legal |
| Unformat | Legal |
| Vintage | Legal |
| Casual | Legal |
| Custom | Legal |
| Quest Magic | Legal |
Latest Decks as Commander
The Raven's Warning Discussion