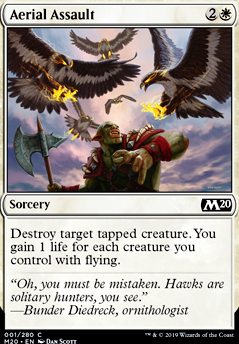 Legality
| | |
| --- | --- |
| Format | Legality |
| Pre-release | Legal |
| Tiny Leaders | Legal |
| Custom | Legal |
| Magic Duels | Legal |
| Canadian Highlander | Legal |
| Vintage | Legal |
| Oathbreaker | Legal |
| Modern | Legal |
| Arena | Legal |
| Penny Dreadful | Legal |
| Standard | Legal |
| Pauper EDH | Legal |
| Leviathan | Legal |
| Legacy | Legal |
| Brawl | Legal |
| 1v1 Commander | Legal |
| Duel Commander | Legal |
| Casual | Legal |
| Unformat | Legal |
| Pauper | Legal |
| Commander / EDH | Legal |
Aerial Assault
Sorcery
Destroy target tapped creature. You gain 1 life for each creature you control with flying.
Aerial Assault Discussion
1 month ago
Hello Sir!
I take it you started with the Mu Yanling, Celestial Wind planeswalker deck.
Two main suggestions in general:
I would suggest to keep the deck to mono-blue if you can, as this will allow you to not get color screwed (getting too many lands of one color, but not enough of another). If you insist on going White-blue, you need to run some dual color lands (maybe a set of Glacial Fortress ).
I would also suggest you get rid of your non-flying things and stay away from 1x counts. By having more one-ofs, you are thinning the probability to get the best cards.
If you dont mind cards rotating out of standard in october, the most obvious addition to this is Favorable Winds . A mono blue version of this would make the also soon rotating Tempest Djinn really good.
Having said this, let me give you a break down on how I would upgrade your deck in its colors:
-2x Air Elemental +2x Sphinx of New Prahv Sure, the Sphinx has 1 less toughness, but it also costs 1 mana less and is harder to deal with because of its special ability.
-1x Callous Dismissal -1x Bond of Discipline +2 Winged Words Since all of your creatures are flyers, you really want to be able to draw 2 cards for only 2 mana. This is also your only draw spell and Amass doesn't really make sense here.
-2x Spectral Sailor -2x Concordia Pegasus +4x Healer's Hawk Spectral Sailor and Concordia Pegasus can be easily replaced by the hawk, which will gain you life (and time) for you to get your finisher cards
-1x Saheeli's Silverwing +1 Warden of Evos Isle Get a fourth warden. Saheeli is slower than Warden, and the Warden will speed the rest of your deck. No brainer.
-3x Island -3x Plains +4x Glacial Fortress +2 Azorius Guildgate More reliable lands!
-2x Celestial Messenger + 2x Empyrean Eagle Eagle doesn't depend on having the planeswalker for not sucking.
-2x Show of Valor -1x Glaring Aegis +3 Aerial Assault Aerial Assault has better synergy with your deck, also, trying to have as many 4x as possible.
-2x Take Vengeance +2x Dovin, Grand Arbiter You already have 6x removal in the form of Aerial Assault and Pacifism
-1x Disdainful Stroke -1x Disenchant -1x Negate -1x Quench +4 Depose / Deploy Removing many one-ofs in favor of a flexible spell.
-1x Tale's End -1x Unsummon +2 Azorius Charm More flexible, in your colors, more consistency.
2 months ago
Hey, interesting brew combining Goblins with Aurelia. White gives you lots of good support cards for Goblins that red doesn't offer.
This deck's budget is very low. It's going to be difficult to make any real improvements without spending an extra $15, but a $15 upgrade could do a lot for your deck. Even a $10 upgrade can help quite a bit.
Good budget ($3 or less each) cards to consider adding:
This could be a about $15 upgrade. Tower and Forge are two Boros dual lands that ETB (enter the battlefield) untapped which is helpful in game play. Tower is one of the best lands to play in mulicolored Commander decks. Cut Plains for these lands.
Armory gives you more opportunity to get Skullclamp because it's is by far your best repeatable source of draw because of having many sources of 1/1 Goblins. Assemble can be another repeatable source of 1/1 tokens and if not dealt with by opponents can create a lot of value over the course of turns. Adding more mana rocks that can make white mana is helpful to be able to reduce the number of Plains in the manabase.
---
Cards to consider cutting:
40 lands is a lot of lands and when you have this many basic lands it's very likely you'll get consistently land flooded which is not fun. My advice is to reduce the number of Plains. If doing this then cut the casting cost cards because white is the secondary color, red is the primary color since you need lots more red for Goblins.
In my opinion Titan and Aurelia are the only worth keeping because they're six drops which makes it easier to have double white mana available when you want to cast them. Archetype of Courage is a good card, but having consistently for a three drop is not something you should have to worry about.
No data for this card yet.