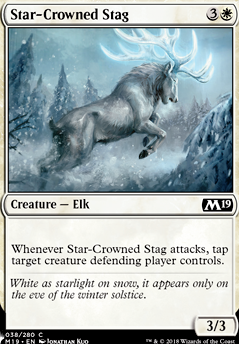 Star-Crowned Stag
Creature — Elk
Whenever Star-Crowned Stag attacks, tap target creature defending player controls.
Browse Alters
Legality
| | |
| --- | --- |
| Format | Legality |
| 1v1 Commander | Legal |
| Arena | Legal |
| Block Constructed | Legal |
| Canadian Highlander | Legal |
| Commander / EDH | Legal |
| Duel Commander | Legal |
| Gladiator | Legal |
| Highlander | Legal |
| Historic | Legal |
| Legacy | Legal |
| Leviathan | Legal |
| Modern | Legal |
| Oathbreaker | Legal |
| Pauper | Legal |
| Pauper EDH | Legal |
| Pioneer | Legal |
| Unformat | Legal |
| Vintage | Legal |
| Casual | Legal |
| Custom | Legal |
| Quest Magic | Legal |
Latest Decks as Commander
Star-Crowned Stag Discussion
2 months ago
Looks like a fun starter commander! Black White lifegain is a definite fun archtype to build, maybe work up towards something like Karlov of the Ghost Council or Oloro, Ageless Ascetic ! I know starting out budget is important as you don't want to invest in cards you might not like, so I've made the recommendations with that in mind!
On the first look, your commander can filter through your deck fairly consistently, so some reanimation spells like Dread Return Unburial Rites Victimize might work out for you!
Revival / Revenge and Light of Promise are both fun cards that offer some utility and can get out of hand.
Spirit Loop seems like it could have a home in your deck, as it's a consistent 2cmc spell that you can keep casting and getting back to trigger your commander.
Well of Lost Dreams Dawn of Hope Cosmos Elixir Are all sources of card draw that synergize with your lifegain gameplan! Your commander's colors are notoriously known for lacking card draw and ramp, so these might help keep you in the game!
Soul Warden Soul's Attendant and Suture Priest are decent lifegain triggers, as they trigger on each creature entering the battlefield.
Blind Obedience seems perfect for your deck!
Vampire Nighthawk Indulging Patrician Basilica Bell-Haunt Angel of Vitality are creatures that seem to fit with your gameplan.
Lurrus of the Dream-Den offers consistent recursion and allows you to cast lower cmc permanents. Kami of False Hope could also pair with this really well, as it's basically a fog effect that you can cast for cheap over and over!
In your current list, it appears a little removal light (which to be fair is meta dependent). since you're playing white, you have access to cards like Darksteel Mutation and Reprobation , which can be a headache for your opponents to deal with if you enchant their commander. Also Victimize is a great catchall removal spell.
Colored mana seems at a premium in your deck, so I'd also look into getting some cheaper artifact ramp like Marble Diamond and Charcoal Diamond .
For cuts, I'd recommend evaluating your cards in terms of whether they actively win the game or help you do what you want. In your current list Fortified Rampart I've found to be underwhelming and doesn't further your gameplan. I'd also recommend replacing the following: Star-Crowned Stag Skeleton Archer Reaper of Night Kor Scythemaster Inspiring Captain Hailstorm Valkyrie Gargoyle Sentinel Fiend Binder Angel of the Dawn Courier Griffin Silverflame Ritual Chaplain's Blessing Splendid Agony Djeru's Renunciation Sinister Possession .
That being said, it can sometimes be fun just trying your best with whatever cards are lying around! Hopefully the suggestions can give your deck a little pep!
2 years ago
Luminous Bonds is a relatively cheap spell (moneywise and manawise) that you can maindeck to deal with powerful attackers and blockers, I think it will pay off in a deck with many small creatures where a strong blocker could become a problem. However, it also deals with creatures that have triggers on block/attacks like Etrata, the Silencer (the RVN one), Star-Crowned Stag (albeit, I'll admit, I made 2 poor examples as those cards are seldom seen in the current metagame).
Slaughter the Strong can be useful in those same istances, but you usually want to save it for board clear against things like a kicked Verix Bladewing.
Seal Away In particular is really strong when you want to answer something during your opponent turn, as white usually lacks instant removal.
You should definitely keep Pride of Conquerors, I think, as a +2/+2 to all your creatures in a deck such as yours can easily be a game breaker.
2 years ago
Hey there, did you have a goal in mind for the deck or a budget that can help with card suggestions? Just from peeking at it I see a lot of flyers already and aggressive creatures.
Some basic budget instants I like for a white deck like yours would be Adamant Will or Sheltering Light for protecting your low toughness creatures. This could be used offensively or on defense to allow you to swing back strong the next turn. Gideon's Reproach for removing tough attackers or blockers without losing one of your creatures. I would run Make a Stand over Inspired Charge. I feel like giving every creature you have indestructible is better than the extra +1/+1 that you get for Inspired charge with 1 less mana to cast than inspired charge.
For creatures I would consider removing the 2 Dwarven Priest and adding 2 more Star-Crowned Stag to clear the way when attacking. Maybe Aerial Responder instead of Loxodon Line Breaker? Vigilance, flying and lifelink all in one package for the same casting cost! Daybreak Chaplain might be a good replacement for Sun Sentinel since it is tougher to kill and has the lifelink to to help you endure until you can get your high cost angels out.
Hope that helps give you a few ideas for tweaks. Good luck!