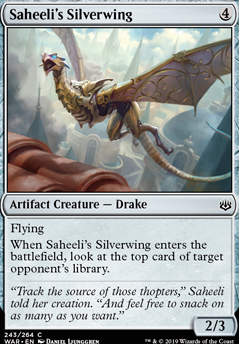 Legality
| | |
| --- | --- |
| Format | Legality |
| Pre-release | Legal |
| Tiny Leaders | Legal |
| Custom | Legal |
| Magic Duels | Legal |
| Canadian Highlander | Legal |
| Vintage | Legal |
| Oathbreaker | Legal |
| Modern | Legal |
| Arena | Legal |
| Penny Dreadful | Legal |
| Standard | Legal |
| Pauper EDH | Legal |
| Leviathan | Legal |
| Legacy | Legal |
| Brawl | Legal |
| 1v1 Commander | Legal |
| Duel Commander | Legal |
| Casual | Legal |
| Unformat | Legal |
| Pauper | Legal |
| Commander / EDH | Legal |
Saheeli's Silverwing
Artifact Creature — Drake
Flying
When Saheeli's Silverwing enter the battlefield, look at the top card of target opponent's library.
Saheeli's Silverwing Discussion
1 month ago
Fit of Dread
Sorcery
Each opponent loses X life. If X is four or more, each opponent also discards two cards. If X is eight or more, each opponent also sacrifices a creature for each creature card in their graveyard.
I imagined myself becoming one with nothing and very quickly it became true...
---
Let's do a new kind of cycle. War of the Spark brought us a whole bunch of creatures or spells that were companions or signature spells of planeswalkers. For example, Teyo's Lightshield , Ashiok's Skulker , Ugin's Conjurant , and Saheeli's Silverwing . Let's re-create these companion cards. Many of them were common, so let's promote them to uncommon.
1 month ago
Hello Sir!
I take it you started with the Mu Yanling, Celestial Wind planeswalker deck.
Two main suggestions in general:
I would suggest to keep the deck to mono-blue if you can, as this will allow you to not get color screwed (getting too many lands of one color, but not enough of another). If you insist on going White-blue, you need to run some dual color lands (maybe a set of Glacial Fortress ).
I would also suggest you get rid of your non-flying things and stay away from 1x counts. By having more one-ofs, you are thinning the probability to get the best cards.
If you dont mind cards rotating out of standard in october, the most obvious addition to this is Favorable Winds . A mono blue version of this would make the also soon rotating Tempest Djinn really good.
Having said this, let me give you a break down on how I would upgrade your deck in its colors:
-2x Air Elemental +2x Sphinx of New Prahv Sure, the Sphinx has 1 less toughness, but it also costs 1 mana less and is harder to deal with because of its special ability.
-1x Callous Dismissal -1x Bond of Discipline +2 Winged Words Since all of your creatures are flyers, you really want to be able to draw 2 cards for only 2 mana. This is also your only draw spell and Amass doesn't really make sense here.
-2x Spectral Sailor -2x Concordia Pegasus +4x Healer's Hawk Spectral Sailor and Concordia Pegasus can be easily replaced by the hawk, which will gain you life (and time) for you to get your finisher cards
-1x Saheeli's Silverwing +1 Warden of Evos Isle Get a fourth warden. Saheeli is slower than Warden, and the Warden will speed the rest of your deck. No brainer.
-3x Island -3x Plains +4x Glacial Fortress +2 Azorius Guildgate More reliable lands!
-2x Celestial Messenger + 2x Empyrean Eagle Eagle doesn't depend on having the planeswalker for not sucking.
-2x Show of Valor -1x Glaring Aegis +3 Aerial Assault Aerial Assault has better synergy with your deck, also, trying to have as many 4x as possible.
-2x Take Vengeance +2x Dovin, Grand Arbiter You already have 6x removal in the form of Aerial Assault and Pacifism
-1x Disdainful Stroke -1x Disenchant -1x Negate -1x Quench +4 Depose / Deploy Removing many one-ofs in favor of a flexible spell.
-1x Tale's End -1x Unsummon +2 Azorius Charm More flexible, in your colors, more consistency.
5 months ago
Just finished playing at my last prerelease, at least for a while.
Can't see myself playing another one, unless we go back to Kaladesh.
A lot of the Planeswalkers were very underwhelming. Ajani was one that seemed to work.
I got Nahiri and Massacre Girl as my promos. Neither went in my deck but I love Nahiri and Massacre Girl is a cool name, so I was still pleased to get them.
I also cracked Jace, Teferi, and heaps of Blue, White, and Colourless fliers, which determined my build.
---
I got completely stomped in my first match by a deck with loads of ramp and big fatties.
I did whittle him down in the first game, only for him to play a card that put his life total back to 18.
I obliterated my second Opponent, also playing , with too many fliers for him to deal with. He had two Ajani's, but they weren't enough to save him.
My third Opponent played and had a preponderance of non-creature spells.
She was able to kill all of my creatures in our first game, and then laid down a God-Pharaoh's Statue that meant I couldn't cast some of my spells in hand. She only got some small creatures on the field but they, along with the chip damage from God-Pharaoh's Statue , eventually wore me down.
I got ahead of her with my creatures in the next game, playing so many that she couldn't kill them all.
In our final game we were fairly evenly matched. She was going very wide and I had a lot of fliers. Neither of us could attack because then we would leave ourselves vulnerable to a return attack by our Opponent.
I started to put some fliers on the field, got some +1/+1 counters on them, and was able to get a bit of flying damage through.
Then I played God-Pharaoh's Statue , which not only shut her down, but added more chip damage to my flying combat.
Eventually it was all over, in my favour. Good game to finish with as I've played against my Opponent on many occasions, she's a nice person, and I thought it was great to end my prerelease experience playing another female, which is rare for me.
This was my deck:
1x Ashiok's Skulker
2x Aven Eternal
1x Battlefield Promotion
1x Charmed Stray
1x Crush Dissent
1x Dovin's Veto


1x Enforcer Griffin
1x Erratic Visionary
1x God-Pharaoh's Statue
1x Iron Bully
8x Island
1x Jace, Wielder of Mysteries
1x Karn's Bastion
1x Kasmina, Enigmatic Mentor
1x Martyr for the Cause
8x Plains
1x Rescuer Sphinx
2x Saheeli's Silverwing
1x Teferi, Time Raveler
2x Teyo's Lightshield
1x Thunder Drake
1x Totally Lost
1x War Screecher

My thoughtw on some of the cards from tonight:
Ajani is excellent.
God-Pharaoh's Statue is better than you might imagine - the person who played it won both matches I saw it in.
Make sure your Planeswalker is going to do something right away that will effect the match - I killed so many of them the turn after they dropped, with flying creatures ie. Don't rely on their static abilities.
There are enough fliers to make a deck with a lot of them - the ability on Saheeli's Silverwing isn't useful most of the time, but the flying is great
The limited environment didn't feel much different to me, even with more Planeswalkers. Most of the time they didn't really affect things. Better Planeswalkers might, though.
I only ever played my Teferi, Time Raveler at a point in the game that I didn't need him to win. My Jace, Wielder of Mysteries and Kasmina, Enigmatic Mentor never came to hand. So, basically, I kept winning games without any of my Planeswalkers helping.
Be careful when building with Planeswalkers. Remember they AREN'T creatures, so should not be taking up many or even ANY of your creature slots. Some people learnt this the hard way, running too many of them for little gain, and not having enough creatures to protect them.
I had started off with two Emergence Zone cards in my deck but didn't find them useful, and took them out to colour fix better. I just found that I was never in a position where I could afford to sac them and needed to Flash a card in.
Mobilized District was very good. A bit like Mutavault . It having Vigilance works well as you can still tap it for mana in your second Main phase.
seems VERY strong. Most people were playing it.
---
I think that's all I have to pass on.
Thanks for reading my prerelease reports over the years.
Hope everyone has fun this weekend, and cracks some good cards.
No data for this card yet.