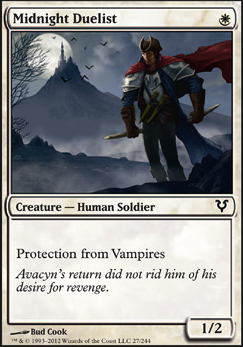 Midnight Duelist
Creature — Human Soldier
Protection from Vampires
Latest Decks as Commander
Midnight Duelist Discussion
7 months ago
Mcat1999, White has long been able to deal damage to tapped creatures. And blue has long had Prodigal Sorcerer . Niko Aris doesn't deal direct damage, yes it's noncombat, but still not direct. They're completely within the color pie. Although it seems like the color pie only applies to white anymore. I just don't get the constant hate on white from R&D, just why? Anyways.
Bright & Happy card:
Full Moon Festivities
Sorcery
Destroy all non-Human, non-Angel creatures.
---
Make a card named "Minna of Selhoff", she's a former cathar and Midnight Duelist who was a hometown hero in Nephalia.
3 years ago
I have a couple suggestions: