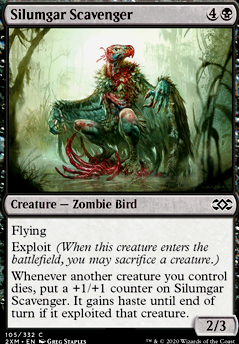 Silumgar Scavenger
Creature — Zombie Bird
Flying
Exploit (When this creature enters the battlefield, you may sacrifice a creature.)
Whenever another creature you control is put into the graveyard from the battlefield, put a +1/+1 counter on Silumgar Scavenger. It gains haste until end of turn if it exploited that creature.
Browse Alters
Legality
| | |
| --- | --- |
| Format | Legality |
| 1v1 Commander | Legal |
| Block Constructed | Legal |
| Canadian Highlander | Legal |
| Commander / EDH | Legal |
| Duel Commander | Legal |
| Highlander | Legal |
| Legacy | Legal |
| Leviathan | Legal |
| Limited | Legal |
| Modern | Legal |
| Oathbreaker | Legal |
| Pauper | Legal |
| Pauper EDH | Legal |
| Unformat | Legal |
| Vintage | Legal |
| Casual | Legal |
| Custom | Legal |
| Quest Magic | Legal |
Latest Decks as Commander
Silumgar Scavenger Discussion
1 year ago
Death Baron can replace at least 2x Deadly Allure. And if you want a second wining condition you could go more aggro. Zombie Infestation, for example, is a good option since it doesn't need to tap land to activate its abilities, and it also triggers madness more easily (or other graveyard related abilities). And following the aggro strategies you can use Rotting Giant if you want, but I believe it would require different sorts of lands like Evolving Wilds.
Also, two cards I believe that can match the art of your deck are Strength of Night (can give +3/+3 to all zombies) and Silumgar Scavenger which may help you to attack later on.
1 year ago
I love this deck. PDH games go long and your deck help stall out the board and wins through those stalls using your commander. It's a solid strategy.
You want to maximize your creature count as much as possible to take advantage of your commander. There are a few effects in your instants, sorceries and enchantments that could be replaced with creatures.
Crypt Creeper has a solid body and is basically like Scarab Feast. You could also try Faerie Macabre if you want to go for the free graveyard hate. No one expects that.
Diligent Farmhand makes sense in this build, even as a worse Sakura Tribe Elder.
I'm a big fan of Elvish Skysweeper in slow decks like this. The effect is expensive, but it can lock a player out of the game.
Because most of your creatures have a lot of toughness, this makes damage-based sweepers very strong. I would play the full gambit of Crypt Rats , Pestilence , Evincar's Justice and Gangrenous Zombies . Two of them are creatures, so that's a nice bonus.
Heart Warden is ramp that also turns into card draw later, like a Mind Stone.
Slum Reaper is great removal and puts a creature in your graveyard.
You could probably get some good value out of Mortician Beetle and Silumgar Scavenger .
Spore Frog is a good political tool that can encourage opponents to attack elsewhere. I could see it over Terrifying Presence, even if you lose on spider flavour.
Vulturous Aven is very similar to some of your card draw, but is has a body.
I think you should play Watcher in the Web and Oran-Rief Recluse in the maindeck. Watcher often feels like a fog while Recluse is great removal that usually has a target in multiplayer.
In terms of cuts, I don't understand Wildsize. You can also easily cut Spider Climb. Most of your creatures have reach already and +0/+3 is not great, even for 1 mana. Arachnus Web is also pretty weak removal. Rancor is a good card, but is it really useful for your game plan? How often will you win by attacking with your spiders? Naturalize feels a bit vanilla and could be replaced with another creature that gives you a similar effect. You also have quite a few cantripping creatures that I don't quite get the purpose of. Are they chump blockers? You have quite a bit of card advantage in black already. Wander in Death could be Death Denied or Reaping the Graves instead.