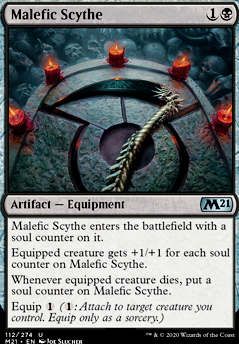 Malefic Scythe
Artifact — Equipment
Malefic Scythe enters the battlefield with a soul counter on it.
Equipped creature gets +1/+1 for each soul counter on Malefic Scythe.
Equip (: Attach to target creature you control. Equip only as a sorcery.)
Browse Alters
Legality
| | |
| --- | --- |
| Format | Legality |
| Pioneer | Legal |
| Block Constructed | Legal |
| Oathbreaker | Legal |
| Unformat | Legal |
| 1v1 Commander | Legal |
| Legacy | Legal |
| Penny Dreadful | Legal |
| Frontier | Legal |
| Duel Commander | Legal |
| Canadian Highlander | Legal |
| Magic Duels | Legal |
| Modern | Legal |
| Casual | Legal |
| Pre-release | Legal |
| Brawl | Legal |
| Arena | Legal |
| Standard | Legal |
| Vintage | Legal |
| Highlander | Legal |
| Historic | Legal |
| Tiny Leaders | Legal |
| Commander / EDH | Legal |
| Leviathan | Legal |
Malefic Scythe Discussion
1 week ago
I'm pretty sure they're not which is a great point. I typically run the Life or Scry lands in my paper decks for cost. Dreadhorde Butcher is freakin' AWESOME with Malefic Scythe but he is also on the spendier side. I think I might have one or two and if that is the case they would definitely go back in.
2 weeks ago
aww well looks like i was to late and combo is pretty well covered already.

If not just run a search for any mainstream mono black deck that has Zulaport Cutthroat and Blood Artist in it then just add Malefic Scythe to it and you should be good to go.
3 weeks ago
I am going to start building my second mono black deck around vito, thorn of the dark rose
My previous one was a K'rrik deck and despite I filled it with really expensive and powerful cards and all the best aristrocrats and ways to...well it failed so this time I am gonna try to get advice from others so I can get mono black done right this time.
The card I am looking at is Malefic Scythe. I want to pair it with Ashnod's Altar but I can't think of any card to pair with it to make it go infinite. I need a creature or spell that makes it so that when I sac the creature holding the scythe I can spawn another creature forever. Is there a way to make this scythe go infinite?
I think it would be a really cool way and this scythe looks like it would go flavorfully REALLY well in this deck with this being a vampire cleric.