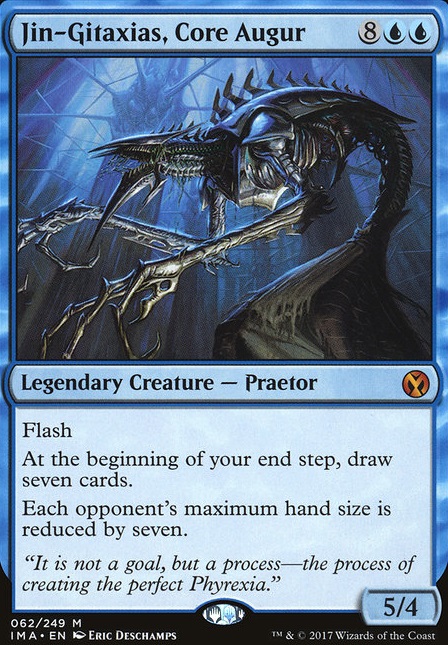 Jin-Gitaxias, Core Augur
Legendary Creature — Phyrexian Praetor
Flash
At the beginning of your end step, draw seven cards.
Each opponent's maximum hand size is reduced by seven.
Latest Decks as Commander
Jin-Gitaxias, Core Augur Discussion
8 months ago
I completely understand style over synergy. In each of my decks, I have a single, immutable slot betaken to a selcouth or wacky card.
You may have noticed in my Illuna list that there is a single Temporal Aperture, which has been surprisingly good on occasion, despite being against most of the deck's entire strategy. (It gave me a Jin-Gitaxias once.) I also have a Moonring Mirror in Kumena, a Stillmoon Cavalier in Tymna

and Sidar

, a Cao Cao in Chainer

, and more that needn't be mentioned.
Having Questing Beast as a pet card holds far more power than others, so follow what you enjoy.
Load more