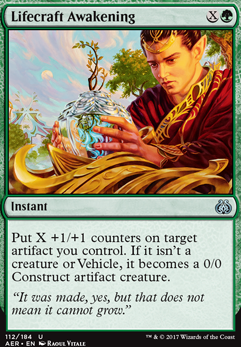 Legality
| | |
| --- | --- |
| Format | Legality |
| Modern | Legal |
| Legacy | Legal |
| Vintage | Legal |
| Commander / EDH | Legal |
| Duel Commander | Legal |
| Tiny Leaders | Legal |
Lifecraft Awakening
Instant
Put X +1/+1 counters on target artifact you control. If it isn't a creature or Vehicle, it becomes a 0/0 Construct artifact creature.
Lifecraft Awakening Discussion
2 days ago
I'm not sure if your reading the card wrong or not, but remember that Lifecraft Awakening is target artifact, not creature. I would also recommend maybe Blossoming Defense since it's a good instant that works in combat and also protecting your creautures. Other than that, this looks like a solid mono green counters budget list!
3 days ago
If you can play it, sylvan is super good for that reliablility. Mwonvuli Acid-Moss and some Cinder Glade would seriously help with the mana fixing and with the extra forests Arbor Elf/Utopia Sprawl is a flat fantastic combo- core to a lot of ramp decks. I'd consider running Primal Command in place of a pair of the deus, as it can search them and tuck away a land at the same time, providing some additional versatility fetching ruinblaster or perhaps Acidic Slime.
Swiftspear will be great if you can play it turn 1 as it will look like burn/delver turn 1, which needs to be played against completely differently (with the banning of probe this becomes a lot simpler to bluff, and might buy you time to ramp), but there are a few other options. Narnam Renegade,Sakura-Tribe Elder or similar to discourage/chump large creature attacks for example.
Gruul Signet is interesting- if you were running symetrical land destruction I'd reccomend three in this list alongside Lifecraft Awakening, but I think that some manadorks and draw spells to soak up the removal that would otherwise be hitting deus is actually fairly important so long as you can survive those first few turns.
I think the big thing I'd do here though is brining some SB cards mainboard to free up slots- its sixty card decks but you can bring 75 to the table, and starting pre-sideboarded with a second option in the side is a powerful tool.I'd think about running Fog/Anger of the Gods maindeck, possibly as a six of with Moonmist instead of swiftspear/titan's, Ancient Grudge in the sideboard instead of Destructive Revelry/Vandalblast, and Roast sideboard in place of Mizzium Mortars. This'd let you stall into a boardclear then start killing their lands before they rebuild board presence. Does depend on the meta though.
Consider Ratchet Bomb for token denial and impromptu enchantment removal if appropriate. Beast Within is worth a look to remove lands when you can deal with creatures, or for removing big stuff, but I don't know how well it'll function in an aggro meta where a 3/3 can be buffed to finish you.
For budget decks its best to view the sideboard as mainboard options to improve matchups rather than 'golden bullets' to defeat decks like core meta decks- think of it like 'I can have this deck pre SB and this one after if I need it'- makes 15 budget cards a lot harder hitting.
All told, nothing teaches like playing the deck and seeing where it falls over- so test, and play, and have fun!