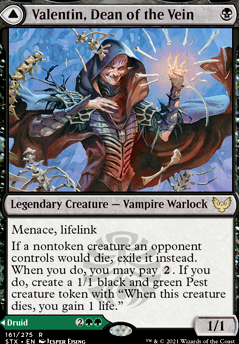 Back:
Lisette, Dean of the Root
Flip
Start Commander Deck
Tokens
Legality
Valentin, Dean of the Vein
Legendary Creature — Vampire Warlock
Menace, Lifelink
If a nontoken creature an opponent controls would die, exile it instead. When you do, you may pay . If you do, create a 1/1 black and green Pest creature token with "When this creature dies, you gain 1 life. (Dying is being put into the graveyard from the battlefield. Tokens enter the graveyard before they cease to exist.)"