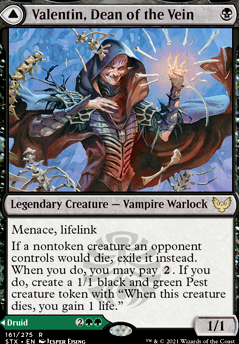 Back:
Lisette, Dean of the Root
Tokens
Legality
Valentin, Dean of the Vein
Legendary Creature — Vampire Wizard
Menace, Lifelink
If a nontoken creature an opponent controls would die, exile it instead. When you do, you may pay . If you do, create a 1/1 black and green Pest creature token with "When this creature dies (is put into the graveyard from the battlefield, tokens are put into the graveyard before they cease to exist), you gain 1 life."