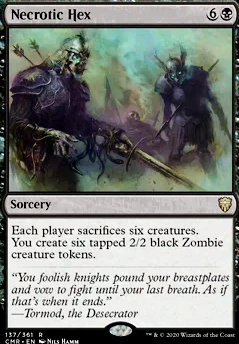 Necrotic Hex
Sorcery
Each player sacrifices six creatures. You create six tapped 2/2 black Zombie creature tokens.
Browse Alters
Tokens
Legality
| | |
| --- | --- |
| Format | Legality |
| 1v1 Commander | Legal |
| Canadian Highlander | Legal |
| Commander / EDH | Legal |
| Duel Commander | Legal |
| Highlander | Legal |
| Legacy | Legal |
| Leviathan | Legal |
| Limited | Legal |
| Oathbreaker | Legal |
| Vintage | Legal |
| Casual | Legal |
| Custom | Legal |
| Quest Magic | Legal |
Latest Decks as Commander
Necrotic Hex Discussion
2 months ago
Sup lobsternips!
As a baseline, you'll need to add lands, which I'm sure you know. Since you're making Treasure and Gold tokens in this deck you'd probably be good with roughly 34-36 lands, leaning more to the most mana color you'll need, say like a 25/25/50 split if thats what you're going for.
That basically does it for my brief review, hope I was of some help!
2 months ago
I see your deck is budget, and I wanted to suggest some budget inclusions for cards that would create tokens that also trigger Ayara's drain ability.
Chittering Witch creates RAT tokens!!
Abhorrent Overlord Generates a LOT of harpy tokens as your devotion to black will be large with Ayara in play.
Rise of the Dread Marn is a great way to refuel your board with black creatures after a board wipe or large death effect.
Lab Rats is a great way to slowly add more rats to the field with enough mana for the buyback price.
Josu Vess, Lich Knight can be brutal with Ayara on the battlefield if the kicker cost is paid.
Necrotic Hex can be a good board clearing effect that also makes black creatures.
Your deck could also use some cards to help find your enjoyed rat cards. Some budget options in black include Diabolic Tutor , Mausoleum Secrets , and Ratcatcher !
Some cards you're using aren't especially great in a singleton format. Cards like Compound Fracture and Hunt for Specimens could be replaced with Defile and Callous Bloodmage respectively.
Have fun playing EDH! The best suggestion is to play with others and learn what cards you like and dislike using and adapt with new cards that fit your budget.
4 months ago
I appreciate the rec, Gontilordofmtg!
I know a lot of people are also running the Clock of Omens combo in addition to the Cloudstone Curio combo in their Magda builds, but for the moment I'm trying to avoid any infinite combos. I've actually been having a lot of fun using her as a sort of toolbox commander.
As for Sarkhan the Masterless , I still have yet to play him in a game. My hope is that my dragons, changelings, and changeling tokens from Birthing Boughs will be enough to dissuade people from swinging in when my dwarves are already turned sideways. Plus I think he's pretty flavorful for the deck.
I'd be curious to know if there are any other dragons/artifacts you think would be good tutor targets to function as removal or protection from removal. I managed to dodge a Necrotic Hex via Worldgorger Dragon in my last game, and it was hilarious to see everyone's reactions.
7 months ago
Sooo what do you want for this deck? Do you need token producers? If that is the route you want to go down, there are some other cards you should look at:
Sacrifice outlets. I see you already have Viscera Seer, that's a really good one, but you might also consider Goblin Bombardment, Ashnod's Altar, and maybe Spawning Pit. Also Vampiric Rites.
More aristocrats. You are in the right colors for these, so this shouldn't be hard to fill out. Blood Artist, Zulaport Cutthroat, Falkenrath Noble; I think there might be some red ones that make the creature itself deal damage to any target? If so, those should be an auto include what with the assassins having deathtouch.
As far as actual tokens go, it seems you mostly have one-off effects; if you want more of these, you should look for cards that get you tokens with a high amount of efficiency. If you had enough mana rocks and stuff like that I would suggest Kuldotha Rebirth, but for now I don't think that is going to do it as often as you want. Probably you want stuff like Krenko's Command, Dragon Fodder, Hordeling Outburst, etc. for this category.
In terms of token producing that recursively gives you value, I would suggest Assemble the Legion for sure; also, maybe Ophiomancer (expensive but very good with a sacrifice outlet) and any of the Goonies would be good, though technically they aren't tokens, they just come back a lot (Reassembling Skeleton, Nether Traitor, Bloodsoaked Champion, Bloodghast, Tenacious Dead, either Squee would work). If you really do want tokens to come out and be there at the same time and start to build up a board state with them, you should probably use ... well, I dunno, you're in white. Figure it out.
Also, one last thing: Cathars' Crusade.
In terms of what to cut, I would look reaaally hard at the top of your curve. I would probably drop Gravewaker at least. I think Necrotic Hex is probably good in your deck, because you have so many creatures, but just in general I think it's better in a deck that actually cares about either the word "sacrifice" or the zombies for being zombies rather than the zombies being bodies. Lena seems bad here, I don't know how many nontoken creatures you'll have. I think Crush Contraband could get cut for more efficient removal, maybe Anguished Unmaking or Utter End if you want a budget version. Moan of the Unhallowed is ... straight up bad I think.
Let me know if these were helpful or if you need more cuts.