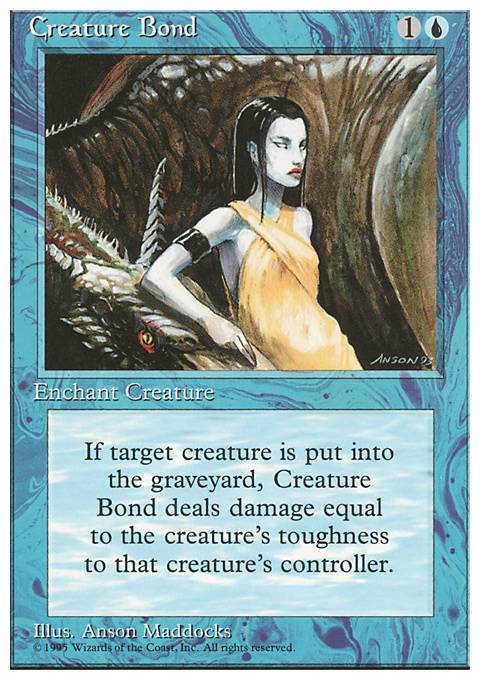 Creature Bond
Enchantment — Aura
Enchant creature
When enchanted creature dies, Creature Bond deals damage equal to that creature's toughness to the creature's controller.
Browse Alters
View at Gatherer
Legality
| | |
| --- | --- |
| Format | Legality |
| Oathbreaker | Legal |
| 2019-10-04 | Legal |
| Duel Commander | Legal |
| Custom | Legal |
| Leviathan | Legal |
| Commander / EDH | Legal |
| Casual | Legal |
| Limited | Legal |
| Legacy | Legal |
| Tiny Leaders | Legal |
| 1v1 Commander | Legal |
| Canadian Highlander | Legal |
| Highlander | Legal |
| Pauper | Legal |
| Oldschool 93/94 | Legal |
| Pauper EDH | Legal |
| Unformat | Legal |
| Vintage | Legal |
Latest Decks as Commander
Creature Bond Discussion
3 years ago
Adds I would recommend: More lands 35 is pretty risky and generally you would prefer mana flood to mana screw. I would aim for 38 myself. Utility lands Yeah, this list runs Back to Basics but you will not always draw it and a couple dead lands with it out still is not so bad. You exclude a lot of useful effects like Reliquary Tower, Myriad Landscape, Riptide Laboratory (for protecting talrand), Faerie Conclave/Dread Statuary (for emergency blocks) etc. by not running nonbasics and mono-colour decks with no duals have the most space for those. More mana acceleration Most edh decks need ramp and this deck is no exception. With more mana, you can counter more spells per turn cycle. Sol Ring and other mana rocks are staples. I would aim for ten total. More card draw Same deal as ramp. Most of your counters trade 1 for 1 with your opponent's spells so you will need hand refills or you will run out of cards trying to trade 1 for 1 with 1 with 3 or 4 opponents. Pretty basic multiplayer card advantage. This deck prefers instants so it can keep mana up for counters. Blue Sun's Zenith, Stroke of Genius, and Pull from Tomorrow have a big impact. Perilous Research costs little and you can just sacrifice the drake it makes. Board wipes Some games you will fall behind your opponents so you need more reset buttons. Evacuation, Inundate, Crush of Tentacles, and Engulf the Shore all get you out of sticky situations and simulate a blue Wrath of God. Oblivion Stone permanently destroys. Other Curse of the Swine, Pongify, and Rapid Hybridization are all instant or sorcery spot removal. Rise from the Tides gets you a LOT of tokens. Dismiss replaces itself. Propaganda protects you. Brainstorm, Telling Time, Think Twice, Opt and other cantrips do not really give you net card draw since you use up a spell to cast them, but give you card quality instead.Cuts I would recommend: Kraken's Eye is probably bad because cards that only gain you life typically are. Elixir of Immortality is the same unless you are regularly near decking yourself. Backfire, Creature Bond, Feedback, Power Taint, Psychic Venom and other cards that only damage players are typically too low impact in edh. Disperse and Flash Counter are strictly worse than Into the Roil and Dispel. Cancel is strictly worse than s many other options; here is an entire article detailing them: http://articles.edhrec.com/in-the-margins-cancel/ Disappearing Act seems worse than Cancel unless you particularly want to replay your permanents.