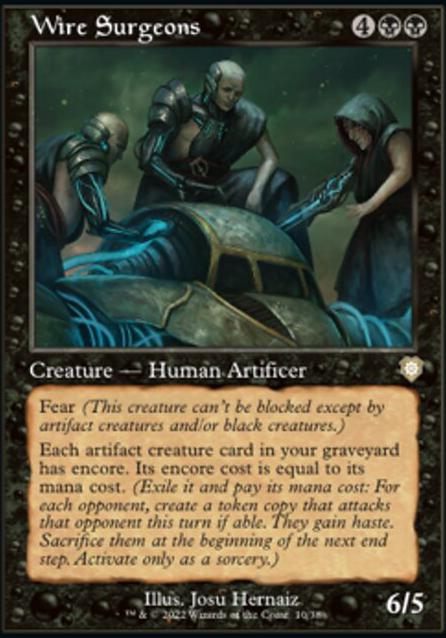 Legality
Wire Surgeons
Creature — Human Artificer
Fear (This creature can't be blocked except by artifact creatures and/or black creatures.)
Each artifact creature card in your graveyard has encore. Its encore cost is equal to its mana cost. (Exile it and pay its mana cost: For each opponent, create a token copy that attacks that opponent this turn if able. They gain haste. Sacrifice them at the beginning of the next end step. Activate only as a sorcery.)
9 months ago
Hey, some nice upgrades to the precon so far. Good additions of wincon combos: Sword + Foundry + Altar and Urza, PoK + Altar + Battlesphere.
Consider cutting a few of the lesser unnecessary higher mana cost creatures for some more draw? Constructs have an easy time if they can attack at doing combat damage to an opponent thanks to menace from Urza. If you can draw a card each time a Construct does combat damage to an opponent then you're getting great value from Constructs and a good reason to want to attack. Bident of Thassa is in the precon and it's repeatable draw with Constructs. Research Thief is more repeatable draw with Constructs that's also a flying artifact creature. More repeatable draw from Constructs can help to draw combo pieces.
Skullclamp is in the precon and it's excellent with Sword + Foundry combo since it creates 1/1 Thopters that can then each be saced for 1 mana to draw two cards. Because Urza's artifact creature affinity can pay for his Commander tax then Skullclamp with Urza is another way for repeatable draw.
Grim Hireling doesn't draw with Constructs it makes ramp, treasures which can help with Revel in Riches since the only reliable source of treasures here is Tithe. Hireling's effect is like Thopter Spy Network where you can trigger it more than once if you have creatures do combat damage to more than one opponent.
---
When deciding to add a card, it can help deck building and the mana curve to cut a card that's more mana cost. Wire Surgeons is a lesser 6 drop here than the rest and it's effect is only artifact creature not artifact. Having to pay the mana cost of an artifact creature in your graveyard to then exile that artifact is not good. Sharuum the Hegemon another 6 drop here who reanimates an artifact which is much better than what Surgeons does. Marionette Master can be a wincon with combos: Sword + Foundry + Altar and Urza, PoK + Altar + Battlesphere, but this is adding a fourth card, 6 drop, to the combos which is a lot and is really not needed because these combos create infinite artifact tokens which gives Constructs infinite power/toughness.
If you want to combo with Sword + Foundry then you can't control any effect that increases p/t of artifact creatures. Thankfully, Foundry can sac any nontoken artifact, before you want to combo with Sword + Foundry sac the artifact anthem effect. This makes anthem effects that increase p/t that are artifacts better than anthem nonartifact cards. Urza, Prince of Kroog is the exception since it's part of another combo. Since playing Sword + Foundry consider cutting Tempered Steel?
You want to avoid artifact exile effects as much as possible because you have no way of getting back a card in exile. Playing some more Counterspells is a mana efficent way to counter opponent exile effects. Urza's Ruinous Blast hurts you too much since it exiles all Constructs and all combo pieces here except Urza, Prince of Kroog. All the 4 drops here have effects either when ETB or repeatable except Filigree Attendant doesn't, making it a much lesser card that could be cut?
Steel Seraph is a reasonable priced upgrade for Hexavus. Seraph can be cast with prototype for 3 mana giving you a 3/3 artifact creature flier to help artifact creature affinity for Urza and it can on your turn at combat give a creature you control flying including Urza. Wonder is another better option then Hexavus for flying, Unctus, Grand Metatect or Armix, Filigree Thrasher can discard it while in combat. Discard Wonder when you have to discard down to 7 card hand size because you drew so many cards.
Good luck with your deck.
11 months ago
1ST ROUND OF CHANGES:
REMOVED: Preordain, Sharding Sphinx, Hexavus, Wreck Hunter, Wire Surgeons, Sanwell, Avenger Ace, Whirler Rogue, Phyrexian Rebirth, Urza's Ruinous Blast, Ash Barrens, Evolving Wilds, Kayla's Music Box,
ADDED: Sword of the Meek, Thopter Foundry, Organic Extinction, Their Name is Death, Raffine's Tower, Academy Ruins, Reality Heist, Cyberdrive Awakener, Scrap Trawler, Foundry Inspector, Emry, Lurker of the Loch, Kappa Cannoneer,