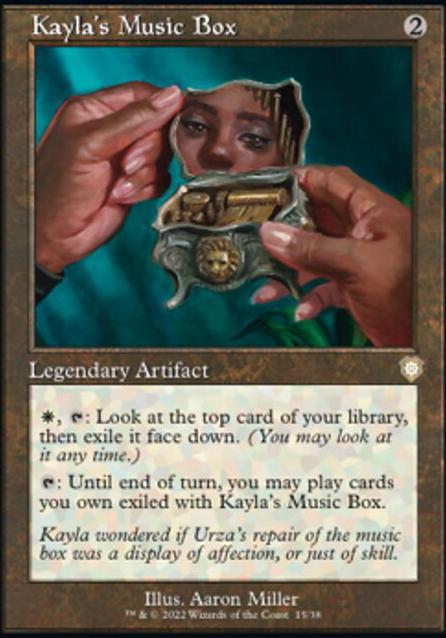 Legality
9 months ago
1ST ROUND OF CHANGES:
REMOVED: Preordain, Sharding Sphinx, Hexavus, Wreck Hunter, Wire Surgeons, Sanwell, Avenger Ace, Whirler Rogue, Phyrexian Rebirth, Urza's Ruinous Blast, Ash Barrens, Evolving Wilds, Kayla's Music Box,
ADDED: Sword of the Meek, Thopter Foundry, Organic Extinction, Their Name is Death, Raffine's Tower, Academy Ruins, Reality Heist, Cyberdrive Awakener, Scrap Trawler, Foundry Inspector, Emry, Lurker of the Loch, Kappa Cannoneer,
9 months ago
Hey, good upgrades so far to the precon especially the manabase, you've really improved it.
These are the first cards here to consider cutting? Darksteel Juggernaut, Filigree Attendant, Etched Champion are just beaters, they don't do anything else, that's not good enough. You really don't need 4 drop beaters, you'll get plenty of better mana efficient beaters, Constructs.
Chief of the Foundry, Master of Etherium are fine, but are budget creature options, filler if you don't have anything else. +1/+1 anthem effect is small and really not needed when Constructs grow themselves with any artifact. Bronze Guardian is also just a beater and as a 5 drop it's subpar. Ward 2 is nice, but you can get actual hexproof for artifacts from better cards here, Padeem, Consul of Innovation.
More cards to consider cutting? Access Denied costs too much mana for a counterspell when you have Mana Drain or just play Counterspell? Wreck Hunter doesn't trigger for any token that was removed because it says for each card and tokens are not considered cards. Not triggering for tokens is bad when you're going to have Constructs. Kayla's Music Box is pseudo draw over turns, but you can get actual draw from better cards.
Good luck with your deck.