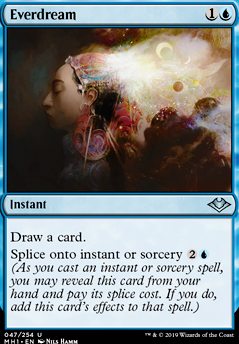 Legality
| | |
| --- | --- |
| Format | Legality |
| Tiny Leaders | Legal |
| 1v1 Commander | Legal |
| Magic Duels | Legal |
| Canadian Highlander | Legal |
| Vintage | Legal |
| Modern | Legal |
| Penny Dreadful | Legal |
| Custom | Legal |
| Leviathan | Legal |
| Legacy | Legal |
| Duel Commander | Legal |
| Oathbreaker | Legal |
| Unformat | Legal |
| Casual | Legal |
| Commander / EDH | Legal |
Related Questions
Everdream
Instant
Draw a card.
Splice onto instant or sorcery (As you cast an instant or sorcery spell, you may reveal this card from your hand and pay its splice cost. If you do, add this card's effects to that spell.)
Everdream Discussion
1 month ago
I enjoy the Kefnet Turns build, haven't seen it before for this commander and I think its rather neat. You should focus exclusively on assembling your win and remove the extra side cards, like your mill sub-theme. I also think you should replace expensive removal and interaction with cheaper pieces, as you're less likely to cast them off the top with Kefnet. I also think you should add in more ways to discard and also tutor to top of deck. Your combo requires a handful of specific cards and also to be in a specific spot in your library, so topdeck manipulation and tutors help immensely.
My complete list of changes would be
Precognitive Perception -> Concentrate (You're never copying the addendum with Kefnet)
Thought Collapse -> Mental Misstep (Every deck runs 1 cmc spells so Misstep is unbelievable value for EDH)
Zndrsplt's Judgement -> Vapor Snag (That card is hard to link to :O )
Mistfire Adept -> Long-Term Plans
Riverwise Augur -> Sleight of Hand
Niblis of Frost -> Mystical Tutor
Drowned Secrets -> Serum Visions
Precognition Field -> Careful Study
Psychic Corrosion -> Fabricate
I think its worth noting
That to combo off, you need Library + Aminatou's Aug + Dino + Turn card + Commander. That requires 4 cards outside your commander, 3 of which are exactly specific. Finding another enabler or outlet to reuse your turn spells or another way to put cards on top would help the consistency of this deck a lot. Running more draw and tutors to topdeck also lets you value copy a turn spell to start chaining turns, and even if you don't hit an infinite loop getting 3 or 4 extra turns will get you much closer to establishing the lock. You should shave off alternate wincons and focus on getting infinite turns, because once you have them you've won.
3 months ago
If I play Everdream spliced onto another card, does that increase the CMC of the spell being cast ? Is the splice mechanic relevant for a Rashmi, Eternities Crafter deck ?
No data for this card yet.