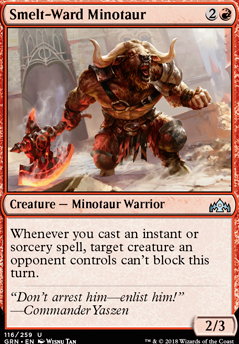 Legality
| | |
| --- | --- |
| Format | Legality |
| Pre-release | Legal |
| Tiny Leaders | Legal |
| Custom | Legal |
| Magic Duels | Legal |
| Canadian Highlander | Legal |
| Vintage | Legal |
| Modern | Legal |
| Arena | Legal |
| Penny Dreadful | Legal |
| Standard | Legal |
| Leviathan | Legal |
| Legacy | Legal |
| Brawl | Legal |
| 1v1 Commander | Legal |
| Duel Commander | Legal |
| Oathbreaker | Legal |
| Unformat | Legal |
| Casual | Legal |
| Commander / EDH | Legal |
Smelt-Ward Minotaur
Creature — Minotaur Warrior
Whenever you cast an instant or sorcery spell, target creature an opponent controls can't block this turn.
Smelt-Ward Minotaur Discussion
7 months ago
Okay so I've got some time, let's get into this...
1) I think Shu-Yun is an interesting choice for a budget commander because he relies on killing opponents quickly, but with budget decks, you're going to be winning much later in the game. He's also interesting because he focuses on quick combat instead of really building up a boardstate. I think the first thing to do would be to abolish the idea of a turn 4-6 win, decks like ours are going to try and grind out the game with cheap removal and synergy, waiting for the right time to strike. Maybe the problem is that the deck wants to win too fast and the budget can't compensate for that, just my idea.
2)You should probably cut the uncommons, things like Invert/Invent, Jace's Ingenuity , Rush of Blood (even though this card is super cool and I'm going to put in one of my other decks), Concentrate , Rise from the Tides , Butcher's Cleaver , Hero's Blade , Inquisitor's Flail , Vessel of Endless Rest , Illusory Ambusher , Smelt-Ward Minotaur , and Whirler Rogue . While these cards are awesome in the deck, they're a huge deficit to your budget and cutting them is 12 less cards. I've found that with a budget like this, it's best to cut to $0.15 commons. Will it be as fast? No. Will it be $10 or under? Yes.
3)Have you considered building from the bottom up? Instead of adjusting my previous commanders, I usually just pull out a fresh sheet of paper and start from there. I feel that it opens up more gateways for deckbuilding and instead of having to cut expensive cards, you can decide which cards to add one at a time. Cutting is also just kind of negative and personally I feel a lot happier seeing: "this card is so sweet for $0.15!" Instead of: "Ugh I can't run this card because it's over budget." This could just be me of course.
4) As for specific cuts, here's what I'd take out(excluding the uncommons I pointed out earlier): Artificer's Epiphany : There are better draw spells out there; Contradict : Again, there are better spells; Depths of Desire : Generally, I dislike bounce, even in Red/Blue but this spell just isn't good, especially when you want to cast Shu Yun on turn 3; Enhanced Awareness : Way too expensive for the effect; Leave in the Dust : From your comments, it seems like you want to win faster, so I would cut these mana-intensive bounce spells so you can run cantrips, also Unsummon is $0.15 on SCG; Prying Eyes : yeah this card is just objectively bad in my opinion, even for a $10 deck; Repulse : Same thing I said before about bounce spells, the card draw isn't worth paying more mana; Scatter Arc : I feel like a lot of the bounce/counterspells are in this deck because they say "Draw a card" paying 2 more mana for a negate that draws you a card is not with it, you could do more with that two extra mana. Sweep Away : Yeah this is way too conditional to actually work out; Aether Tunnel : Yes I know you said you wanted to keep this, but playing it makes Shu Yun a huge target and it's budget intensive. Skygames : This enchantment is okay, but It's definitely not great, especially when compared to your other auras; Highland Lake and Izzet Boilerworks : Yes I know it's important to have mana, but running basics gives you more choices. That's pretty much all I've got for now on cuts.
I wish you the best of luck, but I'm about to pass out so goodnight, I hope this made sense!
11 months ago
You're very creature heavy for a deck designed to burn. I would drop the Wall of Mist completely and at minimum 2 each of Goblin Electromancer and Smelt-Ward Minotaur. You don't have a bunch of high cost spells so you won't see much benefit from 4 Electromancer on the field. Same with the Minotaur, in that you only need one out to benefit. Cut those cards to add in more spells. More Ionize would be a great addition because it counters, burns, and triggers Snipe and Field. You may also want to consider dropping 2 Beacon Bolt for some Shock. Shock is faster to cast, and more importantly targets anything where as the Bolt is only for creatures. I would also get rid of Invert / Invent completely and add additional burn spells. You don't have to worry about searching spells out if you're loaded up on them to begin with.
11 months ago
I'd also like to point out that drawing 7 cards with him in a mill deck where you run things such as Sphinx's Tutelage is absolutely devastating.
Most Modern decks run 2 - 3 colors. Rare exceptions are things such as Elves and Burn which are mono-colors and 5C Humans. There are nearly no 4C Modern decks because the balancing is not worth the deck potential, though they can be made with enough effort. The real problem here isn't that 4C isn't powerful, it's that the manafixing is absurd. 5C Humans, I've seen go for literally $1,300 - well out of the budget for I'd say 90% of MTG players. My most expensive Modern deck is $340 and I bought damaged cards and foreign cards to help reduce the cost - and that thing took me two weeks of overtime to save up for with enough cushion set aside to ensure bills can still be paid on time.
As a quick example, I'm going to grab a Modern deck I have and do a casual playthrough on what would happen with just a Sphinx's Tutelage and Griselbrand.
Alright, let's give you the benefit of the doubt and say I am running my Rakdos Minotaur deck. This thing packs a serious punch and is all about dropping Instant-speed kill spells while building up a Minotaur Tribal wall of death before I swing in for 160+ damage with just 4 - 5 creatures.
I'm going to draw my hand, and skip on over to T4. This gives you time to get a Sphinx's Tutelage out without ramp, somehow have landed Griselbrand in your graveyard, and cast yourself a Goryo's Vengeance to bring him out on your 4th turn.
So I draw 7 cards, I'll go first, and draw three more as my turns come and go. This leaves 50 cards left in my library.
Let's see what happens when you draw 7 with Sphinx's Tutelage on the field.
Okay, so that wasn't so bad on my end. So suppose you pay 7 more life, draw 7 more cards, and put me through this 7 more times.
So you milled me for a total of 32 cards. You would have paid 14 life, but remember you could swing for 7 damage since he has Haste via Goryo's Vengeance and pay it AGAIN, so let's make me go through this one last time and see where I'm left off at. Remember, I had 10 cards accounted for between my opening hand and my three draw steps. So I only have 18 cards left in my library. So you pay 7 more life and we go through this whole sha-bang one more time.
You pass the turn and I lose.
T4 Mill. Set up right, you can do it T3.
No data for this card yet.