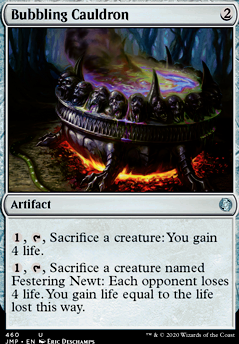 Bubbling Cauldron
Artifact
, , Sacrifice a creature: You gain 4 life.
, , Sacrifice a creature named Festering Newt: Each opponent loses 4 life. You gain life equal to the life lost this way.
Browse Alters
Legality
| | |
| --- | --- |
| Format | Legality |
| 1v1 Commander | Legal |
| Pioneer | Legal |
| Vintage | Legal |
| Casual | Legal |
| 2019-10-04 | Legal |
| Legacy | Legal |
| Historic | Legal |
| Canadian Highlander | Legal |
| Unformat | Legal |
| Penny Dreadful | Legal |
| Leviathan | Legal |
| Highlander | Legal |
| Block Constructed | Legal |
| Magic Duels | Legal |
| Oathbreaker | Legal |
| Commander / EDH | Legal |
| Tiny Leaders | Legal |
| Duel Commander | Legal |
| Modern | Legal |
| Arena | Legal |
Bubbling Cauldron Discussion
1 month ago
@ dichia
By the way, I have appreciated your help and recommendations. I like the idea of Alchemist's Refuge.
I did consider looking into the food sub-theme before. Now that I got a better feel for how the deck runs, I may just make that into another deck of it's own. But I'm definitely open to seeing how the cards you mentioned can work in this deck.
I'm also a long time edh player, so I assumed Prophet of Kruphix was banned in modern too, thankfully it's not. I love the idea of this card.
To be honest, I don't know. At the multiplayer table, I found that
Bubbling Cauldron
is a huge target for removal. So I could only imagine how a single player would use their resources to stop that particular card. In multiplayer, it's easier to let someone else be a threat, wait till a lot of counter spells were used, then feel safer to play key cards.
1 month ago
I've seen you removed it, but how did the Early Harvest + Mirari + Regrowth combo worked? If the Bubbling Cauldron is tapped, how do you sac multiple times?
In the description you say it's for 4+ players game. How do you see the deck in a 1v1 game?
Since Cauldron Familiar uses food to come back, probably you could use some more food making cards like: Gilded Goose or Gingerbread Cabin. Or other cards that use food as well like Tempting Witch.
Also, Prophet of Kruphix can help with the flash issue and it also untap all your creatures and lands in all player's untap step. Should be good in a 4 players game.
Hope to be helpful or at least giving you some ideas.
2 months ago
Foxes are elusive scavengers or predators. They are shy, seldom seen, but opportunistic.
Shy Fox (g/w) How do you do hybrid mana?
Creature - Fox
Shy Fox can't attack if defending player controls a creature.
Lifelink
2/1
---
Scavenging Fox
Creature - Fox
Whenever a creature an opponent controls dies, Scavenging Fox gains First Strike until end of turn.
2/1
---
Shadow Fox
Creature - Fox
Whenever an opponent casts a spell, exile Shadow Fox. Return it to the battlefield at the beginning of the end step.
Lifelink
2/2
---
Challenge: This is a multi-part challenge for more than one contributor. Part 1: Create a permanent card that searches for a card by name after some kind of condition is met. The card you're designing is one part of a two or three-part combo. Don't design the card being searched for, but instead let that be Part 2 of this challenge, to be done by someone else. You may add whatever you like to the conditions of Part 2, and you can even give that card a name because your artifact refers to it by name.
Inspiration for this comes from Bubbling Cauldron, Festering Newt, and Bogbrew Witch, or Sword of Kaldra, Shield of Kaldra, and Helm of Kaldra, or Renowned Weaponsmith with Vial of Dragonfire and Heart-Piercer Bow.
7 months ago
Aetherflux Reservoir , Aethersphere Harvester , Prism Ring , Umezawa's Jitte , Dragon's Claw , Tablet of the Guilds , Staff of the Flame Magus , Batterskull , Loxodon Warhammer , Wurmcoil Engine , Delif's Cone , Soul Net , Sylvok Lifestaff , Basilisk Collar , Bubbling Cauldron , and Profane Memento are probably about as close as you'll get.
In other words, it doesn't seem like a great plan, but I would go with Umezawa's Jitte , Wurmcoil Engine , Loxodon Warhammer , Aethersphere Harvester , Batterskull in that order of priority.
9 months ago
Consider adding Momentous Fall for some extra card draw while also removing their creatures. Also Eldritch Evolution gives you a tutor while removing their creature. Bubbling Cauldron also gives you some more easily repeatable sacrifice. Otherwise, it looks solid!
10 months ago
I feel like this absolutely needs Identity Thief and a Delirium package. However, I think that this is more just a flavor thing, so I'll say the above, Dark Impostor , Dimir Doppelganger , Arcane Adaptation , and the classic Bogbrew Witch , Festering Newt , and Bubbling Cauldron package. Laboratory Maniac is super flavorful as well.
But since you look to be going with some heavy black synergies... have you considered The Haunt of Hightower as a commander? It's definitely, imo, the coolest Halloween-themed commander, being both super cool and very spooky. Still, I understand if you have an attachment to the Reaper King after so long.
Load more