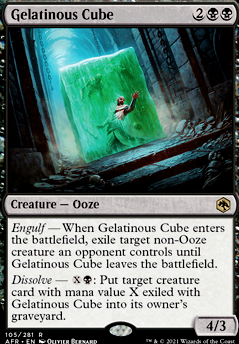 Gelatinous Cube
Creature — Ooze
Engulf — When this enters the battlefield, exile target non-Ooze creature an opponent controls until this leaves the battlefield.
Dissolve* — : Put target creature card with converted mana cost/mana value X exiled with this into its owner's graveyard.
Latest Decks as Commander
Gelatinous Cube Discussion
1 month ago
Well, since you didn't hate what I said, I'm goona talk about some of the creatures now. But before that I just wanted to say I completely understand that you don't want to optmize this deck to the maximum, that's why I mostly suggested budget cards and avoid some bullshitly expensive cards such as Gaea's Cradle or Cavern of Souls. I'm trying my best to focus exclusively on your tribe. With that out of the way, let me proceed.
There a few less expensive, manawise, Oozes but you seem to be going for the heavier and more resilient ones. So there's quite a few that could be a blast.
Again, I'm gonna say things little by little to make things easier to digest. Let me know what you think. I love casual thematic decks. If you want to have extra fun with your friends, try playing planechase and use this deck. I promise you it's gonna be ridiculously fun for everyone.