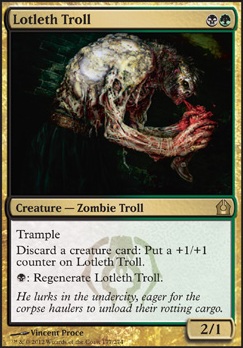 Lotleth Troll
Creature — Zombie Troll
TrampleDiscard a card: Put a +1/+1 counter on Loleth TrollB: Regenerate Loleth Troll
Have (108)
Nobilior , EpicNinjaKing21 , Drifterakv , Ringleader , bogieman145 , Slug2211 , redlegs_17 ,

r

a

k

d

o

s

2

4

,

t

j

7

0

, blackdragonetm ,

D

u

k

e

N

i

c

k

y

, ryancav ,

K

8

A

R

O

, chernobyl516 ,

j

e

c

d

e

r

,

8

v

o

m

i

t

,

B

l

u

e

S

l

i

m

e

,

y

o

u

r

f

a

v

o

u

r

i

t

e

s

q

u

i

d

,

D

a

l

l

i

e

,

T

h

e

R

e

d

M

a

g

e

,

s

m

a

c

k

j

a

c

k

, IonImplant , Lollyp0p , StarkCybernetics , SkinnBall ,

p

a

u

l

c

5

1

9

0

,

i

V

a

m

p

i

r

e

,

n

i

n

j

a

k

i

n

g

9

2

,

G

o

l

d

G

h

o

s

t

0

1

2

, NoOneYouKnow , Kornjunky ,

X

x

C

a

t

a

c

l

y

s

m

i

C

x

X

,

R

u

g

b

y

f

h

1

0

,

Q

i

v

i

n

e

, wallsh ,

T

i

t

a

n

s

F

T

W

, avatarofdiscord , Nate_D , EridanWwins , Mikeantor11 ,

D

r

i

t

z

, XTowelie ,

D

r

i

d

a

n

e

, ShadyPear , alphaword1283 , EthanGlover1 , Sonserf369 ,

u

s

o

h

a

t

c

h

i

,

C

o

m

i

c

a

l

f

l

o

p

, Represser , bradyofportdetroit , Gameover209X ,

A

T

M

9

7

, k4rm4k4z3 ,

S

p

i

n

a

l

r

i

p

p

e

r

, NoisyPotato ,

W

i

z

a

r

d

o

f

t

h

e

D

a

m

n

e

d

, Dougie , gnarlycore , UnbornValkyrie , Rocknj06 ,

L

e

g

i

o

n

M

8

, AlbinoLion , lucyfarrell , crazywhiteboydance ,

S

T

G

, scare983 ,

R

e

g

u

l

u

s

1

0

1

0

,

T

e

l

l

e

o

S

t

a

r

,

g

u

e

r

i

l

l

a

r

a

g

e

, B1ITZ3D , crimsonwolfzro , cleviticus ,

d

e

a

t

n

1

3

4

2

,

k

a

n

o

f

u

d

o

,

D

e

e

t

o

z

, bobthehobo415 , DEER , theHopp ,

K

a

m

o

t

z

, DrVendetta , jrv312 , Alliii1022 , Ilovespiders ,

C

a

s

t

l

e

S

i

e

g

e

, x754 ,

B

r

a

x

l

y

o

n

, jaredscottwilson , astroglide1 , LazavGravemind , BlakeDodgen , lttrevor , SteveHiguita ,

J

a

k

e

H

a

r

l

o

w

,

f

a

i

l

u

r

e

c

h

i

l

d

8

8

, Haxxzor1 ,

N

u

B

B

y

T

h

u

M

B

, Skimm3r ,

L

o

r

d

J

e

l

l

o

, mathimus55 ,

N

o

P

a

n

t

s

P

a

r

a

d

e

, Xathrid845 , Papabadger , webdokkeren , ZooGambler , eeriekiller , Dungeon_Trolls , MythicLegend
Want (6)
Thire , Raistlin911822 , TXMetal ,

g

u

e

r

i

l

l

a

r

a

g

e

, Butters01 , Drifterakv
Lotleth Troll Discussion
2 days ago
The 6th-Edition rules update cleaned up a whole lot of problems with the game's previous rules structure, but unfortunately Regeneration had to get kind of weird in order for it to keep working.
To "regenerate" something is to set up a replacement effect that says "the next time this would be destroyed this turn, instead tap it, remove it from combat, and remove all marked damage from it". When you activate Lotleth Troll's ability, you set up a "regeneration shield" that waits until it would actually be destroyed to take effect. You attack with Troll, there are some blocks, and you activate the regenerate ability before damage is dealt. The "shield" and all its effects won't kick in until after combat damage is dealt (if it would have been enough damage to destroy the Troll). The Troll gets to deal its damage.
2 days ago
Lotleth Troll might do combat damage. It depends on the exact situation. If you regenerated him and he was dealt lethal combat damage he would still deal damage. This is because he isn't removed from combat until after the damage is dealt. If he gets removed from combat before damage the he won't deal any damage. If a creature is on the battlefield and in combat at the beginning of the combat damage step then it will deal combat damage if there is something to damage even if it is removed before anything can happen.
2 days ago
When the creature is removed from combat is the damage to other creatures also removed? Lotleth Troll will not do damage if I regenerate it?
4 days ago
You should probably play MaelPulse in addition to Dismember and probably remove some of your sorceries for them. I don't particularly like Lotleth Troll as I mentioned in my previous comment.
4 days ago
You may be right...but...Vraska...haha. Ok, Y'all make valid points. I'm not particularly fond of taking this tri-color, but it would not be difficult. If I did I would replace Vraksa with one of each Garruk Relentless Flip and Sorin, Solemn Visitor. Elder is here specifically for the Hexproof growing beater. The Hydra is getting replaced I suppose by another Lotleth Troll...you think Pulse over dismember? And Scooze over stalker?
4 days ago
I like the Elder here. He is one of the main reasons I started this deck is because I picked up a playset of him. However I am going to drop the two Protean Hydras for Lotleth Troll as he gives me a place to dump those late game unneeded rampers. Thank you! Witchstalker I'd like to playtest with as well, but I'm not quite as attached to him. The Bosks are for mana fixing in congruence with the golgari scheme. But the Catacombs is a great idea...not sure how I missed those to be honest. Haha.
| | |
| --- | --- |
| Power / Toughness | 2/1 |
| Color(s) | Black Green |
| Cost | BG |
| Converted cost | 2 |
| Avg. draft pick | 1.14 |
| Avg. cube pick | 13.05 |
Legality
| | |
| --- | --- |
| Format | Legality |
| Legacy | Legal |
| Vintage | Legal |
| Commander / EDH | Legal |
| Modern | Legal |
| Duel Commander | Legal |