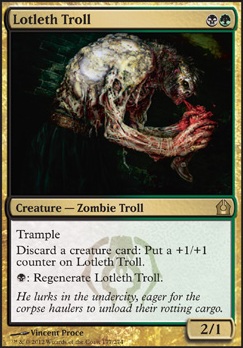 Lotleth Troll
Creature — Zombie Troll
TrampleDiscard a card: Put a +1/+1 counter on Loleth TrollB: Regenerate Loleth Troll
Have (57)

R

e

a

l

S

h

o

p

p

i

n

g

C

a

r

t

, philktoken8998 , scare983 , rooroothepirate ,

N

o

P

a

n

t

s

P

a

r

a

d

e

, mathimus55 ,

S

p

i

n

a

l

r

i

p

p

e

r

,

T

h

e

D

e

v

i

c

e

r

, Hellhawk ,

P

h

y

r

e

x

i

a

n

S

c

i

e

n

c

e

,

r

a

k

d

o

s

2

4

,

g

u

e

s

s

l

i

n

g

, webdokkeren , Luiscencias ,

C

a

s

t

l

e

S

i

e

g

e

,

F

A

L

L

E

N

-

X

-

A

N

G

E

L

,

G

o

l

d

G

h

o

s

t

0

1

2

,

R

e

g

u

l

u

s

1

0

1

0

,

n

i

g

h

t

h

a

w

k

1

0

1

, ThomasonBowwow , LoneCrusader399 , StarkCybernetics , CompleteWaste , FinchFalcon ,

T

h

e

R

e

d

M

a

g

e

, NoisyPotato ,

X

x

C

a

t

a

c

l

y

s

m

i

C

x

X

, theHopp , sunsleader ,

d

e

a

t

n

1

3

4

2

,

B

l

a

k

e

D

o

d

g

e

n

,

8

v

o

m

i

t

,

C

o

m

i

c

a

l

f

l

o

p

, JundGrixisNayaBantEsper , x754 ,

S

T

G

,

N

u

B

B

y

T

h

u

M

B

, Gigglebox , lttrevor ,

R

u

g

b

y

f

h

1

0

, k4rm4k4z3 , HouseDimir13 , BlackLusterLotus , myDownfall ,

B

l

u

e

S

l

i

m

e

, Gatherix , TrumpetsforKings , bradyofportdetroit , Skimm3r ,

g

u

e

r

i

l

l

a

r

a

g

e

,

K

8

A

R

O

, Gameover209X , xaliver , coolkid1212 , AlbinoLion , MythicLegend , hudgieisme
Want (7)

q

u

e

s

o

b

u

e

n

o

1

2

3

,

m

c

s

t

a

n

g

1

9

8

6

, ufail12323 , Ganjalf , PhyrexianPlague , bigbass ,

g

u

e

r

i

l

l

a

r

a

g

e
Lotleth Troll Discussion
9 hours ago
Slitherhead is a great card in decks like these you can discard them with Lotleth Troll and then scavenge for 0 and on turn 2 you have a 4/3 with Trample and regenerate.
1 day ago
Gravecrawler, Vengevine, Bloodghast, Tasigur, the Golden Fang, Satyr Wayfinder, Lotleth Troll (I know you did not like it, but trust me it is amazing, there is a reason every modern dredge deck runs it), Golgari Grave-Troll, Murderous Cut, and Darkblast.
2 days ago
You need Lotleth Troll. You can pitch artifact creatures and then get them back with Glissa, Eternal Witness, or that one Myr card.
1 week ago
your discard will REALLY hurt burn, they're trying to effectively do 20 damage with 7 cards and 2-3 lands making them discard cards means you get time to catch up, meanwhile if you add 4 Lotleth Troll 4 Gravecrawler 4 Vengevine you will have the aggression to take advantage of their struggles
i'd ignore the worm harvest comment it's too slow
| | |
| --- | --- |
| Power / Toughness | 2/1 |
| Color(s) | Black Green |
| Cost | BG |
| Converted cost | 2 |
| Avg. draft pick | 1.14 |
| Avg. cube pick | 12.58 |
Legality
| | |
| --- | --- |
| Format | Legality |
| Legacy | Legal |
| Vintage | Legal |
| Commander / EDH | Legal |
| Modern | Legal |
| Duel Commander | Legal |