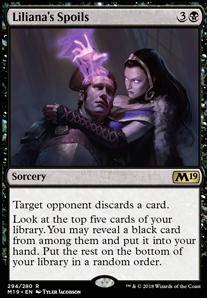 Liliana's Spoils
Sorcery
Target opponent discards a card.
Look at the top five cards of your library. You may reveal a black card from among them and put it into your hand. Put the rest on the bottom of your library in a random order.
Browse Alters
View at Gatherer
Trade
Legality
| | |
| --- | --- |
| Format | Legality |
| Tiny Leaders | Legal |
| 1v1 Commander | Legal |
| Magic Duels | Legal |
| Canadian Highlander | Legal |
| Vintage | Legal |
| Modern | Legal |
| Highlander | Legal |
| 2019-10-04 | Legal |
| Block Constructed | Legal |
| Pioneer | Legal |
| Leviathan | Legal |
| Legacy | Legal |
| Historic | Legal |
| Duel Commander | Legal |
| Oathbreaker | Legal |
| Unformat | Legal |
| Casual | Legal |
| Commander / EDH | Legal |
Liliana's Spoils Discussion
1 year ago
My third color for this would definitely be blue, that gives you access to Drowned Catacomb, Watery Grave, Steam Vents and Sulfur Falls, which will actually improve your mana base. It also allows you to play 3 Nicol Bolas, the Ravager Flip at your four drop in place of 3 Raiders' Wake. Moment of Craving is going to allow you to live long enough to set up your value inevitability against mono red, so I would think about going to 2 on Shock and put two more in the side board instead of Urgoros, the Empty One. This next one hurts me to say, since Fell Specter is one of my favorite cards, but you will definitely get more value out of Chemister's Insight, drawing cards is essential for you and being able to ditch a land late for two more cards is great. Also, with blue you get access to a couple of counter spells, which is fantastic against all the etb abilities on creatures right now. I would think about running two Syncopates in place of Liliana's Spoils which will help your curve as well, and go for 2 Essence Scatters and 2 Lava Coils (Now that I'm saying it, Shock and Lightning Strike would probably be out for me) so cards like Rekindling Phoenix, Arclight Phoenix, or either izzet drake can't trade for more than one card. Finally, you will have to make a choice on whether you want to get more aggressive, or more control. I would lean more toward control, as the value in this deck is difficult to overcome late game. If, however, you decide you would rather get an early advantage, simply swap the two Essence Scatter and Lava Coil for 4 Thief of Sanity. If he is not killed, he will win you the game simple as that (if he were a 2/3 I would be way more inclined to play him, but there's just too much out there to kill him for me). Anyway, didn't mean to write a book, but these are the changes I would make and why! If you like them let me know, and if you don't, then feel free to tell me that too and have fun playing with a fun deck!