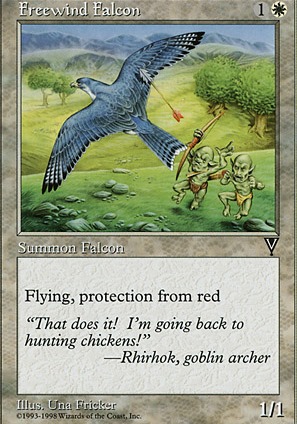 Freewind Falcon
Creature — Bird
Flying, protection from red
Browse Alters
Legality
| | |
| --- | --- |
| Format | Legality |
| 1v1 Commander | Legal |
| Leviathan | Legal |
| Vintage | Legal |
| Casual | Legal |
| Pauper EDH | Legal |
| Legacy | Legal |
| Canadian Highlander | Legal |
| Unformat | Legal |
| Pauper | Legal |
| 2019-10-04 | Legal |
| Commander / EDH | Legal |
| Oathbreaker | Legal |
| Tiny Leaders | Legal |
| Duel Commander | Legal |
| Highlander | Legal |
| Limited | Legal |
Latest Decks as Commander
Freewind Falcon Discussion
3 years ago
Remaining on the budget side of the selection, I wouk suggest these cards:
Non basic lands:
Hope this makes you kickstart your deck :)
4 years ago
I like this commander a lot. I'm going to suggest Skyblinder Staff to make your birds practically unblockable (only blocked by creatures w/reach). Awesome with Thrummingbird, with all those feather counters hanging around. You probably need some more protection or recursion. If you're going for a weenies strategy, you might want to drop your curve for your creatures and use Return to the Ranks to recur a lot of your graveyard. You might also want to add some extra card draw, for example with Dictate of Kruphix or Rhystic Study.
Optional adds: Coast Watcher, Cloudfin Raptor, Duskrider Falcon, Freewind Falcon, Mindshrieker, Palace Familiar, Stormscape Familiar
Cards you may want to replace: Rise of Eagles, Sage Aven, Aven Fateshaper, Aven Surveyor, Mist Raven, Murder of Crows, Raven Familiar, Fact or Fiction, Impaler Shrike
Good luck!
4 years ago
I would recommend you find a place for Squadron Hawk, Warden of Evos Isle, Skyshroud Condor, Aven Sunstriker and Giant Albatross. These cards fit the theme (and of course the tribe) very well.
Coast Watcher,Duskrider Falcon and Freewind Falcon would all make excellent sideboard cards (sideboard in after the first game once you know their colors)
As for some other useful bird cards: Aven Brigadier, Aven Squire, Bay Falcon, Gustcloak Harrier, Impaler Shrike, Mystic Familiar, Palace Familiar, Skyshroud Falcon, Swans of Bryn Argoll, Talon Trooper, Welkin Hawk and Zephyr Falcon.