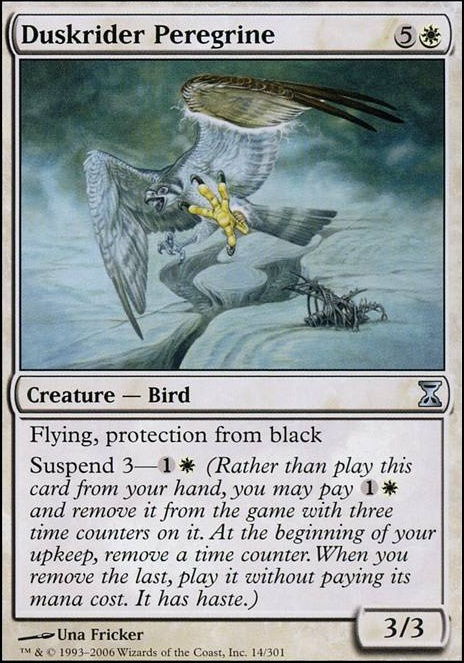 Duskrider Peregrine
Creature — Bird
Flying, protection from black
Suspend 3-(1)(White) (Rather than play this card from your hand, you may pay (1)(White) and remove it from the game with three time counters on it. At the beginning of your upkeep, remove a time counter. When the last is removed, play it without paying its mana cost. It has haste.)
Browse Alters
View at Gatherer
Legality
| | |
| --- | --- |
| Format | Legality |
| Leviathan | Legal |
| Legacy | Legal |
| Casual | Legal |
| Commander / EDH | Legal |
| Vintage | Legal |
| Limited | Legal |
| Block Constructed | Legal |
| Canadian Highlander | Legal |
| Oathbreaker | Legal |
| Modern | Legal |
| Duel Commander | Legal |
| 1v1 Commander | Legal |
| Unformat | Legal |
| 2019-10-04 | Legal |
| Tiny Leaders | Legal |
| Highlander | Legal |
Latest Decks as Commander
Duskrider Peregrine Discussion
3 years ago
Some cards I think are pretty underpowered in your deck, in no particular order:
Path of Bravery
Gleam of Authority
Ethereal Armor
Demystify
War Falcon
Territorial Roc
Suntail Hawk
Aven Skirmisher
Aven Squire
I put a few of the low cost, low-impact birds on the list, 'cause EDH is about long games. Suntail Hawk can be aggro early, but getting it early is not likely, and it's an extremely bad card late-game. A good rule in EDH is to make sure the vast majority of your cards are high-impact. To that end, some other decent creatures you may want to consider:
Also look into some good draw engines to keep you going - it's easy to run out of gas with creature decks like this in long EDH games.
Finally, consider some mana rocks:
Good luck!
3 years ago
Remaining on the budget side of the selection, I wouk suggest these cards:
Non basic lands:
Hope this makes you kickstart your deck :)