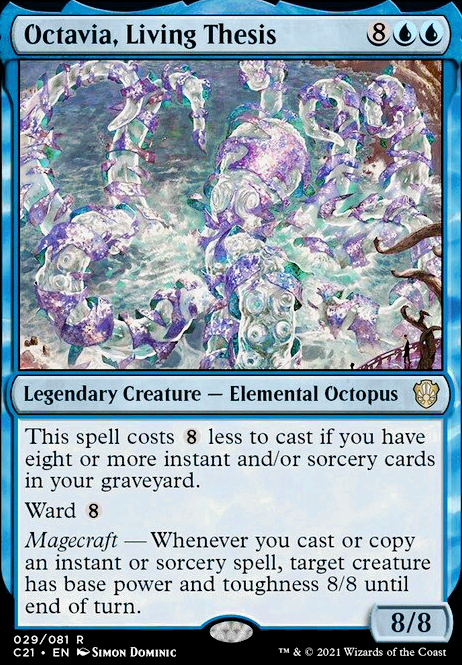 Octavia, Living Thesis
Legendary Creature — Elemental
This spell costs less to cast if you have eight or more instant and/or sorcery cards in your graveyard.
Ward (Whenever this becomes the target of a spell or ability an opponent controls, counter that spell unless that player pays .)
Magecraft — Whenever you cast or copy an instant or sorcery spell, target creature has base power and toughness 8/8 until end of turn.
Browse Alters
Legality
| | |
| --- | --- |
| Format | Legality |
| 1v1 Commander | Legal |
| Canadian Highlander | Legal |
| Commander / EDH | Legal |
| Duel Commander | Legal |
| Highlander | Legal |
| Legacy | Legal |
| Leviathan | Legal |
| Limited | Legal |
| Oathbreaker | Legal |
| Vintage | Legal |
| Casual | Legal |
| Custom | Legal |
| Quest Magic | Legal |
Octavia, Living Thesis Discussion