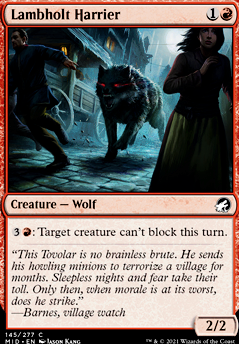 Lambholt Harrier
Creature — Wolf
: Target creature can't block this turn.
Latest Decks as Commander
Lambholt Harrier Discussion
3 months ago
Hey, interesting high budget version of Tovolar with less Werewolves.
Human Werewolves that don't have day/night still count towards and transform when Tovolar upkeep triggers. The better Werewolves not having day/night is not really a drawback with Tovolar. Because Tovolar can repeatedly change from day to night then you have more chances to transform nonday/night Werewolves. If you play a nonday/night Werewolf after Tovolar transforms that's fine because more than likely Tovolar will flip back daybound giving you another chance to transform all Human Werewolves you control at your upkeep.
If you want to play a small amount of Werewolves then the ones you play really should give you more than just being a Werewolf.
With such a high budget you can do better than the vanilla Werewolves who don't give you anything when they're Humans as well as when they nightbound transform? Many of the Wolves are also subpar compared to all other cards here. If you're playing the Wolves just to be able to upkeep trigger Tovolar faster any Human Werewolf will do the same thing and give you more than any of these Wolves.
Wolves and Werewolves to consider cutting:
---
Really nice Fetch lands, but consider playing a Forest/Mountain dual land to fetch: Stomping Ground, Cinder Glade, Sheltered Thicket? Adding these lands will also give Farseek a dual land to search for instead of only being able to search for a basic Mountain. Also by adding some Forest/Mountain dual lands then you could improve the land ramp spells with Nature's Lore and Three Visits.
Some changes to consider:
Some other lands that would improve the manabase by cutting some basic lands especially Mountains:
Arcane Signet could replace Herald's Horn since Horn doesn't do much if you're not tribal. With so few Werewolves or Humans as well as many different creature types then a mana rock would make more ramp.
Door of Destinies is another tribal only card and it's very slow with so few Werewolves or Humans to cast. Could cut Door for Beastmaster Ascension since it's an anthem for all creatures you control.
Good luck with your deck.