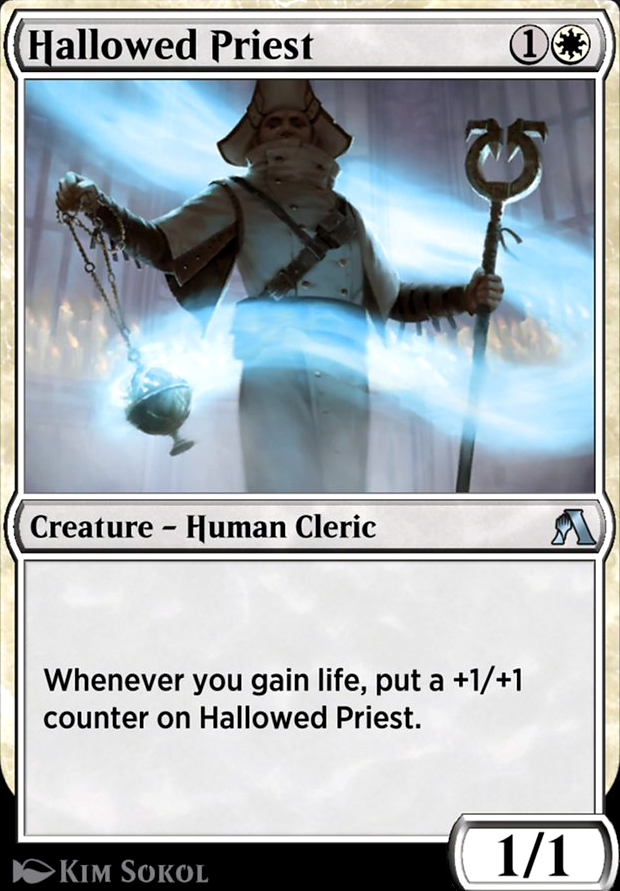 Hallowed Priest
Creature — Human Cleric
Whenever you gain life, put a +1/+1 counter on Hallowed Priest.
Latest Decks as Commander
Hallowed Priest Discussion
1 month ago
Update!
In
Main
Side
Out
Main
Side
5 months ago
I would honestly drop any one of the colors and just focus it more. Life gain is solid with any pairing and all 3 pairings have an effective way to utilize it. WG and focus more on cards that gain counters from lifegain like Celestial Unicorn and Hallowed Priest. BG with a card like Dina, Soul Steeper and Tend the Pests with the inkeeper and sacrifice something like Daemogoth Titan. WB with razelfark's suggestions and I would add Cleric Class to either of the white combos.
5 months ago
I was playing on mtga and my opponent attacked in with a 2/2 Hallowed Priest and some big Baneslayer Angel . I blocked his Hallowed Priest with a 1/3 Dawnbringer Cleric thinking that although the angel had lifelink all the damage would happen at the same time and the priest would still be a 2/2 when he hit my cleric. However, mtga showed me the angel hitting my face, lifegain, then the priest bumping up to a 3/3 to kill my cleric. Is this an error with mtga or does damage go sequentially like that? If it does, who decides the order that it goes in? Thanks for answers.
5 months ago
Seems you have a good base going for your deck idea so far. There are a couple cards I would suggest adding to the deck idea, and trimming others due to more efficient plays.
First I would advise going for a full set of Prosperous Innkeeper as this card is way to good for your deck type to run less then 4. The ETB (enter batltle field) trigger to gain life for all your cretures entering the battle field is huge for Trelasarra, Moon Dancer as it can spin her out of control quickly. The addition of the treasure token to give you a turn of ramp can also be very valuable.
I would also suggest adding extra copies of Righteous Valkyrie to the deck as most of your creatures are clerics, giving you extra life for them entering the battlefield while it is on the board. The anthem effect it brings for being at 27 or more life is also very strong and hard for decks that do not have a straight kill spell to remove the angel handle the card a lot of the time.
For some good lifegain cantrips to consider, I would suggest Cram Session and Revitalize . These spells will give you some life and allow you to get another card to potentially play. With cram session you can use some potentially good removals spells like Containment Breach and Reduce to Memory in the side or get Environmental Sciences for some more life and fetch a land if you are a bit stalled on lands. There are other card options to consider as well, but those are some quick examples.
A cheap rare that is good to consider for the deck Yasharn, Implacable Earth . This card is a good size body that will and some lands to your hand and also prevent players from activating sacrifice mechanics and life paying functions. This is particularly useful with a lot of decks trying to make use of treasures as they will not be able to activate them while it is on the board (small note, your treasures also won't work). If you do not think its good enough for the main board, would definitely use in the side for best of 3 matches.
I would suggest Hallowed Priest for arena, but it sadly does not have a paper version of it printed. Due to this I would suggest moving your Trelasarra, Moon Dancer to a 4 of as this card is one of your strongest creatures with this kind of deck and is likely to die to opponents removal spells at least once as it is a high priority target for their removal a lot of the times. I would also increase the Cleric Class to a 4 of for paper format if not just a 3 of at least for general play.
Cards I would trim from your deck would be Turntimber Ascetic , Tajuru Paragon , Conclave Mentor , and Life Goes On .
You are running some cards I haven't test yet like Druid Class , so I am not so sure how that works out and would be interested to hear your thoughts if you think it has been working out for you. If you are interested in seeing my take on this deck that I have been playing in the arena's 2022 format you can see it here
Hope these comments help.
10 months ago
Heya, pretty sure I played against you earlier this morning (that or someone who netdecked this exact build)! I was playing my Mono-Black Hand Hate (MTG Arena Build) deck to farm up a couple of black spellcasting dailies. I'm going to assume it was you, but even if not here's some thoughts:
I ended up winning, but your deck definitely has a lot of answers for stuff. Couple things I noticed here:
Ajani's Pridemate is just all-around better than Hallowed Priest since he starts @ 2/2 for the same mana. I've seen a lot of mono-white lifegain decks run both, but since you only use one of them here I'd definitely go for the pridemate.

Bloodthirsty Aerialist might not be a bad call along those same lines, with some flying for defense (I did quite a bit of damage to ya just with 1/1 fliers in addition to my Discard arsenal)

Indulging Partrician could be a good fit here, to add in some more damage-dealing to your lifegain.

Need at least a little Planeswalker hate (at least the option) with either Bloodchief's Thirst or more ideally Murderous Rider since he's got Lifelink for extra synergy once in play. (Bloodchief is always a 4-mana play to destroy a planeswalker, as I don't believe there are any 2-mana walkers in any of the Arena cards). I was able to whittle ya away for quite a few turns just with creature destroy and 1 or 2 weenie blockers with Davriel, Rogue Shadowmage just sitting in play. He's far from the most devastating walker option out there, but having some ability to control them would be ideal.

Call of the Death-Dweller would not be a bad call here either, to make better use of Village Rites with your cheap-cast creatures.
Either way, hope at least 1 or 2 of these suggestions are helpful. +1 on the build regardless!
1 year ago
I've been playing this in Standard on MTGArena:
---

---
My big question is, how much of the deck should go to countering other decks? The two most common decks I'm running into are either White or White/Black life gain, usually based on Impassioned Orator and Hallowed Priest, or the decks that stack mutations. In both cases, I find I have to kill the creatures while they're still small. Life gainers build a swarm of huge creatures and I suddenly find myself unable to contain them, mutations get so many disruptive effects that I don't have an answer. So how much removal is too much and how much should I focus on just playing my game?
A previous version of this deck had 13 removal cards, I felt like that was taking focus away from the main objective so I made this one. Is there a balance to hit between disrupting other playing styles and playing your own game?
Thanks!
1 year ago
Tavern swindler is absolutely garbage and grim tutor isn't great either. Hallowed Priest and Heliod, Sun-Crowned would be much better. Also vito i much better then induldging patrician