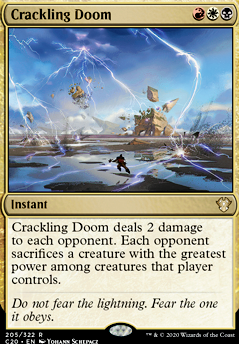 Crackling Doom
Instant
Crackling Doom deals 2 damage to each opponent. Each opponent sacrifices a creature with the greatest power among creatures he or she controls.
Browse Alters
Trade
Legality
| | |
| --- | --- |
| Format | Legality |
| 1v1 Commander | Legal |
| Block Constructed | Legal |
| Canadian Highlander | Legal |
| Commander / EDH | Legal |
| Duel Commander | Legal |
| Highlander | Legal |
| Legacy | Legal |
| Leviathan | Legal |
| Limited | Legal |
| Modern | Legal |
| Oathbreaker | Legal |
| Pioneer | Legal |
| Tiny Leaders | Legal |
| Unformat | Legal |
| Vintage | Legal |
| Casual | Legal |
| Custom | Legal |
| Quest Magic | Legal |
Latest Decks as Commander
Crackling Doom Discussion
1 month ago
Sup lobsternips!
As a baseline, you'll need to add lands, which I'm sure you know. Since you're making Treasure and Gold tokens in this deck you'd probably be good with roughly 34-36 lands, leaning more to the most mana color you'll need, say like a 25/25/50 split if thats what you're going for.
That basically does it for my brief review, hope I was of some help!
2 months ago
Thought more about this and there's still tons of options for this deck really. In my previous comment I mention how you may want to double up on Extus's effect with stuff like Ravos, Soultender but there's also enchantment options that may be a little harder for your opponents to get rid of. Stuff like Debtors' Knell and Palace Siege can also be useful enchantments to help you bring useful stuff back to cast multiple times. Crackling Doom is also a pretty good card that you could add as a substitute for any of the kill spells. A possibility for this deck could also be to reanimate some troublesome creatures for your opponents like Master of Cruelties Raving Dead Virtus the Veiled or Dire Fleet Ravager to help make killing your opponents with the sorcery easier. More boardwipes that only affect your opponents would also be good so something like Ruinous Ultimatum can help make the job a little easier. Other boardwipes such as Slash the Ranks Austere Command Merciless Eviction and Martial Coup give you some more options and not only target creatures but other pesky permanents as well.
5 months ago
okay so a few things of note here.
first. i'd suggest running 4-ofs for your best cards. there isn't any clear reason why you'd want 3 ofs in this scenario except mogis who is legendary in which case it's fine.
second. Lightning Bolt. it's one of the best red cards in the game and it's cost effective way of solving problems cannot be understated. i think it's important that it gets a slot in this deck.
third. your win con appears to be Mogis/burn. Mogis is a very slow way to win. normally for a control deck you are controlling them until you can drop some threat that you can protect that will win the game shortly after that or at least create such a lock as to make getting out of it futile. mogis will never turn on in your deck so at most it's going to be 2 damage a turn from mogis assuming they aren't doing a wide strategy. perhaps a planeswalker like Liliana, the Last Hope who you can +1 to help remove creatures and win off of her ult.
fourth. your mix of control spells is heavily weighted towards destroying creatures after they hit the field. thats something you want to respond to but people play other cards that you'll need to deal with. enchantments like Wilderness Reclamation, artifacts like Amulet of Vigor and non-permanents of all kinds. you also will lose pace with decks that use creature that have ETBs such as Omnath, Locus of Creation and Uro, Titan of Nature's Wrath which yes you can kill but you'll be losing card advantage. you need a few more proactive responses and ways to gain incremental advantage over your opponent. discard spells like Thoughtseize or at least multipurpose cards like Kolaghan's Command and Collective Brutality can help. other proactive cards such as Blood Moon and Ghostly Prison can shut down or at least slow opposing decks to keep them from racing ahead of you.
with the above things in mind i'd suggest something along the following changes.
cards to remove:
-3 Crackling Doom: soul shatter and other remove should be sufficient
-3 Lightning Helix: lifegain is great for stabilizing but the power removal comes from it's mana efficiency. on turn 2 being able to play a discard spell and hold up a Lightning Bolt for their creature is much more powerful than the life gain from helix. still a great card for sideboard to bring in against lightning fast agro decks like burn or zoo.
-1 Soul Shatter: i'm not sure you need any of these in the mainboard. you have Anguished Unmaking to get around indestructible should it come up. Dreadbore and Anguished Unmaking can kill planeswalkers. That leaves hexproof is the only thing that this gets around that you don't have an answer for already. hexproof is uncommon enough that i'd personally put this in the sideboard, but considering how many of this effect you have in your deck i'm assuming your meta has enough hexproof to warrant 2 mainboard slots.
-4 Divine Gambit: 1 for 1 at best, 1 for 0 at worst. the ability to exile most types of permanents is powerful but the downside seems too risky and likely to set you behind.
-3 Anger the gods: you don't need 7 soft sweeps. with the amount of removal you have a board wide damage spell is likely for hitting tokens or other wide strategies. for most of these scenarios 2 damage should be enough. in the scenarios where 2 isn't enough, 3 likely isn't either. Wrath of God or similar would be a better bet for those situations.
-1 Pyroclasm: you probably don't even need 4 soft sweeps in the main unless you are expecting a dearth of going wide strategies in your meta.
-3 Mogis, God of Slaughter: without a way to turn him on or a way to create a true lock outs like teferi-pool you aren't going to get as much value out of mogis as you need to make him your win con.
cards to add:
+4 Lightning Bolt: this is solid removal or a damage to face if you don't need to use it as such.
+2-4: Thoughtseize: considered one of the best discard spells in the game because it hits basically everything at the cost of 2 life.
+2-4: Duress: you can choose Inquisition of Kozilek or Raven's Crime or another discard spell of your choice. i'd suggest at least 6 discard spells and you can decide the split between your discard spells depending on how aggressive your meta is.
+2 Kolaghan's Command: small creature removal, artifact removal, discard spell. very versatile.
+4 Liliana, the Last Hope, a strong contender for win con. i went with 4 copies because it doesn't have innate protection and you want it early if you can as it provides good value.
+1 Path to Exile: to make it a 4 of.
+1 Fatal Push: to make it a 4 of.
??? Tibalt's Trickery: I don't know if this is a good idea in control. you are giving up a card to change what card your opponent is casting. but they are still getting something. so you are 1 for 0ing them in a way. if they are casting a spell like Scapeshift for the win then obviously this will help but the risk of them flipping an equally scary threat off the top is very real. but your choices in counterspell are pretty limited.
if you are willing to mess around with your mana base you can probably make good use of Blood Moon as well but that would require some careful maneuvering in a 3 color deck.
5 months ago
I don't think Mardu are the worst colors for lockdown decks. However, as Xianling69 said, Mogis is way. Too. Slow.
Tibalt's Trickery is bad unless you use it for a cheeky combo of some sort (I'll let you Google how it can be abused but it then requires you to build the whole deck around it).
Divine Gambit is awful aswell. Modern isn't fair. Removing a pesky creature to let your opponent play a bigger threat (Teferi, Emrakul, you name it) for free is just not a deal you want in this format.
Crackling Doom and Soul Shatter are okayish vs decks that play few creatures but again I would rather run Wrath of God or something in the sideboard.
Anger of the Gods and Pyroclasm are good spells vs aggro decks but again, dead cards vs any superfriends or midrange deck. Plus, you already have Patk and Push to get rid of early threats.
All in all you lack wincons. Remove specific removals for mass removals and add in tough-to-answer threats like planeswalkers or built-in protections (Baneslayer Angel or Stormbreath Dragon) or card-advantage creating cards like Seasoned Pyromancer or Glorybringer.
6 months ago
I have some thoughts about the overall gameplay, but I'll make some easy suggestions first:
Painful Truths > Read the Bones in a 3-color deck. Similarly, Mathas, Fiend Seeker

is a great way to turn all of your removal into 2-for-1s, or can even draw you cards without spending any cards because it incentivizes your other player to remove things for you.
I agree with King_marchesa about cutting some vanilla vampires for ramp and removal. I noticed you said one of your players really likes hexproof creatures; spells like Soul Shatter and Crackling Doom will probably be better than spot removal like Utter End in that case. Anowon, the Ruin Sage is good for that, too, and Patron of the Vein is removal on a big-ol' Vampire stick!
Nighthawk Scavenger and Nullpriest of Oblivion will be good includes that are aggressive but also good in the lategame (this will be a theme in this comment). Olivia Voldaren is cheap and a good mana-sink to use the extra ramp you're putting in.
Bloodline Keeper  Flip is a little on the expensive side at $9 but if you can get a copy, it'll be a great way to upgrade your army from 1/1s to evasive 2/2s, or 4/4s if he flips. Vampire Nocturnus is another good Lord in this vein. (Pun intended!) Vito, Thorn of the Dusk Rose can function as a damage-doubler using his activated ability.
Finally, Forerunner of the Legion is a great tutor that also gives +2/+2 to an attacker whenever you play a vampire, thanks to Eminence.
You'll notice that all of these suggestions will raise your curve. I think that's necessary to address the problems you're having. I started EDH running a Freyalise, Llanowar's Fury Elfball deck that had a similar goal: Make a lot of small Elves and run down one opponent. Ran into the same problems you have: You get outscaled. The changes I outlined above are also similar to what I did to turn Freyalise into a more streamlined Ezuri deck. You have to add a lategame. This is also why I recommend adding ramp to more reliably cast Edgar; he's an extremely powerful finisher with a board full of small vampires, and the deck relies on him for more than just 1/1s!
That's why most of my changes encourage you to add more removal and ways to buff your board with stronger creatures. This is the great thing about Edgar: you don't need to focus on making an army of small vampires, because he does that for you! Instead, you can play vampires that buff and help your other vampire tokens.
So, I'd recommend making swaps for the following low-drop creatures that aren't evasive/strong and don't do anything for your board besides being a vampire to trigger Edgar (which most of the above suggestions also do):
Bloodthrone Vampire
Guul Draz Assassin
Guul Draz Vampire
Pulse Tracker
Quag Vampires
Vampire of the Dire Moon
Duskborne Skymarcher
Ruthless Cullblade
Vampire Interloper
And also Goblin Bombardment, which I don't think is a good rate for what it does.
Add some more Vampire lords where you can get them (many of the above are just $1-2), removal, and ramp. You should find that instead of getting a hand with 2-3 lands and all 1-2 drops, you'll start finding a hand with something to do on every turn as you work up towards Edgar. I hope that helps!
8 months ago
Hello, I don't watch the Walking Dead and I honestly think the Secret Lair: Walking Dead product is a very bad decision on Wizard's part. That being said, one of the cards being released provides a silver bullet to a problem I often encounter in certain games.
Card: Negan, The Cold-Blooded
I'm not planning to make him my commander, but I want to use him in the 99, because he is practically the best removal spell ever made when dealing with creatures that have both hexproof and indestructible.
Seriously, the next best cards are Council's Judgment, Crackling Doom Soul Shatter, Mythos of Snapdax, Slaughter the Strong, etc. These cards all have conditions where they can fail to remove the creature I want gone, but Negan has none of those same problems making him the most effective piece of spot removal printed to this date, effectively costing only 4 mana given the treasure token.
I know I could just run other sure-fire answers like Descend upon the Sinful or Apocalypse instead, but those cards can massively hurt my side of the table too which makes them not worth running and they can also make the rest of the table unhappy with me for playing exile-wipes.
Another thing to note is that Negan is a creature which means I can make him uncounterable with a Cavern of Souls rather than Boseiju, Who Shelters All, a land that's much more inflexible to play with than Cavern. I can also reanimate his effect too with Volrath's Stronghold and other reanimation effects which would make him so good at keeping commanders with hexproof and indestructible repeatedly in check unlike a lot of the other one-time use instants and sorceries I have available.
The only issue is I think most play-groups will tell me that their play group will have this card banned given all the controversy surrounding it which is a shame. My question is, do you think its worth the trouble acquiring this card? If I'm going to spend a lot of money to buy a single only for most people to tell me I can't play it then I don't want to spend that kind of money, but for now I'm unsure. Would you advise for or against buying it? Thanks!
9 months ago
The subject of this thread revolves around dealing with and counteracting against the commanders: Uril, the Miststalker, Sigarda, Host of Herons, Dragonlord Ojutai, Lazav, Dimir Mastermind, Thrun, the Last Troll as well as commanders that consistently or typically give themselves hexproof through various equipments/auras.
While it may not be the most prevalent strategy these types of commanders can be annoying to deal with. I'd like to create a discussion on what are the best ways to deal with these commanders. Given how niche these commanders can be, running cards that exclusively dedicate themselves to their removal may be detrimental to draw into when playing a game where none of your opponents run them. Therefore cards that can both combat massive hexproof creatures as well as still being useful to have if none of your opponents are playing with big hexproof creatures should be taken into consideration when deciding what is the "best" or "most practical" solution to combating hexproof strategies.
The first cards that come to mind are Arcane Lighthouse, Detection Tower, Bonds of Mortality, Shadowspear and Glaring Spotlight. These cards entirely dedicate themselves to combating hexproof strategies, and while this may be a detriment when used against non-hexproof strategies, these cards do lend themselves some extra utility. Arcane Lighthouse and Detection Tower can be seeded into your manabase so at worst they're just a Wastes however they can be more inefficient in comparison. Given that both are lands, tapping them costs you an extra mana resource effectively making their abilities cost to activate. Not only that, but they have no effect at stripping indestructible which can be a common keyboard which may be used alongside most hexproof strategies. Cards like Bonds of Mortality and Shadowspear cost only one to activate and they can bypass indestructible, however given they're not lands you have to dedicate a nonland slot in your deck to accommodate either of them which means taking out a card that may better synergize with your deck's main strategy in their place. They also lend themselves targets for counter spells and given hexproof decks contain white and/or green, artifact/enchantment removal will pose a high potential risk. This is all not to mention you still need to provide a removal spell in tandem with these cards in order to remove the threat.
Another solution is board wipes. Cards such as Wrath of God, Damnation, Day of Judgment, Supreme Verdict, Blasphemous Act, etc. Mass creature removal is incredibly strong given that its always relevant in most metas making it a highly flexible solution that isn't too narrow to rely upon. It's biggest drawback however is if the massive hexproof creature that needs to be dealt with has indestructible, totem armor or Gift of Immortality. Even a card such as Toxic Deluge can be a risk as you may have to pay a huge amount of life if the creature is incredibly big. Cyclonic Rift is another effective card. One thing to note about boardwipes are they affect the whole table which makes them also more likelier to be countered than by effects that impact a single individual.
A more narrow solution would be through damage prevention effects such as Story Circle, Forcefield, Runed Halo, Rune of Protection: White, etc. Given each card never "targets" they can be used to infinitely "Fog" a problem creature that you can't put up with. These effects are more narrow than boardwipes but broader than hexproof removal. Cards like these still run into problems with artifact/enchantment removal and they don't run enticing side effects such as drawing a card upon entering the battlefield like Bonds of Mortality or giving a creature lifelink and trample like Shadowspear, however you won't need to exhaust your removal spells to keep the large creature(s) either. In more broader metas such as combo, stax and prison, these effects may not be as useful however. More broader variants of these protection cards exist as Ensnaring Bridge, Divine Presence, Peacekeeper and Meekstone though these cards may make multiple opponents unhappy enough to remove them than the more narrower options.
The last effect used to combat large hexproof creatures is sacrifice effects such as: Fleshbag Marauder, Innocent Blood, Vona's Hunger, Liliana's Triumph, Doomfall etc. These effects can bypass not only hexproof but also indestructible, regenerate and totem armor. Their drawback lies in if the player with the large hexproof creature has any other creatures to sacrifice in their place. Because of this caveat this effect isn't too strong unless ran in multiples which can be difficult to commit to in a 100-card format. Instead selective sacrifice effects may be the best way to devote to this solution with cards like: Crackling Doom, Soul Shatter, Slaughter the Strong, Council's Judgment, Renounce the Guilds and Wing Shards. While these cards won't always guarantee the large hexproof creature will be removed, they provide a stronger case than not compared to most traditional sacrifice removal.
Lastly there are counter spells to remove hexproof creatures. While they may be the best all purpose solution they can be rendered ineffective if a Cavern of Souls or some other can not be countered effect is in place. With exception to Withering Boon, the biggest downside to counter spells are they are entirely exclusive to blue meaning other color combinations without blue do not have this option available.
Which method do you rely on to stop massive hexproof creatures? Is there a card or solution set not listed here that you use? If you happen to play EDH decks with big massive hexproof creatures, which effects annoy/counter you the most?
Load more