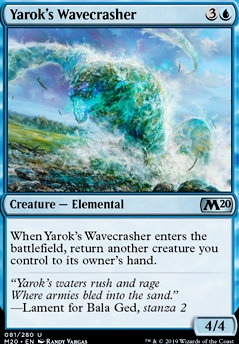 Yarok's Wavecrasher
Creature — Elemental
When Yarok's Wavecrasher enters the battlefield, return another target creature you control to its owner's hand.
Browse Alters
Legality
| | |
| --- | --- |
| Format | Legality |
| Pre-release | Legal |
| Tiny Leaders | Legal |
| Frontier | Legal |
| Vintage | Legal |
| Penny Dreadful | Legal |
| Pioneer | Legal |
| Commander / EDH | Legal |
| 1v1 Commander | Legal |
| Magic Duels | Legal |
| Brawl | Legal |
| Block Constructed | Legal |
| Standard | Legal |
| Historic | Legal |
| Arena | Legal |
| Canadian Highlander | Legal |
| Leviathan | Legal |
| Duel Commander | Legal |
| Unformat | Legal |
| Modern | Legal |
| Legacy | Legal |
| Casual | Legal |
| Oathbreaker | Legal |
Yarok's Wavecrasher Discussion
6 months ago
This is all speculation based off of the very little information we have about the characters but I am fairly convinced that Omnath will be the next antagonist on Zendikar. Yarok will be an unlikely protagonist.
Here's my thoughts:
It's been heavily alluded to that Zendikar is sentient and that Omnath is the physical embodiment of the plane of Zendikar. We also know that Omnath was imprisoned in Ondu for a reason so important that hedrons were used to keep him imprisoned and a twice-year ritual was conducted to "protect the world from the release of Omnath". Then the Eldrazi were released and everything went to hell.
I suspect Zendikar, and by extension Omnath, is suuuuuuuper pissed at the denizens of the plane. Using Omnath as its champion, Zendikar plans to cleanse itself of all corruption. Zendikar would perceive most of its inhabitants (especially the vampires) to be corrupt because they let the Eldrazi corruption spread in the first place. This would also provide an interesting decision point in Nissa's storyline. She has always sought to protect Zendikar, but what if she was now forced to decide between protecting the plane's inhabitants or protecting the plane itself?
Yarok is interesting and, like Omnath, little is known about the elemental. However, I think the character could play an excellent foil to Omnath. The "Lament for Bala Ged" featured (in order) on Yarok, the Desecrated , Yarok's Wavecrasher , Yarok's Fenlurker , and Healer of the Glade makes me believe that Yarok is actually a benevolent, but misguided force who is trying to heal the land, but can't because it has been corrupted by the Eldrazi. To me that sounds like an excellent character for Nissa to purify and ally with against Omnath's pure chaos and rage. Maybe in the end they merge (giving Omnath a black color identity) and Omnath/Zendikar calms down a bit.