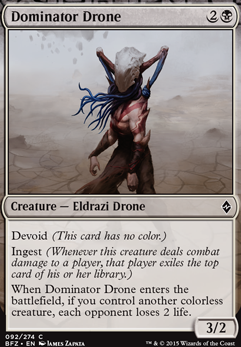 Legality
| | |
| --- | --- |
| Format | Legality |
| Pre-release | Legal |
| Limited | Legal |
| Magic Duels | Legal |
| Canadian Highlander | Legal |
| Vintage | Legal |
| Modern | Legal |
| Highlander | Legal |
| Penny Dreadful | Legal |
| Block Constructed | Legal |
| Casual | Legal |
| Pauper EDH | Legal |
| Leviathan | Legal |
| Legacy | Legal |
| Frontier | Legal |
| Duel Commander | Legal |
| Unformat | Legal |
| Pauper | Legal |
| Commander / EDH | Legal |
Related Questions
Dominator Drone
Creature — Eldrazi Drone
Devoid (This card has no color.)
Ingest (Whenever this creature deals combat damage to a player, that player exiles the top card of his or her library.)
When Dominator Drone enters the battlefield, if you control another colorless creature, each opponent loses 2 life.
Dominator Drone Discussion
3 months ago
- For as creature heavy as this deck is, you have them for your first line of defense and offense, having Aether Meltdown and Dampening Pulse isnt necessary to staying protected. Cutting them out frees up important room for mana ramp cards to get more creatures out faster.
- Needlebite Trap, really only good if youre going up a lifegain deck, and if thats your reason for running it you might as well just sideboard it and only put it in the deck when you need it.
- Drownyard Behemoth a very steep casting cost for a 5/7 that only has hexproof for one turn, which it probably wont even be targeted on. Even the emerge cost is steep.
- Vexing Scuttler another high casting eldrazi that does little in return. Youre better off hoping to drawing another instant/sorcery than having to spend 3 mana on this creature just to bounce one back to your hand.
- Grizzled Angler Flip a decent early game blocker, but its transforming mills your own deck and depends on I feel youve lost a creature. For 3 mana why not cast a Dominator Drone? Its giving you more damage than the Anglers fish side because it hits the board a turn earlier. Id cut just one Grizzled Angler Flip for now, its transformed Ability could be a good way to clear your opponents board of blockers, but you wouldnt need to of him in the field so.
Like I said, the ingest interaction can be a really good source of utility effects for an eldrazi deck, but you either need to focus more on this idea, or cut some of those cards so you have more room for aggro/ramp. Youre too creature heavy right now, and not enough ramp. For the most part your noncreature spells look fine, save the possible cuts I mentioned.
you should take the creatures you have picked out right now, and categorize them based on what they offer you during a game. Go through each stack of these and compare which creatures in their categories beat out each other. For example,
Dominator Drone
drops down for 3 mana and is dealing 2 dmg of the bat, not to mention its swinging for 3 dmg when you attack.
Reaver Drone
guarentees no Damage, is only swinging for 2 when you attack, can be chump blocked with a 1/1, and shoots you in the foot if you dont have another creature out.
8 months ago
ahh, very cool. Even so I don't think you can pull in cards outside your commander's color identity, even if from outside of the game.(not 100% sure on that though)
Maybe Eldrazi Obligator instead of Dominator Drone Just in case.
9 months ago
Bhaal666 is completely correct, however, I feel that we should also discuss the newer eldrazi, specifically those with the Devoid ability. While all of the eldrazi with Devoid are, for all intents and purposes, considered colorless during play, they are evaluated just like any other card in a commander deck (i.e. Dominator Drone is a colorless creature with a color identity of B, and is only valid under commanders with B in their identity).
10 months ago
Unmask_Art, I have been playtesting this deck primarily against aggro decks and ran into the same problem: Trying to hold on until I draw a Dusk, then regroup with Dawn next turn.
I have also found that winning without Panharmonicon is quite easy, so in many games it was just a dead card as whatever else I had in my hand was better at the moment. In addition, I have found that Ondu Cleric is the least useful creature in the deck, and isn't good for much except chump blocking if you don't have a Cliffhaven Vampire in play. I dropped one of those for an additional Dusk. I have been running a pair of Altar's Reap instead of Live Fast and I am quite pleased with the result. I can block, then sac the creature before damage to cast Reap. Alternatively, I have had one or two Zulaport Cutthroat on the field with a Cliffhaven Vampire and cast Reap, which creates a gain of 4 life, a loss of 6 life to my opponent, and two cards in my hand.Lastly, I decided that a pair of Shambling Vent were good as backup creatures with lifelink for Cliffhaven Vampire triggers.
On a side note, I'm also toying with the idea of incorporating Essence Depleter and possibly Dominator Drone, but that may be another deck entirely. =P
11 months ago
Ah, just saw your "sideboard." Why there and not main?
Also, unclear on how Spawnsire of Ulamog works since there aren't sideboards in EDH - I'm sure you know better than I, but I am curious. Additionally, despite being devoid, I don't think you can play with Dominator Drone like you mentioned, for color identity and/or card number reasons. Of course, it's always up to the playgroup, but I am curious how it would shake out at a tournament, if you happen to know!
1 year ago
you need to have 20-24ish (around 40% or more depending on what deck you wanna play) lands or you're gonna have a lot of dead draws. think about one win condition or board state you want to achieve and then put cards that help that idea or board state, or help you get to that idea or board state. it's fine to have a few cards that don't fit with that idea but they need to be really good cards. for example, my RB/Devoid deck has all colorless creatures like Dominator Drone and Flayer Drone, but I plan on putting in Kolaghan's Command.
it has no synergy with the devoid creatures, but it's a great card, so i made space for it. hopefully these tips helped
Load more