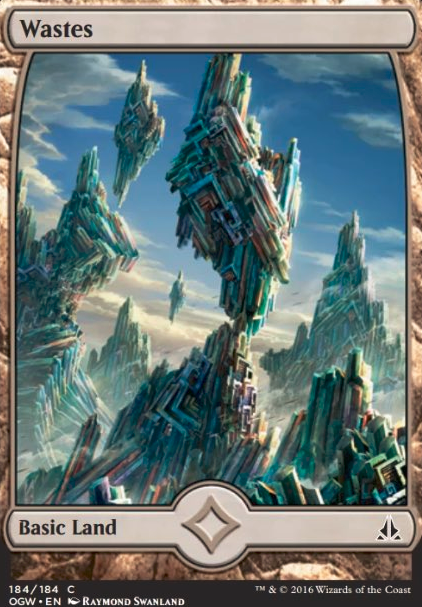 Legality
| | |
| --- | --- |
| Format | Legality |
| Pre-release | Legal |
| Noble | Legal |
| Hero | Legal |
| Magic Duels | Legal |
| Heirloom | Legal |
| Canadian Highlander | Legal |
| Vintage | Legal |
| Modern | Legal |
| Penny Dreadful | Legal |
| Block Constructed | Legal |
| Casual | Legal |
| Pauper EDH | Legal |
| Leviathan | Legal |
| Legacy | Legal |
| Frontier | Legal |
| Duel Commander | Legal |
| Unformat | Legal |
| Pauper | Legal |
| Commander / EDH | Legal |
Wastes
Basic Land
: Add to your mana pool. ( represents colourless mana.)
Price & Acquistion
Have (11)
rhinoloupe ,

h

o

s

s

h

u

g

h

e

s

,

p

s

k

i

n

n

0

1

,

o

r

z

h

o

v

_

i

s

_

r

e

l

a

t

i

v

e

l

y

_

o

k

a

y

8

1

9

, geazykagar , TrackerD , jrschnoebelen ,

b

r

o

k

e

n

d

w

a

r

f

, gildan_bladeborn ,

T

h

e

R

e

a

l

P

e

a

c

h

e

s

, Matgic
Want (2)
Candyman949 ,

V

a

s

b

e

a

r

1
Wastes Discussion
4 days ago
This a musical catalogue of parodies of rock/metal songs about Magic: The Gathering.
My sense of humor may not be for everyone, because sometimes I make fun of myself and portray myself as an extremely socially inept and unsportsmanlike player. So, idk, be warned. Or enjoy, whatever you're into!
1 week ago
Wastes are also of great help to people who run colourless Commander decks.
They finally have access to basic lands.
---
The hologram on Rares from 2015 onwards is an excellent way to make it more difficult for crooks to pass off fakes as genuine.
---
There is usually a good reason why Wizards make changes, if you look closely enough.
2 weeks ago
Wastes have no basic land type. From Gatherer: "Wastes is not a land type. If something asks you to name a land type, you cant choose Wastes."
3 weeks ago
This looks really sweet. You have all the good stuff.
You might want to consider Thought-Knot Seer, basically a Thoughtseize on a stick and a nice beater.
Cavern of Souls might actualy be feasible for control matchups. Worth a shot with all those Jace-Decks running around. Make sure to keep like 2x Wastes in the deck, otherwise Ghost Quarter, Path, etc. hit you twice as hard.
Imho, 5x 10+ CMC creatures seems a bit excessive for modern. Especially since dropping Ulamog should make people scoop a fair percentage of matches. I would consider some cheaper coices making "nut draws" even more dangerous.
Imagine a hand with natural Tron, a Mimic and a 6 or 7 CMC Eldrazi like Oblivion Sower or Bane of Bala Ged
Are you considering building a sideboard in the Future?
1 month ago
Time for more testing and changes!
OUT:
IN:
1 month ago
You can make a card appear in different categories by putting two tags on the same line this way:
1x Birds of Paradise #Flyers #Ramp
Avoid Fate is a charming card but at the end of the day any other instant that gives Hexproof or Shroud is better because will also work against sorceries and abilities. My favorites: Sylvan Safekeeper, Blossoming Defense, Heroic Intervention and Vines of Vastwood. On the other hand Sheltering Word may be good in your deck with huge creatures.
Your land count is low, does Into the Wilds worth it? Looks like it would be better in your deck Path of Discovery
Vorrac Battlehorns do you really want that bad to be blocked by only one creature? I consider an upgrade to it Loxodon Warhammer, O-Naginata, Horned Helm (instant attaching, yay!) or Chariot of Victory
Greater Good and Life's Legacy are also staples for your kind of deck for card draw.
Homeward Path is another staple, you dont want your guys controlled or reanimated.
Sprouting Phytohydra is another creature I like but you don't seem to be able to capitalize on it in your deck. You already have many big guys on the ground to block whatever they send you. I know it's a deck of hydras but this guy underperforms.
Don't flyers give you a hard time? In my meta I would be kill with flyers with this deck almost every time. With all your mana production Silklash Spider is an auto include, Whirlwind is more efficient but one use only, World Breaker is a decent body with reach with built in disruption and recursion, you may also want to include a single Wastes so you can ramp it if you happen to need the diamond mana, but you dont seem to run land ramp. Speaking about land ramp, do you know Traverse the Outlands?
Tutors are awesome but there is a thing such as too many tutors. The only really crucial creatures to tutor into the Battlefield from the Library are Vorinclex and the Ulvenwald Hydra. Hydras dont like to be cheated into the battlefield because most of them have X in their cost and when you cheat them to the battlefield they enter as 0/0 and die. Therefore, a tribal tutor such as Kindred Summons works poorly with this tribe. If you check a top mono green commander deck such as Daruid: Seton-Storm you will see he only runs like 8 tutors and that's a pure mana production deck, all his druids tap for at leas one green mana because of his commander..Id try to go for more card draw and recursion instead. Seasons Past is quite nice.
Seedborn Muse, Nature's Will, Patron of the Orochi or Bear Umbra for Rude Awakening.
Everflowing Chalice and Yisan, the Wanderer Bard are not as sexy when you can't manipulate their counters.
Song of the Dryads and Beast Within are the best thing you can get as removal in mono green.
Load more
Latest Commander