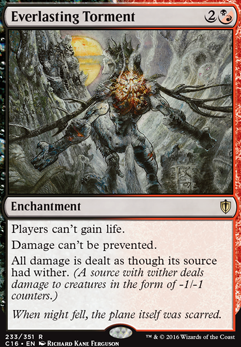 Everlasting Torment
Enchantment
Players can't gain life.
Damage can't be prevented.
All damage is dealt as though its source had wither. (A source with wither deals damage to creatures in the form of -1/-1 counters.)
Browse Alters
View at Gatherer
Trade
Legality
| | |
| --- | --- |
| Format | Legality |
| Tiny Leaders | Legal |
| Noble | Legal |
| Leviathan | Legal |
| Magic Duels | Legal |
| Canadian Highlander | Legal |
| Vintage | Legal |
| Modern | Legal |
| 2019-10-04 | Legal |
| Block Constructed | Legal |
| Vanguard | Legal |
| Legacy | Legal |
| Archenemy | Legal |
| Planechase | Legal |
| 1v1 Commander | Legal |
| Duel Commander | Legal |
| Oathbreaker | Legal |
| Unformat | Legal |
| Casual | Legal |
| Commander / EDH | Legal |
Everlasting Torment occurrence in decks from the last year
Commander / EDH:
All decks: 0.0%
Rakdos: 0.22%
Everlasting Torment Discussion
6 days ago
Chivalry is Dead!
"Don't ask my name, it's long since I forgot
if once I had a name, a home, a wife?
No words of fame or valor is my lot,
and yet my quest continues past this life."
1 week ago
Continuing where I left off.
continuing from creatures
Something to consider when addressing what to drop for my suggestions is how it affects your overall strategy and politics. Ashenmoor Gouger looks good because on paper it can deal damage, but consider what happens if you draw it 10 turns in and the table has all dug in for the long game. Hyper aggressive cards of the sort that do little else aren't going to help you after the first few turns. Hackrobat, Rakdos Firewheeler, Thrill-Kill Assassin, and the like are what you should look for when hacking cards out of the deck in the creature department. You might be gearing up to go fast and hit hard, but you still are playing the "long game", if you can even call it that.
Support
Onwards we march, starting with the strict spell category. Here, you should be looking for either utility or pure power. Spot removal cards like Go for the Throat work in regular 60 card formats, but lose a ton of value as the game is slowed enough for that one spell to have a diminished effect because it can only hit a single creature, often to little effect. Now Bedevil, on the other hand, is outstanding because you can hold it for either an artifact or 'walker, thus expanding your range and making it always live and effective.
I did a brief skim of cards in Gatherer and from among my own decks, but don't be afraid to look at other decks or EDHRec for things that will help you. Just remember that your goal boils largely down to pinging to make Rakdos live, cards that Rakdos is payoff for, and utility general support that rounds out the deck.
Artifacts
Necessary gears to get the machine moving. Mostly it will boil down to mana rocks to accelerate your state, but there will be others that you want purely because they work well for you.
Lands
Here you can start to have some fun. Being 2-color, you do have to be somewhat mindful of what you're running, but you can definitely make use of a lot of offbeat lands since you're not trying to be a fool and mana fix 5 colors. Keep in mind that you may not necessarily need everything listed here, but it's just a matter of helping keep your ability to produce both colors consistent.
Chopping Block
I encourage you to think these things out on your own or ask friends about this part, because understanding the process of what and why things stay or go is important to understanding your deck. Below are my suggestions for what needs to get yeeted.
I know this all is sort of messy, but when making edits, start with comparable replacements (i.e. swapping a creature for a creature), run a few test turns, and see how things work.
3 months ago
Build a Selesnya deck and run things such as Darksteel Mutation , Lignify and Song of the Dryads . If you want to make it Bant instead and have counterspells, you now have access to Imprisoned in the Moon . There is also Humility , Overwhelming Splendor , Kasmina's Transmutation and Kenrith's Transformation .
Then, so it isn't killed when turned into a blocker, you have Pacifism , Cage of Hands , Prison Term , Arachnus Web , Arrest , and like just a whole slew of them in blue.
Basically you're going about the deck in the wrong way. Stop trying to "kill" him and start trying to "out pace" him.
You can also prevent him from even gaining life; Leyline of Punishment , Erebos, God of the Dead , Stigma Lasher , Forsaken Wastes , Everlasting Torment , Witch Hunt , Havoc Festival , Rampaging Ferocidon , and Archfiend of Despair .
You're going to want solid enchantment removal. For those, you have; Tranquil Path , Back to Nature , Paraselene , Bane of Progress , Primeval Light , Tranquility , Rampage of the Clans , Fracturing Gust , Austere Command , Tempest of Light and Merciless Eviction .
I'd highly recommend you go Bant and just ignore the Rakdos options I have given you, but those are there in the event you want some extra possibilities.
So you have two things here; Prisons & Mass Removal. They are working against each other, so you want something that protects your own boardstate; Teferi's Protection , Avacyn, Angel of Hope , Darksteel Forge + Mycosynth Lattice , Starfield of Nyx + Eldrazi Monument , Soul of New Phyrexia , Heroic Intervention , etc.
Run someone like Tuvasa the Sunlit , Jenara, Asura of War , Arcades, the Strategist or even Rubinia Soulsinger .
I'd recommend you run all of them, actually. Put Tuvasa as your Commander so you always have access to card draw. He basically turns your first enchantment each turn into a cantrip (Trading 1 card for 1 card).
3 months ago
I have three questions regarding this card: Wall of Shards
1.) I have Wall of Shards and an Everlasting Torment on the battlefield. Because my opponents are unable to gain life would I be unable to pay for Wall of Shards 's cumulative upkeep cost and be forced to sacrifice it? (I know this has been asked if it works with Tainted Remedy , but is "Players can't gain life" also a replacement effect or something else?)
2.) I have Wall of Shards on the battlefield and my opponent has Aegis of the Gods on the battlefield. Wall of Shards never specifies targeting an opponent when paying for the cumulative upkeep cost. Can I make the opponent who controls Aegis of the Gods gain life?
3.) I have Wall of Shards on the battlefield and two opponents. Upon upkeep I put a second age counter on Wall of Shards and pay it's cumulative upkeep. Can I pay the cost by making both my opponents gain 1 life each? If so do both opponents gain life at the same time or must I choose priority? And if there is priority can I cast spells between each instance of life gain such as recurring and casting a single Punishing Fire from the graveyard multiple times?
Thank you.
5 months ago
Wake of Destruction is a maybe but Nightmare Incursion is definitely staying. I've exiled 15+ cards with. Not to mention adding Sadistic Sacrament on top of it for those that decide to incur Rakdos' wrath early haha. I am looking at AEther Snap as it has been underwhelming as of late. Even though on paper the card is insanely good. Everlasting Torment is another that I haven't cared for. It's in there for the "damage can't be prevented" aspect, but that just hasn't mattered recently. Not to mention I have other instant speed sources. I like the idea and am willing to try it out king-saproling. Thanks for the comment man!
6 months ago
In terms of budget lands, Graven Cairns is cheap because of multiple printings, and fixes both ways instantly. Foreboding ruins, dragonskull and a couple of these will run fine, even if it doesn't leave space for Ghost Quarter and friends.
When assessing lands its also worth looking at hate cards too- Blood Moon , Ghost Quarter , Field of Ruin etc. Mono red ignores them almost entirely, while the more colour requirements your deck has the more they are punished by them.
That said, Black/red offers a lot in terms of sideboard.
From Thoughtseize / Duress to Kolaghan's Command / Rakdos Charm , tech like Rain of Gore / Everlasting Torment and kill spells like Angrath's Rampage , Dreadbore and Terminate , there are a whole suite of tools that become available. If your meta calls for those tools it can be completely worth it.
In terms of strategy, that toolbox lets you take it to the midgame more consistently. If your idea of goblins is activating krenko, black red is where you want to be, because it can keep him on the field. If you want to rush as fast as possible, the question is whether Munitions Expert and the sideboard tools is good enough to be worth it. Siege as a 4 drop is more suited to a midrange 'value' goblins, which likes saccing goblins for direct damage- but its not the same deck.
7 months ago
Everlasting Torment is another option in case you have players who run with damage mitigation cards such as Riot Control Defend the Hearth Deflecting Palm Druid's Deliverance etc, which would be a giant road block to cards that let opponents choose to "take damage" or do the other thing. Dash hopes, risk factor, vexing devil, sword-point diplomacy, sword-point diplomacy, and torment of scarabs, leave your cards in the control of your opponent through choice, which can then be mitigated, when they draw the right cards. Everlasting Torment strips them of that choice with possible mitigations
8 months ago
Zakuzelo, thanks for checking out my build. Lately I find myself running Wickerbough Elder more often than Necroskitter . Necroskitter isn't as useful as it was when I was running Fate Transfer . However, it is theoretically handy if I side-in Everlasting Torment . Problem is, Torment is usually countered or destroyed before anything can happen. So you are right, in practice, I could likely open up the space to something else. That "something else" is the mystery. I have three tutors now, so running one-of answers is always an option, but not ideal. I don't want to muff up a good thing, but at the same time I feel like there is something I could put in here to really make it a very painful deck to deal with. It already is a pretty hated deck, mostly because it's not straight-ahead or as predictable as some other modern builds. So I want to keep it diverse. I've been thinking about going back to Throne of the God-Pharaoh , or possibly even bringing Crocodile of the Crossing back. Also tossed around Cryptolith Rite for extreme ramp. I'm just not sure if the process of replacing cards will ever end with this build. It plays on a pretty good level, but I want to make it a pretty amazing build.
Load more