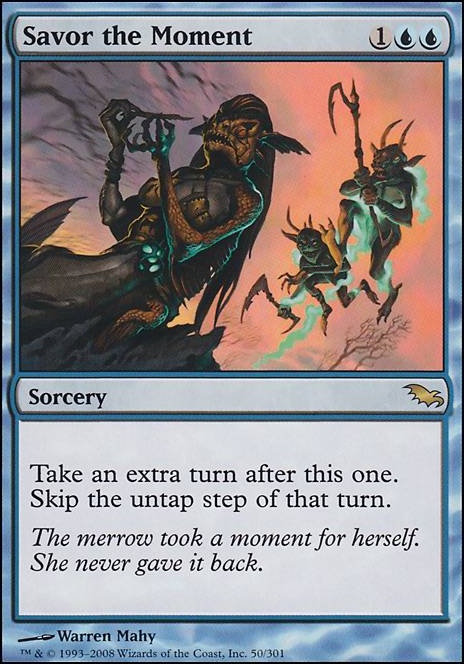 Savor the Moment
Sorcery
Take an extra turn after this one. Skip the untap step of that turn.
Browse Alters
View at Gatherer
Trade
Legality
| | |
| --- | --- |
| Format | Legality |
| Tiny Leaders | Legal |
| Noble | Legal |
| Leviathan | Legal |
| Magic Duels | Legal |
| Canadian Highlander | Legal |
| Vintage | Legal |
| Modern | Legal |
| Vanguard | Legal |
| Legacy | Legal |
| Archenemy | Legal |
| Planechase | Legal |
| 1v1 Commander | Legal |
| Duel Commander | Legal |
| Oathbreaker | Legal |
| Unformat | Legal |
| Casual | Legal |
| Commander / EDH | Legal |
Savor the Moment occurrence in decks from the last year
Commander / EDH:
All decks: 0.0%
Savor the Moment Discussion
1 month ago
Keen is a word I haven't heard in a while, good man!
I'll suggest other cards later because thats enough for now
2 months ago
I definitely wanna pick up 2x more Hinterland Harbor and maybe look into the cycling lands from amonket/fast lands... currently this is the best I have but Im looking to improve the mana base with about anything short of Misty Rainforest in price... Magosi, the Waterveil is an attempt to squeeze in a VERY situational Savor the Moment / Time Warp into the mana base... im not exactly sold on it however if I have open mana/fogs in hand to negate the opponents extra turn sometimes it can end up being a game winning/win more maneuver later....sometimes...but is more often to my determinant with the opponent playing Field of Ruin soon after I give them an extra turn and i just end up giving them a free turn... It just needs to go.
I really love Howling Mine in theory but letting the opponent pick up there deck usually just ensures them coming up with an answer to beat me.... I agree Narset, Parter of Veils might be a much better choice. Im a little bit torn on Explore ... its super powerful but definitly performs better when Im running 24+ lands perhaps I could consider running higher CMC to get better value from it with things like you said like Riftwing Cloudskate ? but otherwise if I have a lower cmc curve as well as a lower mana count it should probably just be a cantrip like Opt .
I do have a few Eternal Witness laying around so maybe with the addition of at least 4 more fogs and 2-3 E.W. I'll have a lot more resilience... but Cryptic Command / Snapcaster Mage /fetches are gonna be just wishful thinking for this deck... dont have any/not willing to buy at this time... some day though... ive spent so much money over the years on cheeky "budget" cards that I could have totally have had a full playset of snappy/command by now :/
nice catch with Spell Queller in the Spirits game...an oversight on my part that has to be addressed... ive ran Raking Canopy in the SB in previous decklists and it worked out pretty good but im not so sure here....thanks a lot for the input! Im gonna keep tinkering with the list!
4 months ago
Hey man! I got a few suggestions:
Good luck! Hope this helps.
5 months ago
Temporal Mastery , and Savor the Moment are cheap extra turn spells
Add some stax like Teferi, Time Raveler , Spelltithe Enforcer , Grand Arbiter Augustin IV , Ensnaring Bridge , Gigadrowse and the combo Narset, Parter of Veils + Windfall
Add some counterspells like Dovin's Veto , Force of Negation , and Spell Snare
And for most, your deck is nice, +1 from me!
5 months ago
I highly recommend Savor the Moment ; Atraxa has vigilance, and it gives a card draw and extra walker use. Plus it's only three mana. It's just generally really good, and I run a similar deck.
6 months ago
Thanks for the suggestions! Those are pretty nice cards. I think I used to own Savor the Moment but I used it for other decks.
Anyway, I was actually going to quit Magic and sell all my cards soon, so I doubt I'll update this deck.
Load more