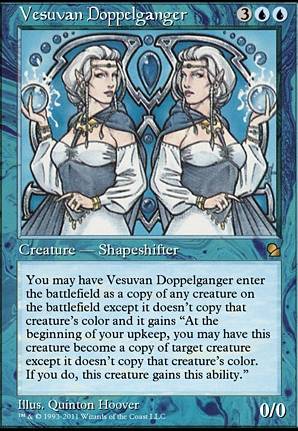 Vesuvan Doppelganger
Creature — Shapeshifter
As Vesuvan Doppelganger enters the battlefield, you may choose a creature in play. If you do, Vesuvan Doppelganger enters the battlefield as a copy of that creature except for its color and gains "At the beginning of your upkeep, you may have this creature become a copy of target creature except for its color. If you do, this creature gains this ability."
Browse Alters
View at Gatherer
Legality
| | |
| --- | --- |
| Format | Legality |
| Tiny Leaders | Legal |
| Noble | Legal |
| Leviathan | Legal |
| Magic Duels | Legal |
| Canadian Highlander | Legal |
| Vintage | Legal |
| Oldschool 93/94 | Legal |
| Casual | Legal |
| Pauper EDH | Legal |
| Vanguard | Legal |
| Legacy | Legal |
| Archenemy | Legal |
| Planechase | Legal |
| 1v1 Commander | Legal |
| Duel Commander | Legal |
| Oathbreaker | Legal |
| Unformat | Legal |
| Pauper | Legal |
| Commander / EDH | Legal |
Vesuvan Doppelganger occurrence in decks from the last year
Commander / EDH:
All decks: 0.0%
Vesuvan Doppelganger Discussion
4 months ago
After looking at the deck, I do not think that I have enough instant/sorcery that I want to copy with Dualcaster Mage . I normally do not want to pay / and to copy a spell 4 times, think it's a bit overkill. Thanks for the suggestions though. <3
Updated List
1 year ago
Hi there, I'm from the advertise your commander thread.
I used to have a Nin, the Pain Artist deck based on stealing and copying your opponents stuff. I always liked to win using your opponents cards, so its nice to see a deck with a similar theme.
I think your current build has a lot of room for optimization as there are many cards that have strictly or subjectively better counterparts. These are some suggestions for cards I would replace and what with:
I would probably drop the flicker subtheme you currently have because you dont run a lot of creatures and go down a few lands (37 should be fine) in favor of more draw (Rhystic Study & Mystic Remora are nice). Also, one of the good things about black is the access to tutors. By adding tutors you increase the consistency of your deck, as they effectively serve as an extra copy of all the other cards in your deck. Lim-Dul's Vault, Beseech the Queen and Dark Petition are some good relatively cheap ones. (If you want to invest a bit of money in it, Demonic Tutor and Vampiric Tutor are great.)
I hope this helps and good luck with deckbuilding!
PS. Dont forget to comment on the previously posted deck in the 'advertise your commander deck' thread. ;)
1 year ago
I laughed when I saw this deck - what a fun and effective idea. Some cards that came to mind in no particular order: Vesuvan Doppelganger, Huatli, Dinosaur Knight, and Training Grounds. Sorry if you've already considered these. I'm mulling this over a lunch break, so I might come back with more ideas later. I enjoyed looking this through - thanks for making and sharing it!
1 year ago
Cybersix, check out the updated list if you have a chance. I don't have many of the cards you suggested, but I did fin an Obzedat's Aid and a Clone, Vesuvan Doppelganger and a few other finds that should help. It playtested pretty well today. thanks again for the advice!
1 year ago
Yes. Vesuvan Doppelganger adds the ability to change as part of the copy effect so it becomes a copiable characteristic. A couple notes, Clone does not target, so it is able to copy through abilities like shroud and protection. Also, if Clone enters copying a Vesuvan Doppelganger, it will be whatever the Vesuvan Doppelganger is copying, you won't be able to choose something else (until your next upkeep, of course).
1 year ago
If I have Vesuvan Doppelganger out copying something (obviously) and then I play Clone to target the doppelganger, does clone then get the doppelganger's ability to change? I am 99.9999999% sure that the answer is yes, but I want to make it one hundred percent.
Load more