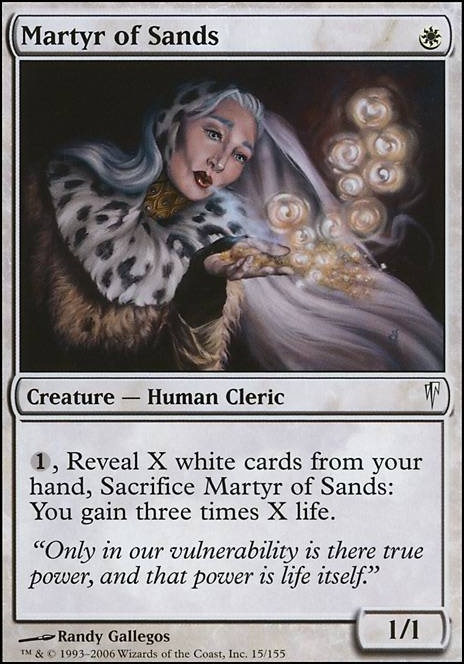 Legality
| | |
| --- | --- |
| Format | Legality |
| Noble | Legal |
| 1v1 Commander | Legal |
| Vintage | Legal |
| Modern | Legal |
| Casual | Legal |
| Vanguard | Legal |
| Legacy | Legal |
| Archenemy | Legal |
| Planechase | Legal |
| Duel Commander | Legal |
| Unformat | Legal |
| Pauper | Legal |
| Commander / EDH | Legal |
Martyr of Sands
Creature — Human Cleric
(1), Reveal X white cards from your hand, Sacrifice Martyr of Sands: You gain three times X life.
Martyr of Sands Discussion
44 minutes ago
Thank you for the reply! Like I said, I'm completely up for any and all suggestions.
I think you might a problem with you decks focus. Are you attempting to gain life yourself, or hurting the opponent by giving them life?
So that's the thing with this deck. I can do either depending on which wincon is on the field. If I have a first hand draw that includes Tainted Remedy, I'm likely going to play Wall of Shards turn two, then Remedy (or bridge) turn 3 and then use my cards to "give life" to my opponent with Rest for the Weary, Heroes' Reunion or wall of shards.
If my draw includes my Chalice of Life and/or Sanguine Bond I'm going to try and boost my own health turn two with a Martyr of Sands (played turn one) and a Rest for the Weary/Heroes' Reunion turn 3 for a chalice flip on turn 4. If I have a tutor in hand or bridge, I'll always play bridge turn three and attempt to pad my health for the eventual Chalice. Tainted remedy should be extremely easy to find with this deck, so I'm expecting to turtle up and damage from behind my bridges no matter if I have Remedy, Bond or Chalice out. Now, I CAN remove my Bonds and go for an entirely Remedy/Chalice wincon or I can remove my Tainted Remedies and still tutor for a Bond/Chalice/Bridge wincon. Either way, currently both of them are supported with this deck, but I can easily specialize.
As for colors, I'm ONLY splashing green for Heroes' Reunion since it's the best cheap lifegain card I could find. I would like to stick to LOW mana (like 3 or less) black/white cards if I could.. I'd love to be able to remove the green just to make the manabase that much easier to manage.
---
So about your suggestions, I really like Congregate because it supports all three wincons this deck has, my ONLY issue with it is that it has 4 CMC and in a bridge deck, that's a bit too high since I want my hand size to be as minimal as possible. This card would likely be best if I dropped Sanguine Bond for the Congregates (probably a 3x) and went for a purely Tainted remedy/Chalice wincon. It'll also (like you said) reduce the amount of black int the deck and allow Martyr of Sands to shine.
Blessed Alliance is also a card that I looked at and I may give a shot in the future, simply because it's such a good toolbox.
Wrath of God, Day of Judgment and Fumigate are always cards that I will consider in white decks. I have a few Wrath of God cards sitting around.. I might toss a few in! The only issue I ave with them in this deck is wiping out my Wall of Shards and if I do get my bridge out with a near empty hand, I'm not worried about creatures anyways.. And if I do get a Congregate in play, I wouldn't want to have a Wrath of God type card sitting in my hand allowing bigger creatures to attack me.
Rhox Faithmender Is a very sexy card if I decide to go the Sanguine Bond route can use my lifegain as a wincon. The only issue with a Sanguine Bond wincon is that it slows the deck to a minimum of 7-8 turn win and has more expensive cards in hand, therefor hurting my Bridge defenses.
Proclamation of Rebirth - I MAY purchase this and put it on the sideboard. Right now the only thing I could return is my Martyr of Sands which could help me produce a self lifegain wincon. I'll keep this one in mind.
---
Thank you so much for the writeup and suggestions! I might actually change up the deck just a bit. Your input was much needed. Thanks again!
3 hours ago
Hi mrsilk
I really like your deck idea. The synergy with Wall of Shards and Tainted Remedy is fun. You were asking for suggestion on a bunch of differen subjects, first I will you my considerations regarding the colors of the decks, and then I have a bunch of cards choices you might consider.
I think you might a problem with you decks focus. Are you attempting to gain life yourself, or hurting the opponent by giving them life? You need to figure this out. Is your decks most important card either Tainted Remedy or Sanguine Bond/Chalice of Life. I do understand why you're playing both, as the other can be a backup. 1 of the other is still something I would run, but not more.Because you're running Martyr of Sands, you'll also need more white cards in your deck, than black. This is why most of my card choices are white.
Consider these cards to replace Ruinion:Blessed Alliance - A great removal, that currently seed play in modern.Congregate - Great against Token decks.Lone Missionary - Great blocker and also have synergy with some of the cards below.
Replacements for Aciennt Stirrings:Wall of Omens - Also a wall, and delays the game further while providing you with cards.Thraben Inspector - Same a Wall of omens, expect it requires an additional payment to draw the card.Survival Cache - Gains a small amount of life, but will only draw you cards if you have the most life. It can draw your two cards.
If you're deciding to playing green, even though you might be moving away from the color, consider running Kavu Predator. You might also consider being mainly white, with just a splash of black, green or blue. (For Trophy Mage)
This is some other cards, you might consider in your deck:A Wrath effect - Wrath of God/Day of Judgment/FumigateSun Titan - Recursion for all your creatures, as well as Chalice, Bridge and Tainted Remedy.Emeria, The Sky Ruin - Also recurs creatures, but only in the late game.Rhox Faithmender - Doubles your own life gain effects.Blind Obedience, instead of Authority of the Consuls. It allows you to drain life just from casting spells.Proclamation of Rebirth - Excellent in recurring Martyr of Sands.
Regardsmagicthe
6 days ago
Martyr of Sands and Ranger of Eos do not have to be mutually exclusive. They have been played together in the same Soul Sisters deck before. Serra Ascendant might be hard to activate if you don't play the Martyr (usually).
1 week ago
well, first off you need more lands. 20 lands with that many 5 and 6 drops is not going to be consistent. I would recommend adding up to 24 lands to support your mana curve. second of all are cards you could add. you don't have any removal so Blessed Alliance is perfect for the deck. Martyr of Sands will be great because most cards in your deck are white. then there is Serra Ascendant this card is insane in the deck but of course costs an insane amount of money so only if you have the budget.
2 weeks ago
Can you put your deck into the deckbuilder here on TappedOut? The link you posted for your deck on the other site doesn't seem to work.
From what I can see, it looks like you'd be interested in something like G/W Soulsisters, Little Kid/Maverick, or G/W Tokens. Some links:
Selesnya Taxes/Maverick (ALL THE HATECRAP!)
G/W CoCo (lots of combo elements)
W/B Tokens (this is an example that can be easily converted to G/W)
Little Kid (more of a midrange deck)
W/B Tokens on a budget (this one is more of a conventional Tokens deck)
Martyr Soul Sisters (focuses more on Martyr of Sands to gain life)
Mono-White Soul Sisters (relies more on enter the battlefield triggers)

This deck, however, is probably more what you're looking for:
It's not purely G/W, and that definitely increases the deck's budget. To trim it down to a more reasonable level and keep it strictly G/W, I'd do something like:
2x Flooded Strand
1x Forest
3x Gavony Township
3x Plains
2x Sunpetal Grove
4x Temple Garden
2x Windbrisk Heights
4x Windswept Heath
2x Wooded Foothills
---------------------------------------------
23 Lands

4x Avacyn's Pilgrim
4x Birds of Paradise
2x Brimaz, King of Oreskos
---------------------------------------------
10 Creatures

2x Condemn
1x Elspeth, Knight-Errant
1x Elspeth, Sun's Champion
2x Honor of the Pure
4x Intangible Virtue
1x Oblivion Ring
4x Path to Exile
4x Raise the Alarm
2x Secure the Wastes
4x Spectral Procession
1x Timely Reinforcements
1x Worship
---------------------------------------------
27 Other Spells

Sideboard:

2x Blessed Alliance
4x Burrenton Forge-Tender
1x Gideon, Ally of Zendikar
2x Pithing Needle
2x Rest in Peace
1x Selesnya Charm
2x Sundering Growth
1x Worship

This may still be a bit out of your budget or too heavy on the tokens and not as midrange or lifegain-y as you'd like. It should, however, be a good starting point to work from.
3 weeks ago
For a first modern deck this is pretty good. I would recommend looking at a few cards however as you move forward with the deck, firstly there is Martyr of Sands which is arguably the most efficient way to gain life in modern.
Personally in a deck like this I would also want to play Ranger of Eos as having a soul sister is vital to the decks success, in the mana base I would consider Emeria, The Sky Ruin for some value but that is completely up to you as soul sisters does not need Emeria in any sense, and then down the line also Flagstones of Trokair.
Other cards to consider are Knight of the White Orchid and possibly splashing black for Lingering Souls.
Load more