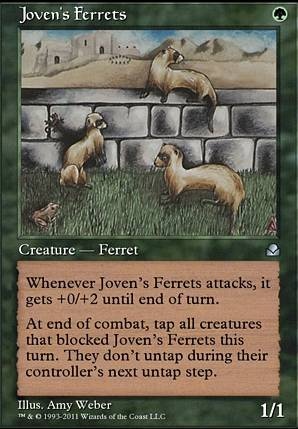 Legality
| | |
| --- | --- |
| Format | Legality |
| Tiny Leaders | Legal |
| Noble | Legal |
| Leviathan | Legal |
| Custom | Legal |
| Magic Duels | Legal |
| Canadian Highlander | Legal |
| Vintage | Legal |
| Casual | Legal |
| Pauper EDH | Legal |
| Vanguard | Legal |
| Legacy | Legal |
| Archenemy | Legal |
| Planechase | Legal |
| 1v1 Commander | Legal |
| Duel Commander | Legal |
| Oathbreaker | Legal |
| Unformat | Legal |
| Pauper | Legal |
| Commander / EDH | Legal |
Joven's Ferrets
Creature — Ferret
Whenever Joven's Ferrets attacks, it gets +0/+2 until end of turn.
At end of combat, tap all creatures that blocked Joven's Ferrets this turn. They don't untap during their controller's next untap step.
Joven's Ferrets Discussion
4 months ago
If you're on the look out for more control-y includes cards from the Fiend Hunter family (o-rings on sticks,) are almost always big butts in the 1/3 range, Gaddock Teeg , is a nice include but you'd need to switch up your sig to include him: so far I've found that dealing twenty consistently with this type of deck is relatively easy and Triumph of the Hordes is a bit of overkill that's likely get you hated out so switching to something else for the Teeg include (which shuts off almost every other deck at the table, since planeswalkers are more often than not cmc 4+) might be worth considering its.
In my experience, the deck is weak to board wipes and removal, which is why my signature spell is Heroic Intervention : the beauty of Teferi's Protection but at a discount.
Champion of Lambholt is nice evasion since you strategy is to puke creatures on the board. Semi-asymetric boardwipes like Dusk//Dawn and Wave of Reckoning are also really good, but remember that if you play Teeg, they nonbo; Magus of the Disk is a 2/4 board wipe on theme that Teeg doesn't turn off though.
Hunter's Insight and Mentor of the Meek are really strong card draw for the deck, and because your curve is so low to the ground, you can probably most often afford to tax one for the cantrip.
Bar the Door and Tower Defense are the strongest pump spells this type of deck can run that I'm aware of. Village Bell-Ringer is also an on theme combat trick for the deck.
Assault Formation is a nice alternative to your oathbreaker in case she gets removed or worse Imprisoned in the Moon .
Stirring Wildwood is a land. Growing Rites of Itlimoc Flip is a billion green mana once it flips.
Indomitable Ancients is a four drop 2/10, and Skinshifter is a 1/1 for 1G with G: become an 0/8 uet.
Rhox Faithmender is the reason my record life total with the deck is 120 (three activations of Huatli for 11 doubled is 88 life plus starting life total and a net twelve life from somewhere).
Mirage Mirror is a second copy of anything in your or your opponents decks.
and lastly, Joven's Ferrets is a meme.
No data for this card yet.