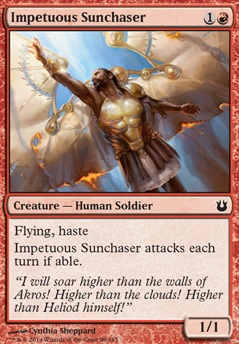 Impetuous Sunchaser
Creature — Human Soldier
Flying, haste
Impetuous Sunchaser attacks each turn if able.
Browse Alters
Legality
| | |
| --- | --- |
| Format | Legality |
| 1v1 Commander | Legal |
| Block Constructed | Legal |
| Canadian Highlander | Legal |
| Commander / EDH | Legal |
| Duel Commander | Legal |
| Highlander | Legal |
| Legacy | Legal |
| Leviathan | Legal |
| Limited | Legal |
| Modern | Legal |
| Oathbreaker | Legal |
| Pauper | Legal |
| Pauper EDH | Legal |
| Pioneer | Legal |
| Tiny Leaders | Legal |
| Unformat | Legal |
| Vintage | Legal |
| Casual | Legal |
| Custom | Legal |
| Quest Magic | Legal |
Rules Q&A
Latest Decks as Commander
Impetuous Sunchaser Discussion
3 years ago
There was a rule change so child does hit the grave then goes back to the command zone so you don't need the grave recursion part so much. Also when I was playing indestructible board clears with the gods the deck wasn't consistent and the gods did nothing most of the time. So if you are making it tribal gods cut anything that isn't supporting the gods. Child is ok to run but you need a way to support it better, you would need a way to kill Child of Alara yourself because if that is your only board clear how will you trigger it when you want to or need to. Also there are a ton of exile cards that totally will make your deck have a bad day, so some more protection cards and counters wouldnt be a bad idea. Also you need mana ramp either in the form of artifacts or green ramp spells the deck is too slow without them and not getting the colors you need is the worst despite a solid land base.
I would cut Impetuous Sunchaser, Nobilis of War, Zurgo Helmsmasher, Heart-Piercer Manticore, Deus of Calamity, Colossus of Akros, Supernatural Stamina, Fling, Deem Worthy, Agent of Erebos, Soul of New Phyrexia, Barrin's Spite. These cards have the least synergy with the deck.
If you want This is what I am doing with mine. I didn't post my new child board clear deck but i can for more idea's. http://tappedout.net/mtg-decks/08-10-17-gods/
4 years ago
Some more mainboarded, low-cost Flying creatures might help you to win the game at a crucial moment by flying over blockers with damage. A couple ideas that work well with Odric would be Skyhunter Skirmisher, Impetuous Sunchaser, and Skyknight Legionnaire.
Also, 32 Lands seems like a lot. More than half your Library. Are you sure you need that many? 26-28 sounds more reasonable.