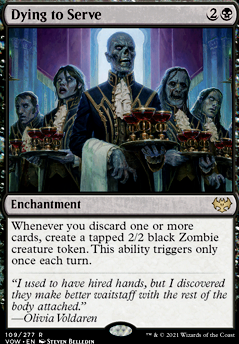 Tokens
Legality
5 months ago
This has made me realize I've been reading Ghost of Ramirez DePietro wrong this entire time. I thought his trigger was tied to the player that was dealt damage.
Well anyways my top pick for a partner would be
Tormod, the Desecrator
for all the graveyard shenanigans (i.e
Living Death
) and discard value.
Some high synergy cards would be:
Looking at channel tho there seems to be a higher density in temur so you would have access to better ramp and can do wheel/card draw affects. So perhaps
Tana, the Bloodsower
with:
The Locust God + Wheels
5 months ago
that was pretty much my go to for this as well, glad that despite our randomly timed conversations we have generally the same ideas in mind, That being said mindstone will take place of the key. otherwise there are a couple extra cards and avenues i was wanting to take that I haven't been able to find the space for, again of course we'll debate over the suggestions/cuts but the things in mind that I have are as follows
Geth's Grimoire & Words of Waste replace Maralen and Opposition Agent... ...beyond that im looking for more low to the ground and maintenance-y things such as Necrogen Mists, Sign in Blood/card draw(Ancient Craving-esqe) or even more abilities like Dying to Serve.
5 months ago
Update:
Cuts are as follows
Minus:
Wasteland why: Im running Strip Mine and crucible in black still only means one land so I only need one instance of this interaction
K'rrik, Son of Ywagmoth why: better ways to "accelerate" that also aren't so lethal, also I have included better instances of smoothing the mana base in that this card in no longer relevant
Whip of Erebos why: slow, often removed, underwhelming
Gate to Phyrexia why: never saw use, took up space in hands to ofter or when on field saw little use
Culling the Weak why: see k'rrik
Hellish Rebuke why: underwhelming and generates little value
Addtions:
Jet Medallion why: Mana Acceleration
Moonsilver Key Why: Curve Smoothing
Innocent Blood Why: Efficient Removal
Myriad Landscape why: Curve Smoothing
Henrika Domnathi  Flip Why: great interaction with the deck as well as controls board well, offers an alternative to Wrankle or another instance of similar effects
Dying to Serve Why: token generator that works well with Opposition and other global discard effects
Future Thoughts:
I'm looking to cut the Op Agent and Maralen Combo, i'm considering the Geth's Grimoire + Words of Waste combo in place of it. still looking for some instances of mana smoothing in black Burnished Hart comes to mind. Any other suggestions are welcome.