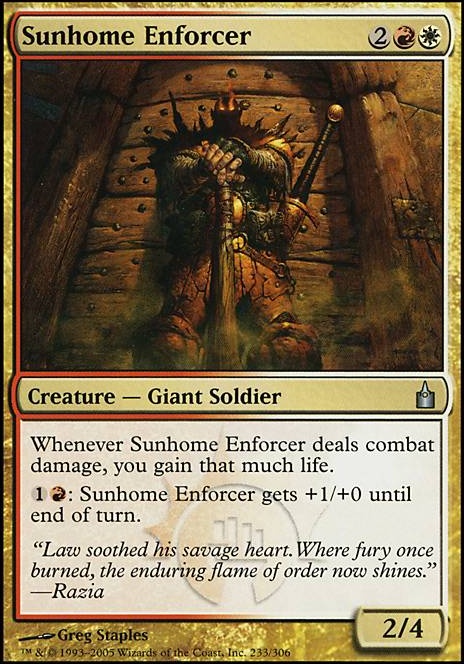 Legality
| | |
| --- | --- |
| Format | Legality |
| Tiny Leaders | Legal |
| Noble | Legal |
| Leviathan | Legal |
| Magic Duels | Legal |
| Canadian Highlander | Legal |
| Vintage | Legal |
| Modern | Legal |
| Penny Dreadful | Legal |
| Custom | Legal |
| Vanguard | Legal |
| Legacy | Legal |
| Archenemy | Legal |
| Planechase | Legal |
| 1v1 Commander | Legal |
| Duel Commander | Legal |
| Oathbreaker | Legal |
| Unformat | Legal |
| Casual | Legal |
| Commander / EDH | Legal |
Related Questions
Sunhome Enforcer
Creature — Giant Soldier
Whenever Sunhome Enforcer deals combat damage, you gain that much life.
(1)(Red): Sunhome Enforcer gets +1/+0 until end of turn.
Sunhome Enforcer Discussion
3 years ago
Let's say A has a Bladetusk Boar enchanted with Fear. A attacks B, who has Child of Night, Stromkirk Captain, and Crossway Vampire able to block. Since the Boar essentially reads, "This creature can't be blocked except by red creatures or artifact creatures. This creature can't be blocked except by black creatures or artifact creatures.", which of B's creatures could block it?
In a different situation, A has Sunhome Enforcer nattily sporting an Executioner's Hood and enchanted with Fear. B has Mardu Roughrider, Spike Jester, Weapons Trainer, and Reassembling Skeleton. If A attacks, which of B's creatures could block?
Basically, how do fear and intimidate work when a non-black creature has both? Can a mono-black creature block, can a creature that shares a color with the attacker block, or does the blocker have to both be black and share a color? (Artifact creatures can block in all cases.)
3 years ago
Esto se va...
Agrus Kos, Wojek Veteran: El mazo tiene que ser agresivo, tokens X/1. No te importa la defensa, de cualquier manera se van a morir. Esto dispara slo para las rojas, slo cuando atacan. No es negocio. Orcish Oriflamme te sirve mas. No le importa el color, y dispara siempre
Arashin Foremost: No dispara nunca, hay muy pocos guerreros en el mazo, y los estoy sacando todos porque son horribles. Yo tengo un mazo de 60 Tribal de Warriors, dps te lo muestro para que veas la diferencia.
Boldwyr Heavyweights: vos estas drogado? Un oponente puso un Griselbrand, otro un Jin-Gitaxias, Core Augur, y el ultimo un Emrakul, the Aeons Torn...
Borderland Marauder: Muy debil
Boros Battleshaper: No tiene sentido, va en contra de todo lo que vos queres hacer...
Boros Elite: Muy debil
Bull Cerodon: Muy debil
Consul's Lieutenant: Muy debil
Dragonscale General: No me convence, pero le voy a dar el beneficio de la duda...
Fortress Cyclops: Muy debil
Kragma Butcher: Muy debil
Lantern Scout: No sirve de nada ganar vidas. No vas a ganar un partido curandote.
Lord of Shatterskull Pass: Muy lento
Manic Vandal: Meh...no me parece tan copado
Ordruun Veteran: Muy debil
Pearlspear Courier: Muy debil
Steelshaper Apprentice: Muy debil
Sunhome Enforcer: Muy debil
Taj-Nar Swordsmith: Muy debil
Truefire Paladin: Muy debil
No data for this card yet.