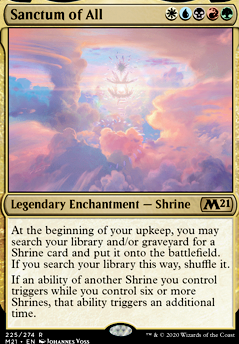 Sanctum of All
Legendary Enchantment — Shrine
At the beginning of your upkeep, you may search your library and/or graveyard for a Shrine card and put it onto the battlefield. If you search your library this way, shuffle it.
If an ability of another Shrine you control triggers while you control six or more Shrines, that ability triggers an additional time.
Sanctum of All Discussion
2 months ago
Rule 0 began as a hub idea, but quickly became it's own sub-format within the EDH community.
When you build a new deck, or update an existing deck, you can now select Commander: Rule 0 as an option for the format.
2 months ago
I'm actually building a Sanctum of All Shrine Tribal. It'll have all 11 Shrines plus Nykthos, Shrine to Nyx because while the Shrines are important and beautiful, a Shrine is worthless if you don't have a God to answer your prayers... ;)
3 months ago
A lot of your lands enter tapped, so even though it's expensive, you should possibly interest yourself with an Amulet of Vigor. And maybe more synergistic with your deck, an Archelos, Lagoon Mystic. A lot of your legendary permanents are also mono colored, so you should try and find more multicolored cards. I would have suggested Defiler of Souls if Sisay herself wasn't mono white. Also, it's any legendary permanent, so you could even run the cycle of shrines (Honden and Sanctum cycles), or just the rainbow one, Sanctum of All, since that would give you all the colors. On the note of rainbow dudes, Child of Alara, O-Kagachi, Vengeful Kami, and Cromat (who is hilarious), or something like them would be good maybe.
A card that you really should have though is Spirit of Resistance (once you get some more rainbow permanents). The only problem with rainbow permanents is that they cost at least five each, though you will already be open to paying that since you are going to activate Sisay's ability.
Skip casting costs with Dragon Arch.
Since you really want to activate Sisay's ability, maybe something like Chromatic Orrery or Chromatic Lantern would be good. Faeburrow Elder is perfect for this deck too.
Watch out for aggro strats and anything that's efficient, this deck seems really slow.
Finally, sorry about this, but you should take all these suggestions with a grain of salt because I am also not the best at magic.
8 months ago
TIL that emojis aren't parsed properly by TappedOut even though they appear fine in the preview! Let's try again...
I've found this list really helpful whilst drafting decks over the last few years, thanks for putting it together! :) Judging by the 400,000 views that this has had I'm guessing I'm not the only person who feels that way :D
Since this list hasn't been updated since pre-WAR, I thought I'd put together a pretty comprehensive list of all tutors released since then (including all of the tutors mentioned in the comments above). Hopefully putting it in one place will make it easier to update! Note - as per the list you've curated, I've excluded any tutors that fetch specific cards (e.g. Yanling's Harbinger ) or basic lands. I've also left off the card types and colours since there's already enough text in the comment and it can be seen from the preview. Right - on with the list!
CARD: TUTOR FOR - ANY COMMENTS/SUGGESTED CATEGORIES
It wasn't entirely clear to me what categories the below cards should go under since they search for specific card subtypes:
Seeing as the three creators of this list haven't been on TappedOut in at least 8 months I'm guessing that this comment won't go anywhere, but at least it's all in one place for people to search for later. I'm happy to help maintain and update this list if I'm given access. (If I haven't heard back in a couple of months then I might look at creating a copy of this list and linking it here for anyone looking for an up-to-date list of tutors.)
8 months ago
I've found this list really helpful whilst drafting decks over the last few years, thanks for putting it together!
8 months ago
The best laid plans of mice and men
Enchantment - sage
: Whenever a creature enters the battlefield until your next turn put a combustion counter on it
: ~ deals X damage to each creature without a combustion counter on it where X is 3 times as many creatures with combustion counters on it
: note the types of each creature on the battlefield (other than changelings) if more than 2 types where noted this way after the first combat phase untap all creatures and there is an additional combat phase.
---
Well red doesn't fit as well this cycle and still feel red so I took some liberty with the challenge and came up with this sage, it's still kinda in the cycle but more loosely, to do with counters and creature types. Anyway nevermind:
Next challenge continue the cycle or create a 5 colour enchantment that could be seen as the "leader" of this cycle like Sanctum of All
9 months ago
Lol plakjekaas but by definition all cards released in standard sets are standard playable, as in legal. Just because some don't have faith in a card doesn't mean its unplayable in the format.
Some of my best decks come from cards like The Prismatic Bridge and Sanctum of All .
Maybe I just don't like the card, though I have jumped on the tibalt train myself, but cards like Tibalt's Trickery are the ones im talking about. To me this card was never designed for standard and I will not be surprised when it gets banned in standard.
Load more