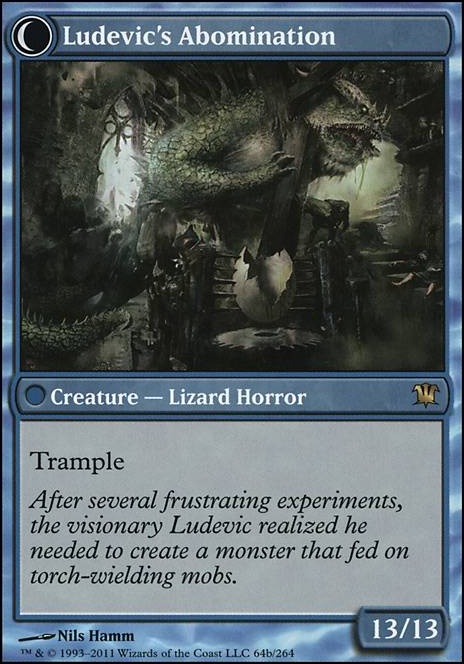 Front:
Ludevic's Test Subject
Flip
Ludevic's Abomination
Creature — Lizard Horror
Trample
Latest Decks as Commander
Ludevic's Abomination Discussion
1 month ago
GrimlockVIII, I had a general rules question I haven't been able to find a clear answer to. I'd like to run it by you, if you had a moment.
When a double sided card with Transform is put into the graveyard, is the transformed portion of that card also considered to be in the graveyard? Or is that side of the card considered nonexistent in all zones until it's actually transformed and turned face up?
In short, if I put Ludevic's Test Subject  Flip into the graveyard with Stitcher Geralf , can I exile it and make a 13/13 token based off the 13 power of its transformed side, Ludevic's Abomination ? Geralf specifically says 'Exile up to two creature cards put into graveyards this way.' and then creates a token based off 'the total power of the cards exiled this way.' The transformed side of a double faced card is still the same physical piece of cardboard, but something tells me deep inside that that's not how it works.
5 years ago
Ludevic's Abomination Is pretty good but it's annoying when it gets bounced and you have to start all over again...