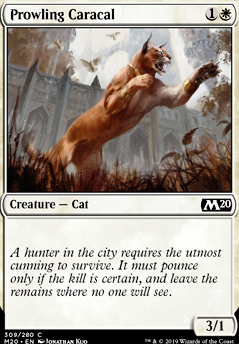 Prowling Caracal
Creature — Cat
Browse Alters
View at Gatherer
Legality
| | |
| --- | --- |
| Format | Legality |
| Leviathan | Legal |
| Commander / EDH | Legal |
| Oathbreaker | Legal |
| Standard | Legal |
| Duel Commander | Legal |
| Highlander | Legal |
| Tiny Leaders | Legal |
| Pauper | Legal |
| Pre-release | Legal |
| Historic | Legal |
| Casual | Legal |
| Vintage | Legal |
| Arena | Legal |
| Canadian Highlander | Legal |
| Modern | Legal |
| 1v1 Commander | Legal |
| Pioneer | Legal |
| Unformat | Legal |
| Limited | Legal |
| Pauper EDH | Legal |
| Block Constructed | Legal |
| Brawl | Legal |
| Legacy | Legal |
Latest Decks as Commander
Prowling Caracal Discussion
1 month ago
WOW! I didn't know that the rules for companions were just sitting there invulnerable giving their abilities throughout the game without being killed or sent to the graveyard or exiled! Very nice!
What else would you recommend for a 'ready for anything' deck in Selesnya? Am I missing any instants, sorceries, or enchantments, or artifacts?
To be prepared, I have 1x Watchers of the Dead, 1x Prowling Serpopard, 4x Angelic Gift, and 1x Sundering Growth for, respectively, graveyard heavy, counter heavy, and flying decks and direct damage, and enchantments and artifacts. I would love to be able to draw these cards when I need them... something like a green/white Grim Tutor! They should have released tutors for every color since that gives black a HUGE advantage! Is there any drawing power better than Huatli, Radiant Champion, since even she depends on creatures entering the battlefield for card draw. If I had a ton of 1 drops and 2 drops, I would agree to it, but most of my deck isn't that cheap in mana cost.
Do you think I need mana ramp? Initiate's Companion is overall a great card, it's like an Oreskos Swiftclaw or Prowling Caracalbut with an added ability and same mana cost.
1 year ago
Update
OUT
Plains , Mana Tithe , Ajani, the Greathearted , Doubling Season , Mirari's Wake , Prowling Caracal , Blade of the Sixth Pride , Oreskos Swiftclaw , Leonin Skyhunter , & Regal Caracal
IN
Colossus Hammer , Lightning Greaves , Loxodon Warhammer , Quietus Spike , Behemoth Sledge , Open the Armory , , Primal Rage , Lost Leonin , Skyhunter Skirmisher , & Raksha Golden Cub